ChinaTravelNews, Ritesh Gupta – Huazhu Group's new signings hit a record high in the first half of 2021, crossing the 1500-mark and increasing by nearly 50% year-over-year.
The new signings, which stood at 1024 at the end of the first half of 2020 and touched 1502 by the end of June this year, also meant that Huazhu is rapidly expanding its presence to newer locations in China as well. The combined city coverage, considering both hotels in operation and in the pipeline, had grown to 1016 by Q2.
Speaking during the company's second-quarter earnings call, Huazhu's president, Hui Jin said, "…we have already penetrated into over 1,000 cities as of June, including both hotels in operation and the pipeline (added around 200 cities compared to the same period of last year)."
The performance could have been even better if a resurgence in Covid-19 cases hadn't hampered the progress, acknowledged Jin. "…given the travel restrictions due to the Delta variant of COVID-19, our recent new signings and construction progress were also negatively affected," he said. The group indicated that the gross opening target of 1,600-1,800 hotels remains unchanged for this year, but the signing speed of the new pipeline and the construction of the new hotels in the next few months is expected to be impacted at the same time.
The blended RevPAR increased in Q1 and remained steady during the April-July period before it started to decline in late July owing to the resurgence in Covid19 cases. The group believes that the situation can be well contained by the beginning of September and there will be "no massive resurgence" in the remainder of the year.
Jin also added that the development model of the hotel company is going to be asset-light, essentially franchised or hotel management contract-based.
Hotel turnover increased 97.8% year-over-year to RMB13.1 billion in Q2.
Strong focus on lower-tier cities
For the Legacy-Huazhu business (excluding overseas subsidiary Deutsche Hospitality), hotels in pipeline are 2696, out of which 56% are going to be in tier-3 and below cities, 33% tier-2 cities and 11% tier-1 cities. Out of 1502 new signings, 57% are in tier-3 and below cities, 32% tier-2 cities and 11% tier-1 cities.
This looks quite different from the current mix of hotels in operation – 41% in tier-2 cities, 38% in tier-3 and below cities, and 21% tier-1 cities. Out of the 7100 or so hotels in operation, 4465 belong to the economy category (over 2830 under HanTing) and over 2140 belonging to the mid-scale category (led by over 1200 JI Hotels).
"Lower tier cities proportion accounted over 50% for both our current hotel pipeline and new signings," said Jin.
"For our current lower tier cities' penetration (they are) currently are from our new signings, JI Hotel and HanTing brand are still the key brands for penetration and account roughly 70% to 75% of the new signings, and some other brands such as Starway, Orange as well as Ni Hao are also progressing pretty well," said Ji Qi, Executive Chairman and CEO of the group.
Jin said even though the lower-tier cities penetration is progressing well, the team is facing hurdles, too. He referred to aspects such as "local sales and also matching and meeting the local customers' demand". "For these areas, we are continuously adjusting our strategies and especially the sales team to improve this area and for helping us to further penetrate," he said. "In addition, we are also trying to build up localized employment and a staff team (for further expanding in these cities). Huazhu is also planning organizational restructuring especially for lower-tier cities, he added.
Huazhu also shared that CRS contribution increased in lower-tier cities during the quarter. The team was satisfied with this performance. CRS contribution in lower tier cities was around 56%, close to higher-tier cities and demonstrated Huazhu's ability to make a mark in lower-tier cities in an efficient way.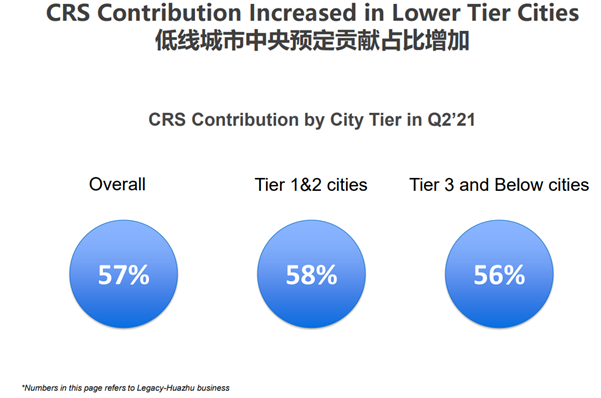 The team is also working on speeding up of upper-midscale and upscale segments. The upper midscale hotels brand portfolio includes Crystal Orange, Intercity, Mercure, Manxin, Madison and Novotel. The group shared that at the end of June, it had over 400 hotels in operation in this category, led by Crystal Orange (129). Jin mentioned that there are 248 in pipeline. "We are targeting to achieve over 1,000 upper-midscale hotels in operation and in pipeline by the end of 2023," he said.
In the upscale segment, the group operates just over 100 hotels (led by Steigenberger with 51) and there are 56 in the pipeline. "For Huazhu, we have been cooperating with Sunac under the joint venture, and we will do some incremental hotels in this area. But in the longer term, we're also trying to consolidate the market by leveraging our capabilities," said Jin.