ChinaTravelNews, Ritesh Gupta – 2022 proved to be a topsy-turvy year for the travel industry in China. The financial results of the sector took a beating owing to several challenging phases throughout the year, but some of the established travel companies continued to grab branding and other marketing opportunities even when the going was tough. And they also managed to grow revenue pie when segments like air ticketing and hotel business couldn't deliver.
Tongcheng Travel, formerly known as Tongcheng-Elong, in its Q4 results and full-year financial performance, highlighted the performance of several of its marketing campaigns that eventually led to the strengthening of the brand, too.
Marketing initiatives
The online travel company mentioned that during the course of the year the marketing team benefitted from several campaigns, with ones planned for college students standing out. Tongcheng has been working on several initiatives for students, for instance, offering university students various travel benefits and privileges, including free access to tourist attractions in certain parts of the country (an example, being targeting students in Jiangxi Province of China).
A specific initiative that worked was "Blind Box" benefit packages for students. This concept where what's in the box isn't known till the time one opens has worked well for the online travel company in the past, too. The company has worked on a promotional initiative where one can buy an air-ticket blind box, could be for $15-20, and a traveler can opt for a departure city, while the destination and departure time are both unknown. If they do not like the "content" after opening the box, they can get a full refund. A similar initiative was done to strengthen the "campus card" program, for instance, in conjunction with Shanxi provincial tourism bureau in China.
Tongcheng created tailor-made products and services for this segment. Believing in the efficacy of this plan to target students, the team also explored alternative offline user acquisition channels (e.g. working with major handset vendors, and also targeted mobility scenarios such as metro and intra-city buses). Marketing promotions were launched at universities and vocational schools to enhance interactions and user engagement.
Loyalty
Another area of marketing focus dwelled on more versions of Tongcheng's Black Whale Membership to cater to different users' needs during their trips. For this loyalty program, Toncheng has been crafting different features such as varying periods of validity, privileges, etc.
Also, during the course of 2022, the company for the first time chose to market its membership program by leveraging a popular TV drama intellectual property right entitlement on the Tencent Video Platform. Loyalty is also a sizable revenue stream for the company, in addition to advertising services, ancillary value-added user services, attraction ticketing service, hotel management services and the corporate travel segment. These all under the category "others". The two core segments are accommodation and air ticketing services.
Toncheng also mentioned that these marketing campaigns (Black Whale Membership, promotions on the Tencent Video Platform and also the World Cup-themed TV commercial) played part in brand recognition, too.
One of the backbones of Toncheng's traffic continues to be the Tencent ecosystem. The company shared that 80% of its average MAUs was contributed from WeChat mini program. In the last quarter of 2022, the average MAUs decreased by 11.5% year-to-year from 238.6 million in the same period of 2021 to 211.1 million.
The marketing team at Toncheng came up with novel moves such as leveraging QQ Browser. This way it garnered an entry point that can direct users to Tongcheng's mini-program. The company also sponsored a professional e-sports game to promote its brand to the younger population.
Also, as per the last quarter of 2022, 60.8% of new paying WeChat users from Tier-3 or below cities. This percentage was more or less steady for the entire year, as the company shared that about 60.3% of new paying users on the WeChat platform were from these areas in China.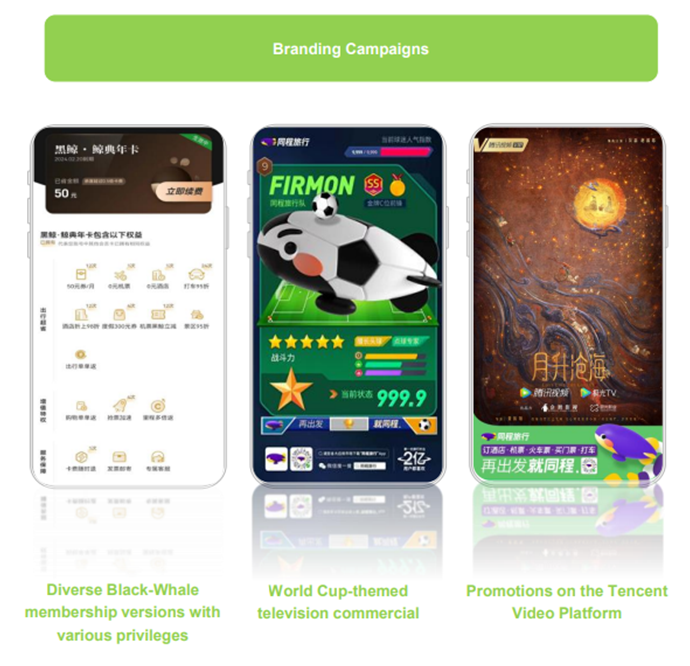 Revenue generation
The company reaped some benefits from its strategy of leveraging a diversified revenue mix.
Tongcheng in its revenue break-up shared that revenue from others increased by 17.9% from RMB671.1 million in 2021 to RMB791 million in 2022. The increase was mainly due to the increase in revenue from membership services; and advertising services.
Even as revenue generation from some categories that fall in the "other segment" grew, the likes of accommodation and air ticketing expected suffered in the results for the entire year.
Revenue from accommodation reservation services was almost flattened at RMB2,414.7 million for 2022, compared to RMB2,408.7 million in 2021.
Revenue from transportation ticketing services decreased by 24.2% last year, from RMB4,457.7 million in 2021.