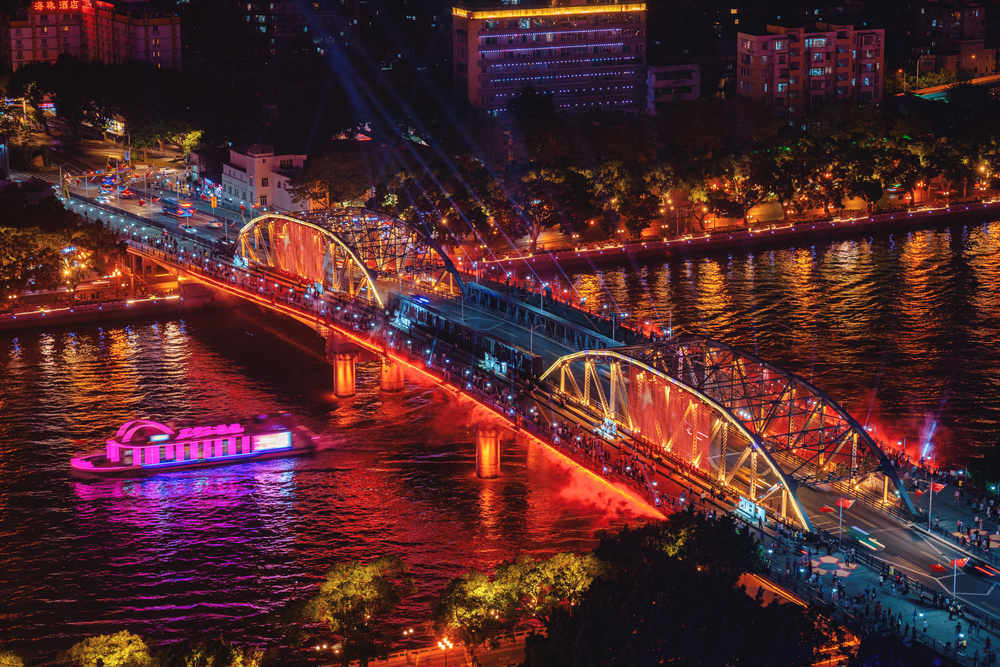 Chinese OTA giants Trip.com and Tongcheng have released travel data about China's "Golden Week" national vacation in October.
Trip.com's data show that just as many travelers chose to travel within a province or across provinces, and in-depth destination exploration was gaining popularity. Due to travel limitations in certain regions, there was an increase in demand for short-haul trips, or travelling within the same province if long-distance journeys were desired.
Red tourism, rural tourism, family trips and sightseeing tours were the most popular choices. Ticket bookings, car rentals and themed tours increased by 19%, 43% and 47% respectively compared with the 2019 levels.
Cities with renowned attraction brands were most popular
During the seven-day National Day holiday, Beijing surpassed Shanghai this year to be the most popular destination, thanks to the newly launched Universal Beijing Resort, and Chengdu was back in the third place. Other destinations on the top 10 list were Guangzhou, Chongqing, Hangzhou, Shenzhen, Xi'an, Wuhan and Nanjing.
Those destinations that have well-known tourist attraction brands, such as Henan province, Chongqing and Changsha, were seeing a surge in travel bookings.
Inner Mongolia, northwest China, Yunnan, Guizhou, Sichuan, Tibet and other areas were preferred by tourists as destinations for long-haul trips, with interest to travel to those provinces 22 times higher than during the summer holiday.
Meanwhile, Tongcheng reported that bookings for short-haul trips increased by 56% year over year.
Shorter booking windows but longer journeys
During the National Day holiday this year, the average price for a one-way flight ticket on Trip.com Group's domestic platform Ctrip was RMB 821 (USD 127.3), up by 7% from RMB 768 (USD 119) last year. This year, advance ticket bookings one week before the holiday jumped 161% compared to the week before, significantly surpassing the 78% increase in last-week bookings during the same period of last year.
Ctrip recorded an average air passenger mileage of 1,286 kilometers during the period this year, slightly up by 3% from 2020.
Greater demand for high-end hotels
The trend of staycation continued, and consumers had greater demand for high-end hotels. Trip.com's data shows that the average room rate of high-level hotels during the holiday was RMB 945 (USD 146.6), 80% higher than the previous week. Bookings for hot spring hotels increased by over 50% week-on-week.
With the Beijing Winter Olympics approaching and the weather turning cold in northern China, ski hotels and resorts were also becoming more popular. In a live streaming on September 29th, Trip.com listed ski hotels across the nation, attracting 2.24 million people to log in.
Rural shared home bookings also saw a 41% year-on-year increase. Bookings for themed hotels targeting e-sports players and family members increased by 155% compared with the same period last year.
Red tourism was drawing more tourists
During the National Day holiday, 230% more tourists chose red tourism destinations compared with the same period last year, according to Tongcheng.
Beijing, Yan'an, Changsha, Nanjing and Shanghai were among the top 10 destinations for red tourism.
Outdoor activities were favored by families, with camping, cycling and farm work accounting for over 60% of the educational vacation sales.
About 40% of travelers were Post-90s
Tongcheng's data shows that more than half (54%) of the travelers during the holiday were male. The Post-80s and the Post-90s remained the driving force for travel consumption, accounting for 34% and 37% of the total consumers respectively. The Post-00s were emerging and accounted for 15% of the travelers during the holiday, up by 48% year-on-year.
Regarding their preferences, the Post-00s tended to go to theme parks, zoos, botanical gardens and tourist spots with local experiences. The Post-90s were more likely to choose staycations, museums and ancient towns, while the Post-80s opted for self-driving tours.
Nearly 80% of bus tickets were booked by travelers in lower-tier cities
As usual, most flights were booked by travelers in Beijing, Shanghai, Shenzhen, Guangzhou, Chongqing and Chengdu than lower-tier cities.
In lower-tier cities, most travelers chose to travel by bus. Tongcheng reported that 78% of bus tickets sold on its platform were booked by travelers in lower-tier cities. Xiangtan, Longyan and other red tourism destinations saw online bus ticket bookings doubled year on year.