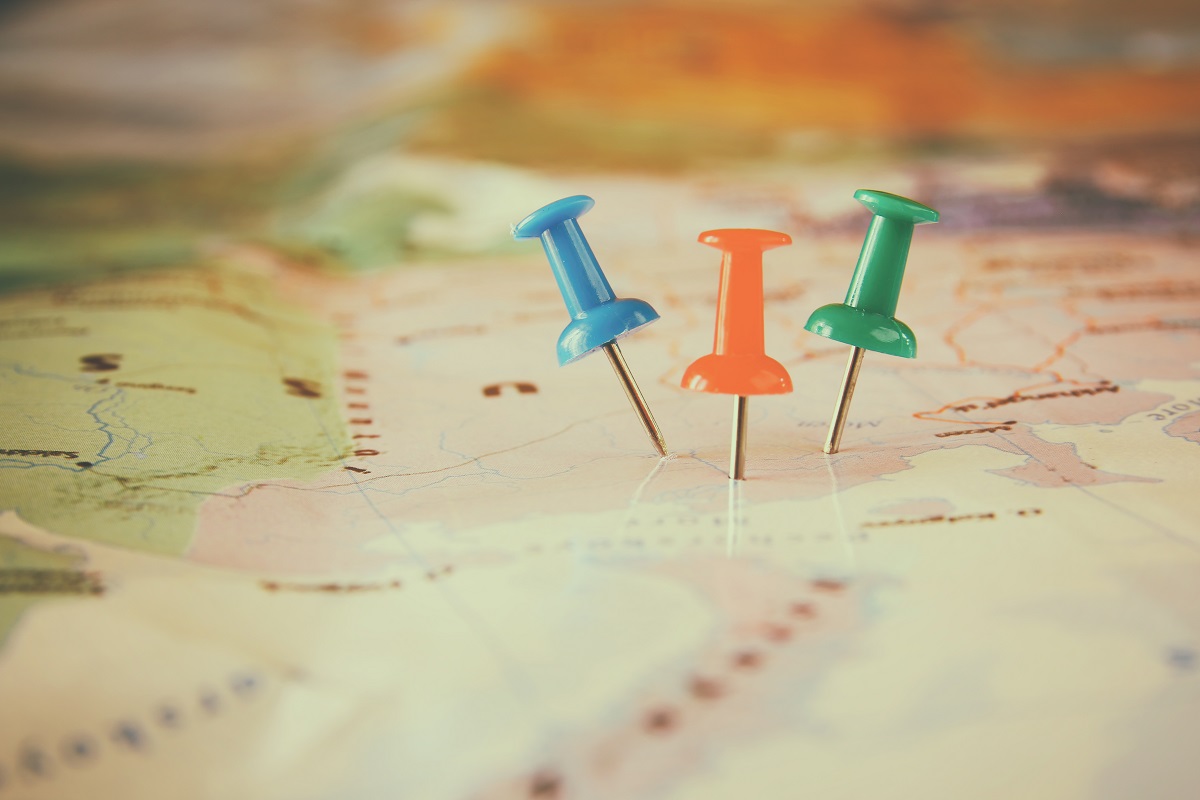 ChinaTravelNews, Jerry Tang - Is it harder for a Chinese hospitality brand to grow overseas than an international brand to gain a foothold in the China market?
There may not be a definitive answer to this. Either way, cross-border business expansion is challenging for any company attempting to break into new markets.
But that doesn't seem to deter the Chinese conglomerates that have long been exploring growth opportunities in hotel operations beyond mainland China.
Huazhu goes global from Singapore
Shanghai-based hotel chain Huazhu Group made a "baby step" to expand beyond China's borders when it opened its first overseas property Ji Hotel Orchard Singapore in 2019. The mid-scale hotel with just 81 rooms and located in the Southeast Asian city-state's shopping district became part of the hotel group's portfolio comprising 6,881 hotels and 662,512 rooms, as of the first quarter this year.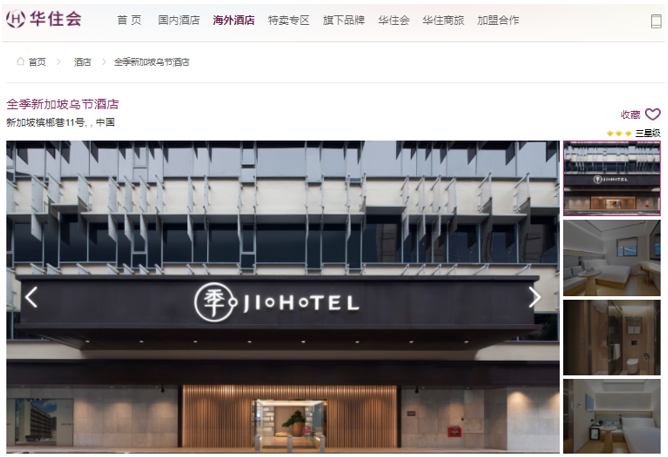 Huazhu picked Singapore for its first overseas move because the country's population is predominantly of Chinese descent (75.9% as of 2020) and the clientele has similar Chinese culture preferences for hotel brands, according to Mr. Yijun Shen, CEO of the Ji Hotel brand, who added that Singapore is also one of the world's most developed nations with lots of international talents.
To balance between addressing operational challenges of managing an overseas property and ensuring consistency in the experience of the Ji Hotel brand, Mr. Shen said the company partners with local hotel management firm Ascott, and has Huazhu employees based in Singapore.
Huazhu has made Singapore its base for international expansion, according to Chairman and CEO Mr. Qi Ji, who planned to first expand in Asian markets before the company enters Europe and America.
Beyond Singapore, Huazhu plans to launch hotels in Thailand and Japan, said Mr. Nong Xia, executive vice president and CEO of the company's Global High-end Hotels Business Unit, in a recent webinar.
The Steigenberger brand of Deutsche Hospitality, which Huazhu acquired in 2019 for EUR 700 million, will also be leveraged for its overseas expansion.
Tripmod faces headwinds in India
Also looking to expand in Asia is Tripmod (or LvYue), backed by the Trip.com Group. Tripmod claims to have "more than 2,000 hotels worldwide in its network", but ChinaTravelNews is unable to verify this figure. The hotel group stated on its website, as of April this year, that it had a hotel network covering over 200 destinations in more than 10 countries, including Japan, South Korea, Thailand, India, New Zealand and Australia.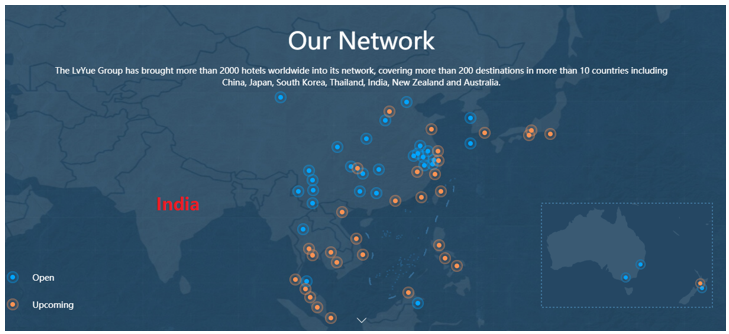 India was once a major target market for Tripmod, but a hotel location map on the company's website shows that the company now has no hotel in operation or in pipeline in this market.
Back in 2019, Tripmod secured hundreds of millions of US dollars in its Series A and A+ funding rounds, backed by big names like Tencent, Sequoia China and Goldman Sachs. At the time, the hotel firm was scouting for properties in north India while simultaneously building its management team, according to local media DNA Money.
A source told ChinaTravelNews that Tripmod aimed to compete with budget hotel chain OYO in the Indian market leveraging substantial user traffic from local online travel giant MakeMyTrip, another major player invested by the Trip.com Group.
However, Tripmod's expansion in India is facing stronger headwinds from the COVID-19 pandemic and heightened tensions between China and India.
In May 2020, two weeks before Indian Prime Minister Narendra Modi announced a 21-day lockdown for the pandemic-stricken country, the Chinese hotel company said it was still targeting to open 100+ hotels by the end of 2021 in India.
Sunmei taps into Africa while Plateno dips into Europe
Compared with the Asia expansion of Huazhu and Tripmod, Sunmei has made more audacious moves in Africa.
Founded in 2010 and with nearly 3,000 hotels pre-pandemic, the Qingdao-headquartered Sunmei Group entered the African hospitality markets in 2018 landing its Ivy Hotel brand in Ethiopia, and subsequently introduced the Ritzi Hotel and Oak Hotel brands to the continent.
Sunmei aims at becoming the largest hotel management group in Africa and is focusing on hotel developments in two of the continent's most populated countries, Nigeria and Ethiopia. A source told ChinaTravelNews that the company has managed to sign up landmark buildings in key locations of its target markets.
With the African hotel market largely under development, an experienced hotelier like Sunmei seems to have a better chance of making inroads than its Chinese peers, such as Plateno, in developed markets like Europe.
Before being acquired by state-owned hotel giant JinJiang in 2015, Plateno already had overseas hotel operations in Europe. Plateno had signed a strategic agreement with French hotel company Paris Inn in 2014 to co-found and grow a Franco-Chinese luxury hotel brand Maison Albar Hotels, both in China and in European markets.
The brand had an ambitious goal to open 100 hotels in China and another 100 in the rest of the world. However, it has only nine properties in Europe and four hotels in China so far.
Plateno also tried to leverage 7 Days Premium, one of its flagship brands, to grow in Europe, albeit with little success.
As of October 2020, ten of Plateno's "7 Days Premium" hotels in Europe were taken over by local brand operator Louvre Hotels Group, Europe's second-largest hotel group and Plateno's sister unit under Jin Jiang.
Challenge lies in the complexity of cross-culture hospitality
The above cases show that the Chinese hotel groups have mixed results in their overseas expansion. But it's an industry-wide issue.
Very few hotel groups in the world are truly able to have a global presence delivering local cultural experiences. Hotel companies based in China and the rest of the world both face an uphill battle trying to be globalized with a local touch at the same time.
Mr. Joseph Wang, Chief Commercial Officer of TravelDaily China and ChinaTravelNews.com, said that, unlike manufacturing sectors, the hospitality industry is more reliant on human resources, not just for management and training but also the personal touch for delivering a unique hospitality experience.
"There are probably no more than 10 hotel groups in the world that can manage the balance between having a significant global scale and local relevance," said Mr. Wang.
"In addition to the internal management and operation challenges in overseas markets, hotel groups also have to stay in good communication with their property partners, and keep track of the changes in consumer demand across different markets all the time."