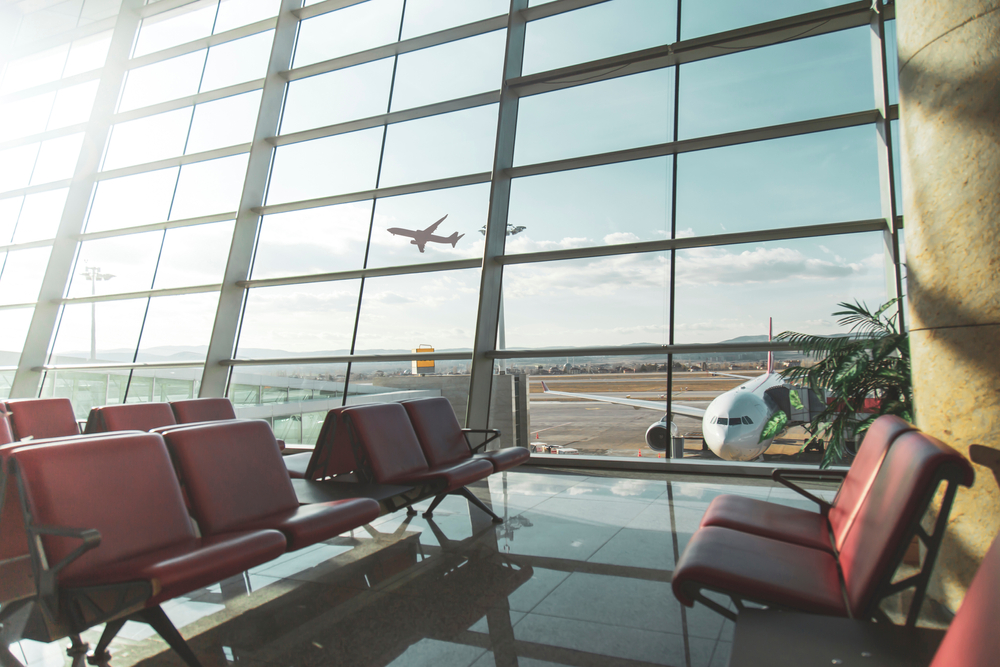 From bottoming out, to steady recovery, and then to robust growth - the curve of China's tourism development since pandemic is just like the country's economic trajectory for the past decades.
While a big part of the world is still struggling to control the spread of COVID-19, business in China is already taking a leading position in returning to normalcy.
Admittedly, international travel is still at a standstill, but domestic tourism of the world's second-largest economy has neared full recovery since the third quarter last year. The number of domestic Chinese flights in September 2020 topped the 2019 levels, according to data from the Civil Aviation Administration of China.
For companies seeking megatrends of the global travel recovery, the China market may provide some food for thought.
At last week's ITB Berlin NOW online events, Mr. Joseph Wang, Chief Commercial Officer at TravelDaily China and ChinaTravelNews.com, shared nine growth and recovery trends of China's travel and tourism sectors.
1. China has presented a V-shaped recovery curve and has become the overriding force driving the recovery of the global economy and tourism and travel industries.

Official data from China's National Bureau of Statistics show that key indicators like GDP, retail sales and industrial output all declined sharply in the first quarter of 2020, but before the start of Q2, all three figures have started to rebound quickly. The Chinese economy has mostly returned to and stayed at normal levels since the second quarter.
The country's air travel recovery has taken a similar V-shape trend.
Passenger load factors of the Chinese carriers dropped from 80% at the start of 2020, to less than 50% in February last year, according to data from IATA. But with domestic travel activities gradually available to the public, load factor recovered to 64% in January this year.
2. Consumption classification is happening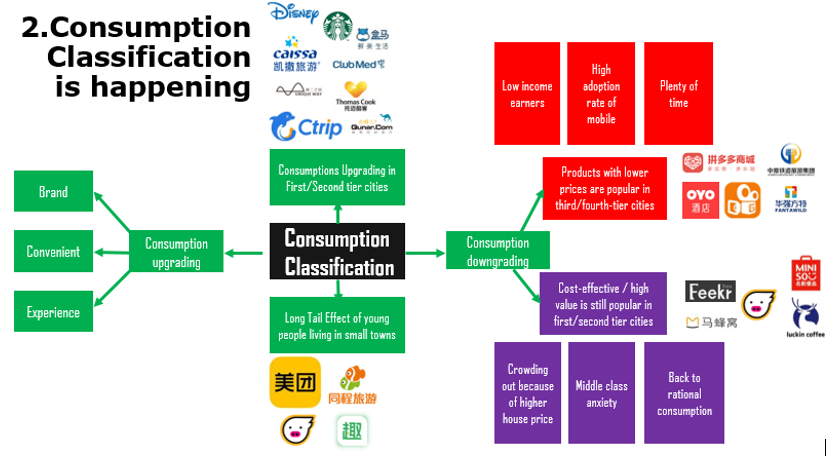 Despite the impacts of COVID-19, continued strong growth in the size and diversity of China's middle class is still creating new market opportunities for both domestic and international companies.
But in the meantime, consumption activities have slowed down significantly in the country's first- and second-tier cities. A detailed understanding of what consumers in lower-tier markets are doing, how their preferences are evolving, and the underlying reasons for their behavior will be needed.
Mr. Wang believes that the second round of China's outbound travel growth post-pandemic will mainly be led by travelers in lower-tier cities.
3. Everyone expects Chinese travelers to continue to explore the world. Chinese will still come but, in a new way.
The outbound travel market may not recover fully for the next two years, but like most parts of the world, domestic tourism is driving China's recovery.
The Chinese outbound travelers will explore the globe, more and more independently or with their families. Joining a big packaged tour group with strangers is looking less mainstream. Many Chinese tourists are now increasingly interested in less-known places or famous destinations but with good and natural environment. They are also preferring to explore local lifestyles with their family members or close friends. The long-term outlook for China outbound travel is still promising, according to Mr. Wang.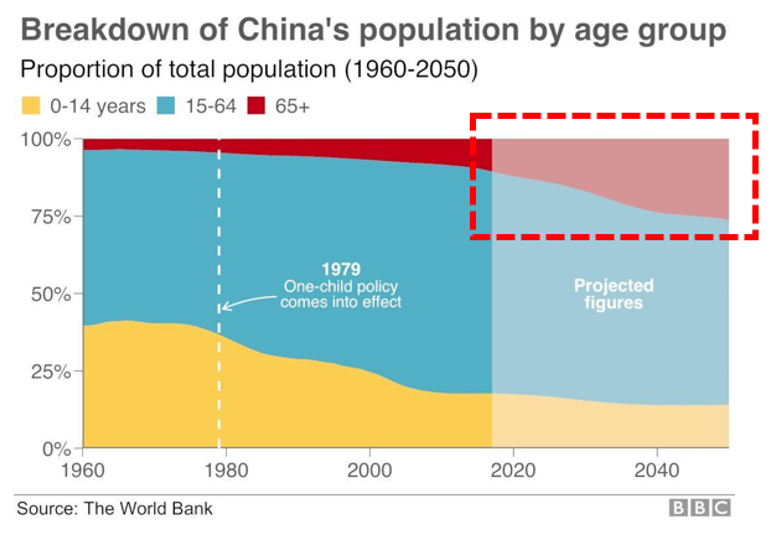 As the Post-60s (people who were born in the 1960s) are discovering the delights of retirement and the Post-70s are preparing for retirement, they are will be the real first wave of free independent travelers ever in China who know what they want to get from travel, understand the essence of exploring and willing to enjoy the freedom of Travel instead of simply sightseeing and shopping.
4. Domestic tourism will continue to grow in 2021 and 2022.
The China Tourism Academy projected that 4.1 billion domestic trips will be made in China this year, up 42% from 2020.
Data from China's leading OTA Trip.com Group show that the number of trips taken by Chinese families in 2020 reduced to an average of 2.4 trips, compared to 2.7 trips in 2019. But the overall quality of such tours had improved significantly.
Southern Chinese city Sanya leads the way of recovery since last June. Travel bookings for Sanya in June and July were quickly back to 90% of 2019 levels.
Mr. Wang believed that domestic travel in China will continue to grow this year as well as next year.
5. CAAC is keen to ease the restriction on international market but the government is also acting very conservatively.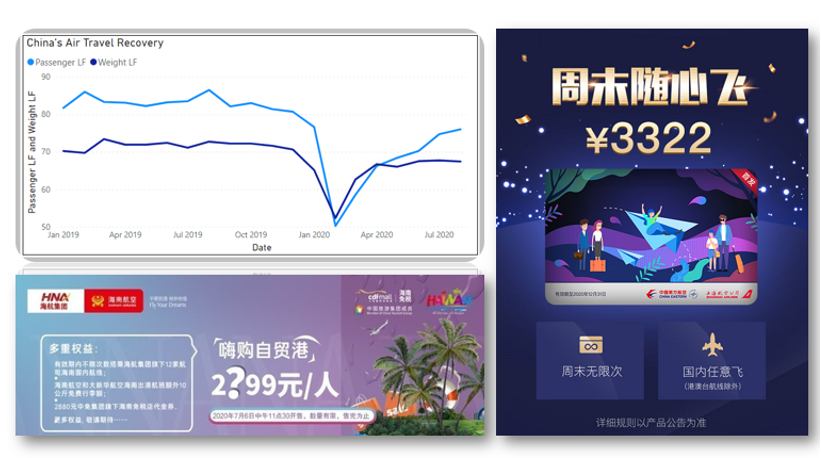 Thanks to efficient epidemic prevention and control measures, China's aviation market quickly rebounded and was the top performer in the global market last year, with domestic market reaching 94% of its 2019 level in Q4.
The Chinese airlines have rolled out promotional deals featuring "Fly at Will" packages to fuel a recovery in passenger numbers, though based on lower fares than the prior year.
Zheng Lei, China aviation expert and President of the Institute for Aviation Research, suggested during an industry discussion that the Chinese Government is keen to ease back on that policy down the track. But the government is also acting very conservatively. Their priority is to firewall China against further outbreaks and infections.
6. Overnight, digital reservation was implemented for all attractions, benefiting Meituan a lot.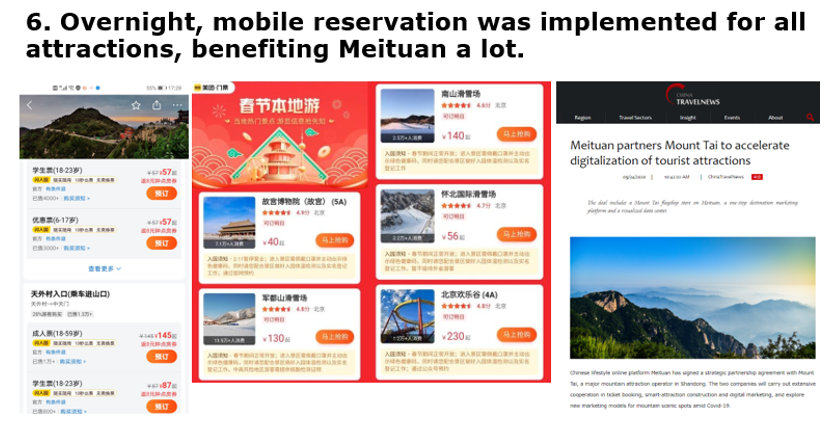 Mr. Wang mentioned that 75%-80% of the country's tourist attractions stayed in operation to meet public needs during major holidays in 2020. At the same time, all attractions limited tickets sold daily, and required online reservations to avoid mass gatherings, which benefited Meituan a lot.
Many attractions have issued plans including reducing ticket prices from 20% to 50% or offered free tickets to attract more tourists. They expected the loss in ticket revenues can be made up by spending on accommodation and food as more tourists visit the attractions, but that hasn't worked out very well so far.
7. Sanya restyled itself to attract young travelers, taking advantage of pent-up outbound travel demand.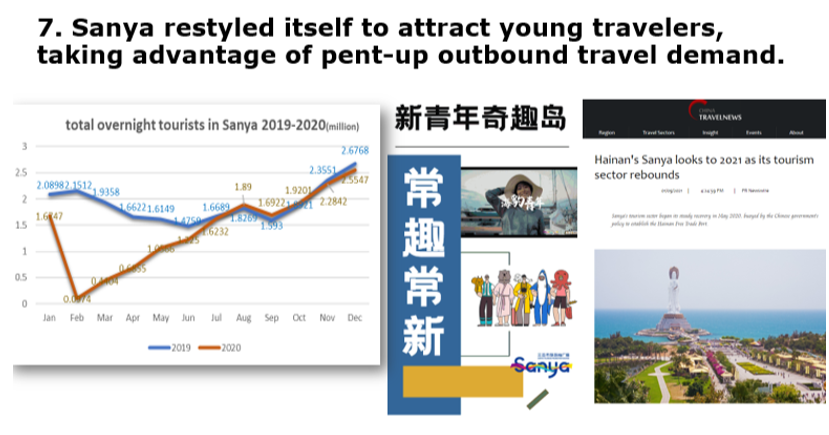 The number of overnight tourists and total revenue has remained stable since the third quarter of 2020 mainly due to the Hainan free trade port plan released by the central government on June 1 last year.
For the past decade, Sanya became more and more popular among the growing group of seasonal retired migrants. But it might also have hurt the brand of Sanya to the rest of Chinese travelers especially the mid-class and high-end travelers.
8. New media channels are still emerging and the future of livestreaming remains unknown.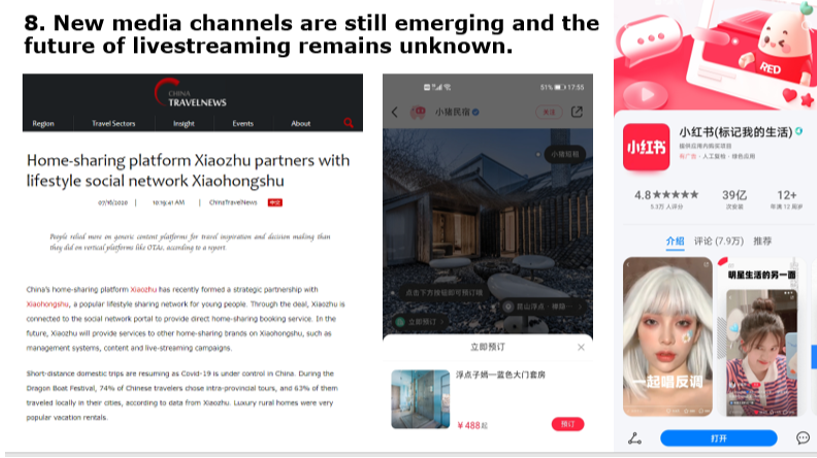 The year 2021 is set to be a big year for Xiaohongshu, which has 150 million registered users and 30 million monthly active users. It is not the largest social platform, but its KOL marketing is widely recognized as a powerful driver of social commerce.
The nature of Xiaohongshu with its extensive and constantly updated travel content is encouraging quick decision making caters well to the impulsive buying tendency for short-haul travel especially homestays.
9. Investment and innovation opportunities: from Consumer Internet to Industrial Internet.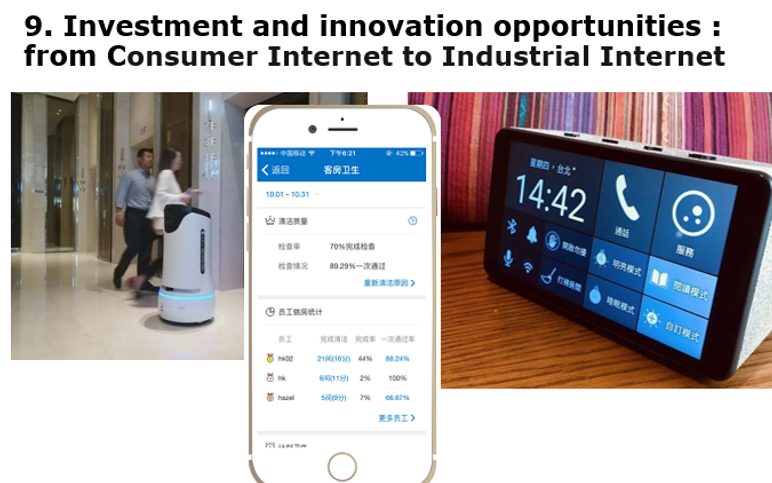 The reinvention of the tourism and travel sectors is not a simple process, and it's not happening on what used to be called "Internet Golden Time". The robust development of the "Consumption Internet" market along with the emerging "Industrial Internet" market in China will provide us with vast market potential.