A recent article by a Chinese blogger ("拼多多版名媛群") published on social media on 12th October, and was further shared by SupChina on their Society & Culture section – "Viral article reveals deceptive practices by aspiring socialites in Shanghai" and WhatsonWeibo.com - The 'Fake Rich' of Shanghai: Peeking Inside a Wannabe Socialite WeChat Group exposed the extent to which these "female pseudo-socialites" would go to to create an impression of an affluent lifestyle hoping to attract and befriend wealthy male netizens. Besides collaboratively buying or renting out and taking turns to use high-end branded handbags, and even branded sheer tights, 5-star luxury hotels have also become part of the show now.
The tag #上海名媛群# (Shanghai Female Socialites Group), along with the brand names mentioned in the article topped the list of searches on Weibo. The two hotels named in the article were The Ritz Carlton Shanghai and The Bvlgari Hotel, Shanghai. They too became the "hot topic" of the day on social media when the article was published.
Let's explore the impact of the article on the online "buzz" of the hotel brands in this analysis with data from Weibo.
1. Luxury hotel brands "targeted" for collaborative consumption
After the activities of "female pseudo-socialites" were exposed, it triggered a deluge of public reviews and comments on social media. As of 15:00 Hours on the 14th of October, the volume of reviews and comments generated on #上海名媛群# "Shanghai Female Socialite Group" in the entire social media network monitored by Weibo, exceeded 254, 300, and the peak "heat-index" reached 84.46, it became one of the hottest issues of social concern within a short time. Several five-star hotels responded to this hot topic, and it triggered another flood of comments (102,300) with the tag #名媛拼单豪华酒店# ("socialites group buy luxury hotels") with an average transmission speed of 1,624 items per hour. This clearly showed the impact of public opinion discussion becoming a prominent development trend in the hotel industry.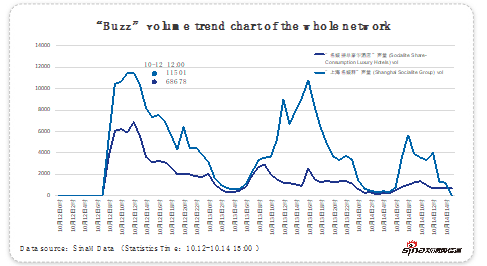 Of the luxury brands that were mentioned on social media discussions regarding this issue, the two hotel brands, Bvlgari and Ritz Carlton led the pack. While "fake delicacy" and "fake socialite" tags ignited this discourse on the Internet, they also set off an upsurge of "group buy luxury hotel" hashtag. These luxury hotel brands were the first to bear the brunt of being labeled with the "group-buy" tag and this has found its place in the public online psyche.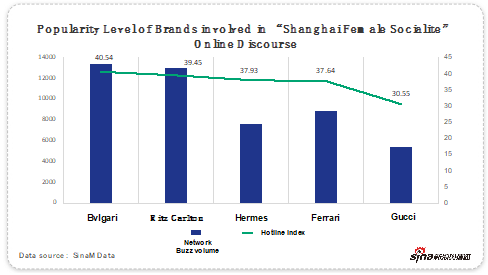 2. The netizens who exposed the true intentions of "fake socialites" are also potential followers of hotel brands
"Socialites Group Buy Luxury Hotels" is not just an "interesting" incident that netizens poked fun at. Our analysis also showed affiliations to a wider interest group of netizens from their level-headed responses to the behaviors exposed in the article.
A semantic analysis performed on the discourse of #"Group Buy Luxury Hotel" on Weibo, showed other related keywords or hashtags such as "hotel", "handbag", "afternoon tea" and "package". The analysis also showed that although the core purpose of the article was to expose the distasteful behaviors of these "female pseudo-socialites" in their misguided attempts to climb the social ladder, it also affirmed that most netizens were able to see through such "glamorous illusions".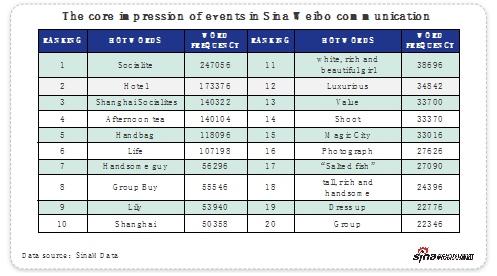 It's worth noting that on @XinJIngNews Weibo[# multiple five-star hotels responded to "Socialites Group Buy"#: no group bookings were found for multiple stays] during the microblog propagation process, the interest tags of all reposters and commenters were "Travel" and "Food" as the main focus. This showed the topic virality and user virality of the incident and many of these netizens under the "travel" and "food" interest tags are also the customers and potential consumer groups of the hotel brands.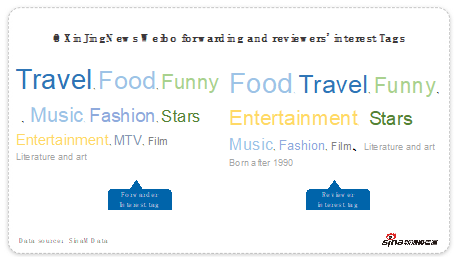 According to research on future travellers' motivation for travel released by Amadeus and Frost & Sullivan (Future Travellers Tribes 2030), travellers are divided into six groups: 1. Simplicity Searchers; 2. Cultural Purists; 3. Social Capital Seekers; 4. Reward Hunters; 5. Obligation Meeters; 6. Ethical Travellers.
In other words, travellers are increasingly motivated not by one or two interests, but a variety of interests and travel & hospitality providers will have to address this evolving buying motivation and behaviors of the future traveller tribes. These travellers will be more vocal online and offline, and as such, service providers will have to be more knowledgeable and better equipped with the right tools to handle issues that may develop quickly into a media crisis if not managed professionally and timely.
3. Group Emotional Resonance & Long-tail Effect of #Group-Buy Luxury Hotel
Observing the emotional responses of netizens, "surprise" accounted for 37.87%, and "joy" accounted for 18.08%. The idea of Group-Buy for Luxury Hotels seemed strange and ridiculous to some netizens. On the other hand, #"pseudo rich socialites" also gave an outlet to the anxious public emotions: some people felt "sad" because they couldn't change their consumption status, some were "angry" at the pretentious behavior while others were "fearful" because of the social dilemma of class and income gap that drove such these "socialites" to behave in this manner.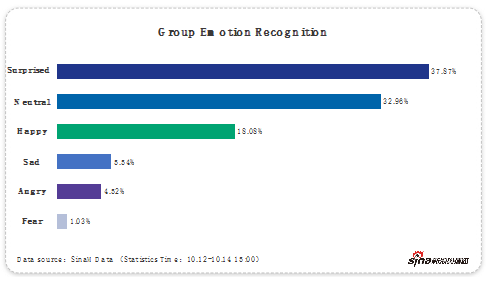 At the same time, the "long-tail" effect of the hashtag #Group-Buy Luxury Hotel was not easy to curtail. The online discussion on the topic went on for more than 48 hours, and in internet terms where interest in a topic is usually at 10-15 minutes, that is indeed a fairly long-tail. Well, some may say that bad news is better than no news, how to shape and transform public opinion in response to such incidents relies heavily on the capability and competency of the hotels.
The two hotels in question, The Bvlgari Shanghai and The Ritz Carlton Shanghai have a well-established reputation of luxury and quality in the market. However, this incident may have tarnished that long-held and hard-earned reputation. From the discussions and comments online, potential customers have begun to question the service quality, brand image, product value (性价比), security procedures, and even management competency. This negative iWOM could be highly detrimental to the brands' image and reputation. How the hotels responded to the reviews is critical in managing and swaying public opinion. A simple denial of such incidents may not suffice.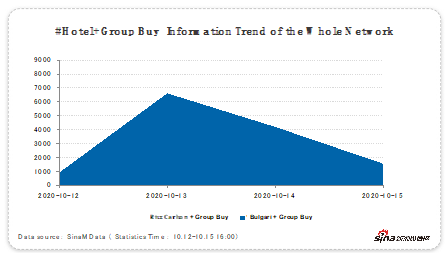 4. Reviews and Online Reputation Management for Brand Reputation Recovery
Although both the hotels responded to the article and stating that "we did not find any group-buy with multiple guests staying the room", some netizens still "don't buy it". The risk of creating further ire amongst netizens with this simple denial may lead to further erosion of brand reputation.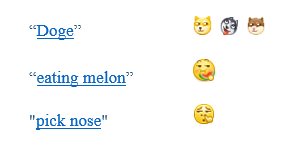 Judging from the emoticons used when forwarding and sharing @XinJingNews release #many five-star hotels response to the topic of Online Socialites Group Buy#, the "mood" ranges from "sarcasm" to "disdain" to "indifference". The most used emoticon is the "Doge" representing "sarcasm". Also, the expressions of "eating melon" representing indifference and "pick nose" representing "disdain" also highlighted these "moods". The responses from the hotels have not convinced or swayed the negative opinion of many microblog users.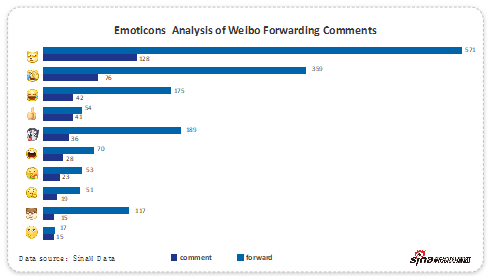 We further analyzed by clustering the views of netizens in the review area and found that 12.79% felt that the hotel's response to #group buy for luxury hotels# was not sincere and truthful. Some even used a "Trump" analogy to mock the response. 5.3% of netizens said that "admitting to group buy for hotels is tantamount to hotels admitting that the entire process is not strictly managed"; and 2.03% of netizens said that "similar incidents of group buy for hotel rooms has existed for a long time". More than 20% did not agree with the hotel's response.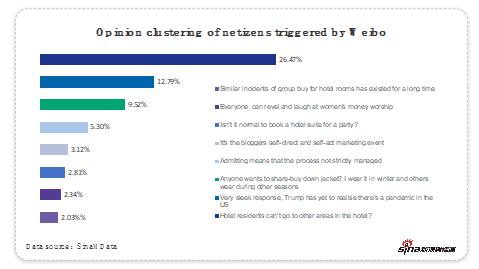 Peak Hospitality Solutions Founder & CEO, Mr. Lucas Peng said, "We all have to be cognizant of our Customer Experience Journey, and that journey starts way before our guest arrives at our doorstep". Unfortunately, most hotels only look at data related to guest experience on property. That leaves out critical insights as to what factors inspires and motivates the customer to book, regardless of booking channels, and stay at the hotel. Your online reputation is one of the critical factors and the fragility of this factor requires your constant attention and effective management to maintain its good standing even when you are under attack by negative online "buzz".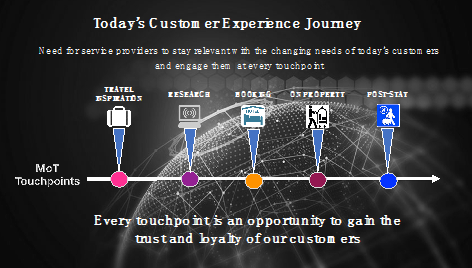 The impact of this particular incident #Shanghai Socialites + Luxury Hotels Group Buy# on the reputation of Bvlgari and Ritz Carlton brands demonstrated the importance of effective reputation management and the need for timely and professional reviews of and responses to online events. Before the release of the online article by the blogger on 12th Oct, both brands' reputations were at a mid to high 90%. They began to slide after the article was published on 12th Oct from mid 90% to mid 80% and low 90% on 14th Oct. If we compare Bvlgari's reputation from a high of 99.31% on 10th Oct to the lowest point at 86.87% on 14th Oct, that's a drop of about 12%.
In a recent article by Mike Chuma published on eHotelier Insights – "Rate and reputation: Understanding your hotel's true worth", he wrote: "..it has been reported that for every point increase in a hotel's online reputation score, bookings increase over 14% and average daily rate (ADR) goes up over 11%". In this context, a drop of 12% in online reputation could be costly in terms of revenue and ADR under normal circumstances.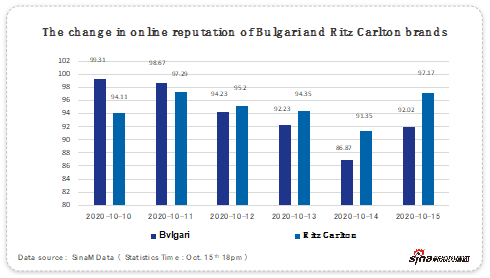 This incident serves as a wake-up call for all of us, especially high-end luxury brands in key destinations. The demand for such goods and services is very high in Shanghai, one of the richest city in China (Quoting the report issued by China Financial News – Yicai: Statistics showed that by the end of 2018, Beijing and Shanghai's deposit balances in renminbi and foreign currencies totaled 15.71 trillion yuan and 12.11 trillion yuan in domestic and foreign financial institutions, an increase of 1.34 trillion yuan and 865.44 billion yuan, respectively, over the beginning of the year.) However, at the same time, the expectations and demands of these affluent customers are also very high, especially when it comes to high-end products and services. It's no longer a question of affordability, but more of memorable experience and good value. When a prospective hotel guest embarks on her Customer Experience Journey, she may come across negative information about the hotel she is considering or was recommended by her peers or associates. The authenticity of such information is not important anymore as once the hotel is tagged to any incident of ill repute online, the damage on the brand's reputation will be sealed in her mind, even though she may not have personally experienced it. It's enough to affect the prospective guest's final choice, which in turn affects the hotel's revenue, brand reputation, and customer loyalty.
In the face of such incidents which is not of your own making, yet it affects your brand image, reputation, and ultimately revenue and profits, what can be done to restore your reputation? The adage, "prevention is better than cure" comes to mind!
5. Develop a robust and agile communication strategy to pro-actively manage and maintain your reputation
How do we apply the adage of prevention is better than cure in a highly volatile, complex, and fast-evolving business environment.
a. There is a proliferation of review sites such as TripAdvisor and Yelp, so most hotels have an established Online Reputation Management system, either managed internally or outsourced that will monitor reviews and selectively respond accordingly. However, are we suffering from information overload? How can we sift through all those data and draw meaningful conclusions to help us implement strategies and tactics to manage effectively? First and foremost is to ensure that your communication strategy includes digital communication and is well develop covering all touchpoints to effectively engage contextually with your target audience. Have in place a robust and dynamic process that is well communicated internally to all relevant and trained parties to execute effectively.

b. Next is to use the right tools, well supported by technology. However, the evolution of the internet and social media platforms has created a highly complex environment, making it challenging to monitor and manage the vast expanse of the social media network. This requires the help of a more extensive and profound technological platform that can "listen" to the entire network, analyzing data, decipher early warning information at the first instance, accurately study and judge the development and change of any given situation, to mitigate and avoid further deterioration and diffusion of public opinion risk.

c. Lastly is crisis communication in response to negative public opinion which if not managed timely and effectively will spread like wildfire and burn your well-earned reputation before you can count to 10. Putting out a consistent statement across the entire network, being transparent, and not hiding the truth when communicating a resolution or apology will demonstrate your sincerity and concern more effectively. By doing so, you are also reinforcing to the public your brand's values and DNA, thereby turning a negative into a positive.
We live in a highly digitalized world today with Siri doing our bidding and robots serving us our meals. Technology has all but taken over much of our menial tasks and has changed the way we live, work, play, and communicate. The adoption of AI is growing at bullet-train speed. The fast and constant evolution of social media adds fuel to this and a single message/video/picture posted on any one platform often becomes viral across many platforms in a matter of seconds.
To succeed, we need to be agile, alert, and armed with accurate and well-analyzed data to help us convert every opportunity to our favor by taking calculative risks while communicating. The good news is, not many brands are doing this effectively, and when you do, you will climb to the peak in brand reputation, value, and credibility.
Data Source: All data used in this report is from SinaMData