Trip.com shareholder ups its Meituan stake
>> UK-based investment management firm Baillie Gifford boosted its stake in Chinese lifestyle service provider Meituan from 4.97% to 5.08% after buying 5.65 million more shares of Meituan on April 14 for HKD 543 million (USD 70 million). Baillie Gifford is also a major stakeholder of Trip.com Group, Meituan's direct rival in travel business, owning a 7.7% stake as of February 2020.
TravelSky injects $141 million into 5G investment fund
>> China's airline IT service giant TravelSky announced that it has teamed up with investors including China Mobile Capital to set up the China Mobile Equity Fund that will mainly invest in 5G and information communication industry chain, ecosystem and the empowerment industry. TravelSky will contribute RMB 1 billion (USD 141 million) in cash to the Fund according to the agreement.
Cathay Pacific lays off 286 overseas cabin crew
>> Hong Kong's Cathay Pacific will lay off 286 cabin crew based in the United States and furlough 201 pilots based in Australia and Britain, as the coronavirus pandemic has virtually halted global travel. Last month the carrier announced the closure of its Vancouver cabin crew base with 147 crew.
Hong Kong's screening system for airport arrivals holds lessons
>> Hong Kong's health official said the city's requirement forcing all arriving passengers to be tested for COVID-19 will remain in place going forward as experts predict the practice will become standard at airports around the world. According to the Airports Council International Asia-Pacific, current testing has proved tricky and future measures could increase the travel time through the airport and make transiting for passengers more complex.
Carnival sees China among first areas to cruise again
>> Carnival Corp.'s CEO Arnold Donald said China might be among the first areas where cruise lines start sailing again as the coronavirus pandemic eases. Before the pandemic, China had been an important source of growth for Carnival. The company had expected to base 5% of its fleet there in 2020.
China's domestic corporate travel rebounds
>> China is seeing signs of recovery in domestic corporate travel, according to a sentiment survey by the Corporate Travel Community, as 8.7% of respondents reported an increase in domestic approvals last week.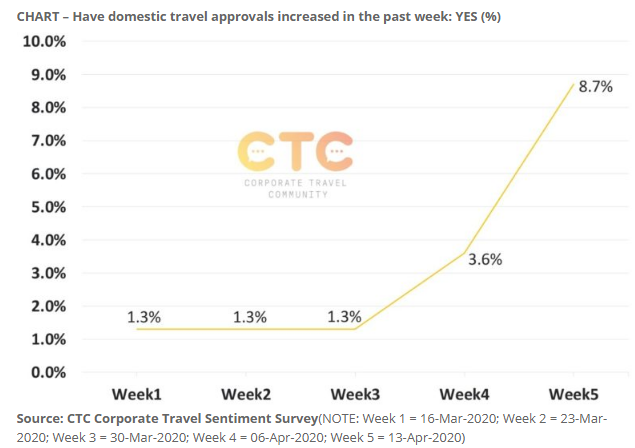 Digital travel management company DTG Global says that traffic improved further through Mar-2020. It anticipates domestic air volumes to be rise to 35-40% of previous levels in Apr-2020 and to 50% by May-2020.

Club Med resorts to reopen "one by one" starting in China
>> Fosun Tourism Group, which owns Atlantis Sanya and Club Med, aims at reopening its units "step by step, one country by one country", starting from China. The seven Club Med resorts in China were the first to close at the end of January, and will be the first to reopen, starting with the Club Med Joyview Anji on April 6, followed by other non-ski resorts in China. The Club Med resorts in Asia-Pacific will reopen in May, and those in Europe in June.
Hilton's China occupancy rises from 9% to 22%
>> Hilton estimates its systemwide comparable RevPAR to have declined between 22%-24% in the first quarter this year. Hilton estimated March systemwide RevPAR to be down between 56%-58%. The hotel chain expects Asia Pacific RevPAR to be down 43%-45% in the quarter, and down 74%-76% in March, despite some early signs of recovery in the region, particularly in China. Hilton's occupancy in China currently stands at 22%, up from 9% in early February, and with more than 130 of the nearly 150 hotels in China that had been closed now reopened.
Huazhu seeks loan covenant waiver on COVID-19 impact
>> Chinese hotel company Huazhu Group is asking lenders' consent to waive some of the financial covenants on a recent syndicated loan. The loan in question is a $1 billion dual-tranche deal sealed in February. That facility was split into a term loan tranche of €440 million and a revolving credit facility of $500 million, with tenors of three years for both portions.