ChinaTravelNews, Jerry Tang - Technology innovations are constantly evolving, changing the way people travel and eliminating the stress from their journeys bit by bit. Whether it's "connected trip" or "frictionless travel", online travel agencies like Expedia and its counterparts want to make travel easier for the world.
To simplify what travelers have to go through in the online space, OTA giants are essentially integrating their multiple brands and platforms and unifying the points of sales and services across platforms into one single interface. But this integration requires strategies on different levels.
In a recent speech titled "Reaching New Heights for Partners and Customers" in Las Vegas, Mark Okerstrom, President & CEO of the Expedia Group, reiterated the company's ambition to stay "locally relevant on a global basis".
Connecting consumers and partners over a single platform
"In unlocking the full power of our global platform, the Expedia Group platform is connecting a huge number of customers on one side of the platform, and we provide access to those customers for all of our incredible partners," Mr. Okerstrom said at the company's annual global partner conference "explore'19" on November 13.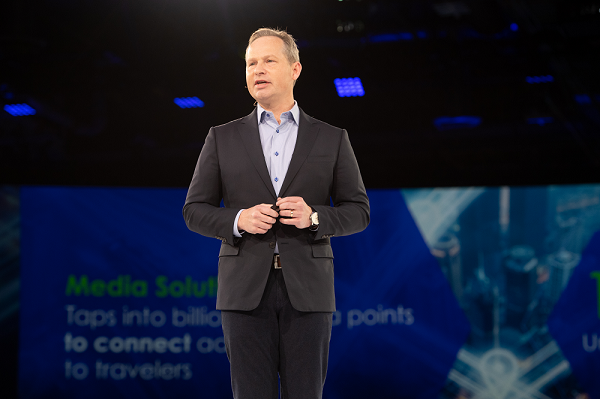 Mark Okerstrom, President & CEO of the Expedia Group
Beyond just providing distribution support, the company leverages its data intelligence to help partners better connect with consumers and improve their offerings. On the lodging business, Expedia has facilitated 20 million direct conversations between customers and partners.
"One of the other great ways that we connect our customers with our partners is through our media solution business," said Mr. Okerstrom. "Leveraging 144 million unique monthly visitors translates into 2 billion page views."
Similar to its global counterparts, the Expedia Group is seeing a slowdown in its core business, as indicated by its recent financial results: the company's room night growth rate was slowing from 16% in 2017 to 13% in 2018, and 11% in the first nine months of 2019, and net income dropped by 22% in the third quarter.
Compounding this headwind, Expedia and its online travel rivals are also facing Google's move to cram more advertising into top search results, which hammers the online travel industry. To counter this, OTAs are seeking to strengthen their own brand awareness to attract more direct traffic.
Partnerships in travel and beyond
Expedia works with travel partners of all sizes around the world, Ariane Gorin, President of Expedia Partner Solutions, mentioned at the conference.
One of the most significant partnerships is the exclusive wholesale rate deal with Marriott, in which the OTA becomes the single source of bulk wholesale rates of the world's largest hotel chain, connecting thousands of B2B resellers worldwide.
"Marriott found that their hotels are spending too much time navigating the complex web of third-party re-distribution. They wanted to simplify, bring transparency and make things more efficient," she said.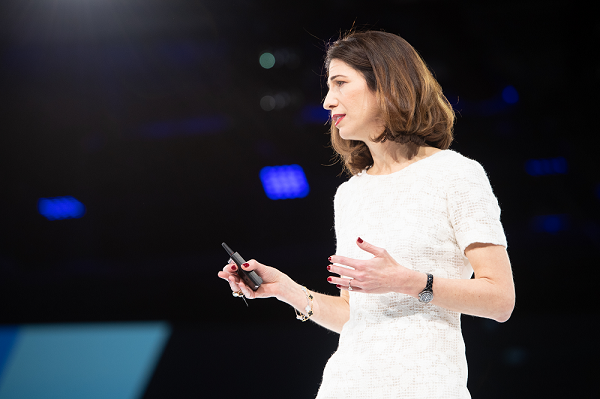 Ariane Gorin, President of Expedia Partner Solutions
Expedia is able to help Marriott solve this problem with the capabilities of Expedia Partner Solutions to connect thousands of trusted distributors, and the technology solutions like APIs that it has been developing.
"It was a perfect match between the problem Marriott was trying to solve and the technologies and business capabilities we have at Expedia. By leveraging our platform, Marriot is getting time back to focus on what makes them different – delivering the perfect stays for their guests."
For the airline sector, Expedia has worked with United Airlines (UA) to deliver its VIP Access program. The OTA opened up VIP access to UA's loyalty program members so that they too can take advantage of perks like breakfast and resort credits when booking directly at UA's hotel site. Leveraging its technological capabilities, Expedia also facilitates companies beyond the travel industry, like JP Morgan Chase, to let customers redeem rewards.
On B2B consolidation
The B2B wholesale sector is increasingly consolidating, with Hotelbeds' acquisitions of Tourico and GTA, how will the OTA business be affected by wholesale consolidation?
Ms. Gorin thinks that the impact can be positive for the whole industry.
"It is usually the smaller players that are disrupting rate parity, so in this sense, the more consolidated and integrated the industry is, the better it will be for distribution. Larger hotel groups are usually doing better in keeping control of parity."
The point of frictionless travel
Looking at improving travelers' seamless experience, Cyril Ranque, President of Expedia's Travel Partners Group, said that removing stress and frustration in travel can create memorable moments.
Mr. Ranque pointed to examples of major transformation the world has gone through over the last decade: from taxi to car-hailing, and from the TV program to on-demand entertainment, which illustrate that these changes essentially removed friction and were conducive to deliver a seamless experience to access end products, rather than creating new end products.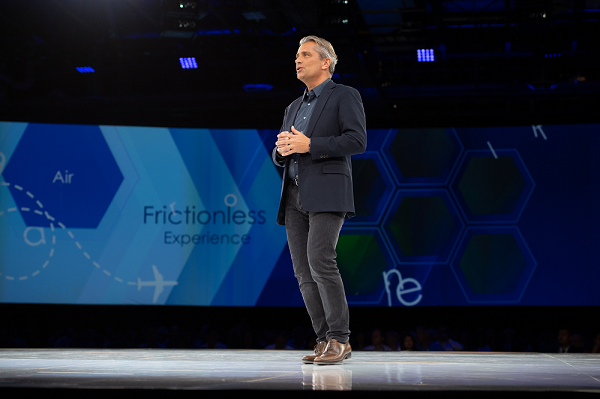 Cyril Ranque, President of Expedia' Travel Partners Group
"We believe that, as an industry together, by partnering, we can take on the challenges to remove friction all the way throughout the travel experience. So that we can take a bad experience and turn it into a good one."
Expedia continues to invest in technology platforms to enable frictionless travel. It invested more than USD 1.6 billion in technology last year alone.
Developing an intuitive and efficient AI system
Expedia aims to build intuitive customer tools and offer resources to improve customer experience. The company's research shows that its customers prefer text conversations to phone calls whenever they need help and information.
But it's not cost-effective, if not unrealistic, to have all these services delivered through human agents. The company revealed it has accumulated around 1.7 million virtual agent discussions, of which 50% require no human assistance in the process.
The key to improving customer service efficiency lies in emerging technologies like artificial intelligence and machine learning. But a recent study cited by John Kim, President of Platform & Marketplaces at Expedia, shows that people are actually more afraid of computers than they are of dying.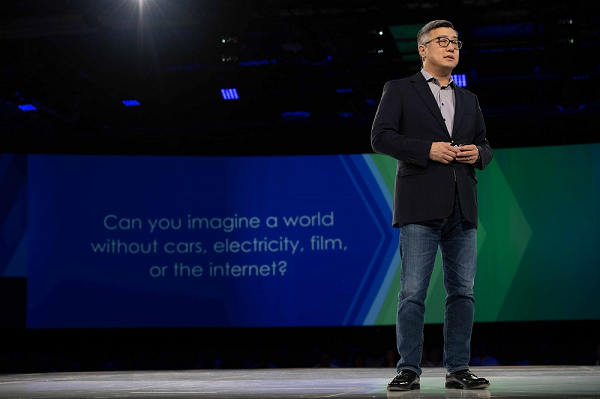 John Kim, President of Platform & Marketplaces at Expedia
Mr. Kim said the fear comes from uncertainties created by new technologies, which need to be understood.
The very meaning of AI is similar to the complex mapping of inputs and outputs (see below). Between the initial inputs and the final outputs, there are different layers of hidden factors. The system will weigh different factors in different layers and then decide the respective output for each input.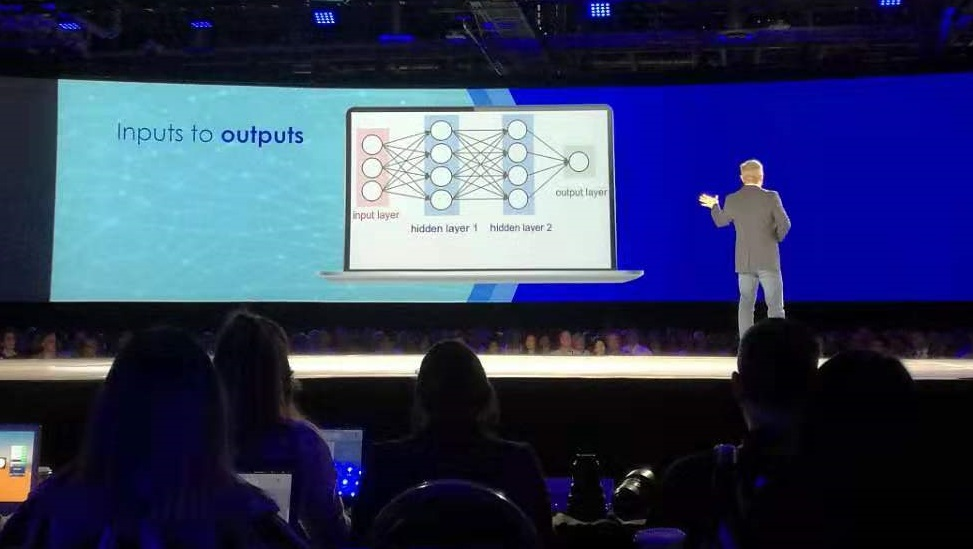 "What's different from traditional algorithms is that every time you give a new piece of data, it can re-weigh all the factors and then change the way it gives algorithms. That is the concept of AI," said Mr. Kim.
Travel search has a similar framework like that, according to Mr. Kim. You type in your dates of travel, duration, preferred transportation methods, etc. and every time the system re-weighs all the factors.
Expedia now can collect the data and combine them with customer contact history. The company's platforms get 2.3 billion interactions per day, which means that it needs to process data at a blazing speed.
"The normal process of logging into an account, searching what you want and ordering takes too long." So Expedia aims to build an AI travel system with its partners, in the same vein as Amazon's anticipatory shipping service, which will start the shipping process even before a customer places an order.
"AI is just a tool because humans still power the travel experience," he added.