MICE venue search portal and online one-stop-service platform Eventown Group has announced it is making a full acquisition of event management platform EventDove and its related brands in a RMB90 million (approx: US$14 million) cash and share deal.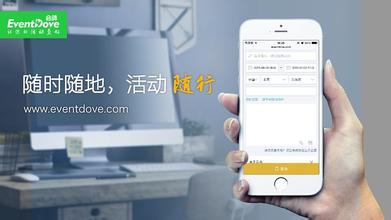 EventDove a mobile event management platform
Eventown will appoint EventDove's CEO Jun Chang as its CTO while Eventown's current CTO Fa'ke Ren will become chief web architect after the acquisition. Meanwhile, EventDove's Nanjing team will be directly incorporated into Eventown, with no personnel changes, and will form the Eventown Nanjing RD Center.
Benchmarking itself against US event platform Cvent, Eventown currently offers the MICE industry integrated solutions and consolidated services using the Eventown.com platform, original event management tool Eventool, MICE corporate purchasing back-end administrator Mice Eventown,venue back-end sales platform Evtown and supplier administration system Huishangyun. It is listing 60,000 venues for service in 152 cities and has signed with JD.com to list its resources on the ecommerce giant's platform.
Established in 2010, EventDove adopts the model similar to that of US event managing site Eventbrite, leveraging near-field communication and passive RFDI technology to create a mobile event management app that offers organizers and attendees a complete service encompassing pre-event website building, online registration and payment, event e-signature, eco-friendly passes, data collection and post-event statistical reports.
Eventown aims to leverage the acquisition of EventDove to complete its MICE service chain and progress from B2B to B2B2C segments. It will also use Eventool to consolidate EventDove and its other corporate travel services. EventDove will mainly focus on the event administration area and will link up with Eventown's other products in the future for sustained operations.
EventDove's Mr. Chang believes that in order for the MICE industry to achieve the online + business model, resources and attendees are two compulsory elements, and its incorporation with Eventown will effectively integrate these two vital elements.
Eventown's CEO Liang Tang said EventDove has an RD edge in the event management, so the consolidation of both companies will multiply their advantages in resources. He hopes to create a MICE industry eco-system for Eventown and offer free use of EventDove to the MICE users of Eventown and JD.com.
Eventown also revealed that it will form a partnership with Didi-Kuaidi to offer transportation solutions for event locations. Its online booking products will be divided into individual ride booking service for regular customers and group booking for corporate clients. Didi-Kuaidi's corporate traveler edition will also enter the Eventown Huishangyun platform's certified supplier system to offer corresponding services, including chauffeur service, taxi-hailing and bus service to MICE companies of all sizes.(Translation by David)