ChinaTravelNews, David Nakayama – The announcement of the 2016 China-US Tourism Year by President Xi Jinping during his US visit has put the spotlight on Los Angeles as US's Pacific coast gateway and top destination for Chinese visitors. With a mission to promote the city's tourism industry and drive traffic through Los Angeles International Airport (LAX), the Los Angeles Tourism & Convention Board (L.A. Tourism) has made the China market its number one focus.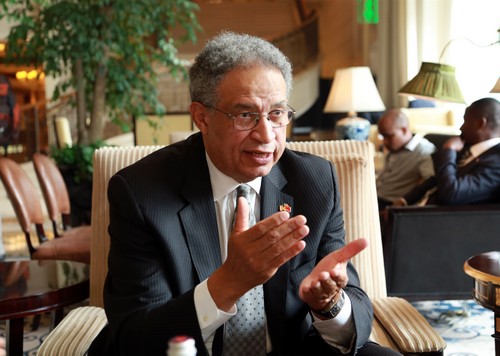 L.A. Tourism's President and CEO Ernest Wooden, Jr
L.A. Tourism reported a record-breaking year in 2014 with 70.7 million arrivals at LAX, making it the second busiest airport in the US. International visitors comprised 22% of overnight visits and contributed as much as 34% to total visitor spending. At 686,000 visitors the Chinese were the largest group of international visitors to L.A.
2015 China Strategic Marketing Mission: Making L.A. ready for Chinese visitors
"China is our number one market. Ten years ago it was not even in the top ten markets for L.A., but within eight years it became the number one overseas market with the strongest and highest growth of any market. Last year we had over 20% growth y-o-y in arrivals and we're expecting that kind of compounded growth for the next three to five years," L.A. Tourism's President and CEO Ernest Wooden, Jr. told ChinaTravelNews in Guangzhou, the first stop of his 2015 China Sales Mission.
He compared China to Europe, as both appear to be one market but are in fact "large and diverse markets geographically and demographically". In order to woo more Chinese visitors, L.A. Tourism has taken the bold move a year ago to switch to a B2B+C business model, after nine years of focusing on B2B marketing in China. In this year's "roadshow" marketing mission, L.A. Tourism targets the general public with high profile promotional events such as an NBA exhibition game in Shanghai between L.A. Clippers and the Charlotte Hornets.
His visit to Guangzhou was also to celebrate the opening of L.A. Tourism's office in Guangzhou, the third in China. "I am very happy to tell you that L.A. Tourism has received official approval from China National Tourism Administration to establish a new office in Guangzhou, the third largest hub in China. It's a big deal for us," he said.
Mr. Wooden said another important part of his mission is to lead a delegation of influential U.S. tourism leaders and educate them about the opportunities and channels available in China, such as Ctrip and UnionPay, so that they can help prepare L.A. for Chinese visitors.
L.A. Tourism has already been working with Ctrip for some time and many of their partner hotels are on the top OTA's booking platform, so Mr. Wooden is keen to introduce more U.S. partners during his visit to Ctrip's Shanghai office.
L.A. Tourism has also led the way among U.S. destinations in terms of tapping into the China market. "We are the number one city for rolling out the red carpet for Chinese visitors. We started the 'Nihao China' training program for the hospitality industry, so we are more experienced and can show other US cities how to better receive Chinese guests. For example, Chinese prefer to have congee for their breakfast, which is different from travelers coming from other countries. We work with China-Ready hotels to prepare kettles, toothpaste, slippers etc. in the guestrooms and of course, serving Chinese-style breakfast, all of which are highly appreciated by Chinese travelers. These small details make a huge difference in Chinese customers' travel experience. We also pay attention to the different payment systems - Alipay and Wechat pay are not yet available in the States so the first step is to get UnionPay into luxury stores like Louis Vuitton in Beverly Hills."
Discovering the world of Chinese social media
L.A. Tourism visited the headquarters of Tencent's social platform Wechat to find more ways to connect with Chinese customers. "I think that was the breakthrough moment of this trip!" Mr. Wooden exclaimed. He first tapped into Chinese social media two years ago when he visited Shanghai Fudan University as part of his doctorate work and was surprised to find he could quickly build a network of 1.5 million followers within three months on Weibo. Today, L.A. Tourism has a presence on both Weibo and Wechat. "What impressed me today at Wechat was their platform's B2B and B2C opportunities through features like red envelopes. I definitely feel we need to further develop our own L.A. Tourism account on Wechat. I've got this huge base of 2,000 L.A. tourism industry partners who all want to touch Wechat users, so we want to act as a conduit for that interaction between the two sides and a portal for Chinese users," he said.
A man of action, Mr. Wooden isn't short of ideas on how to woo Chinese users: "L.A. is a bucket-list destination and most Chinese want to see Hollywood, dance in the same clubs as Madonna or just go to a basketball game. These visitors will get addicted to coming to L.A. I can fill those Wechat red envelopes with all kinds of rewards from access to the Oscars or Emmy Awards or tickets to the Lakers games to build a huge loyal audience."
For distribution channels, he would like to start by placing red-envelope QR codes on movie screens in the 19 cinema chains in Shanghai that are partners of L.A. Tourism. He also wants to tag red envelopes onto the promotional video series starring Chinese pop singer Li Jian that L.A. Tourism runs on the popular video streaming site Youku.
Leveraging mobile online in China
L.A. Tourism launched an independent Chinese website last year, mirroring its English site and modified for mobile use.
The website shares various destination features specifically designed for Chinese travelers throughout the year and its contents are posted on Wechat and Weibo to encourage social interaction, a key part of Chinese marketing. "We have the second largest friend following on our Facebook page among U.S. cities so we know how to do social media and how to get people to push content. We are bringing this knowledge over to Wechat, which is a robust vehicle for socializing and also much more precise and targeted for reaching geographic areas in China. For example, I got staff in Beijing that will just focus on the local market there," he said.
L.A. Tourism is also launching a B2B/B2C mobile training program, L.A. Specialist, through which users get a certificate and even a lucky draw prize after completing 12 study chapters and passing each chapter's exam.
The future for L.A. Tourism in China
Mr. Wooden is upbeat about L.A. Tourism's future in China: "I foresee robust double-digit growth in our multiple regional offices that directly follows flight development to LAX. All our efforts follow flight developments, so when we get more flights into LAX from China's secondary cities and in others the interior, we can get that inbound traffic over to the L.A. City tourism industry. Our B2C development also follows development of our B2B operations."
China-U.S. flight development is booming, spurred by demand form the red-hot outbound market. Chinese carriers are making massive investments in the Sino-U.S. market, according to the Civil Aviation Administration. Boeing has reported that US carriers put on an additional 82% capacity while Chinese carriers added a whopping 250% capacity in the past five years. Besides increasing the number of flights from the major airports in Beijing, Shanghai and Guangzhou, Chinese carriers are now opening air routes to L.A. from secondary cites, such as China Eastern Airline's new nonstop service between Nanjing and L.A. inaugurated on June 30.
Mr. Wooden also has a vision for the greater China area: "I'm very intrigued that a lot of Chinese in the Pearl River Delta region are flying out of Hong Kong, so we definitely should look into having a presence there," he said. Despite a slowdown in tourism, Hong Kong remains an important hub for Chinese travelers flying abroad, and Cathay Pacific has four services a day from Hong Kong to LAX, more than any single mainland carrier.
As for the upcoming China-US Tourism Year 2016 he said: "We stand poised to follow any direction the leaders in Washington set. As with CNTA here, we have Brand USA that is also responsible to make President Xi Jinping's proclamation a reality. L.A. Tourism is a principal player with Brand USA, so they will call us for feedback on how to bring the two countries together. But the announcement was only made two weeks ago, so it's going to take some time."
Meanwhile, Mr. Wooden is unconcerned about the long-term effect of China's economic slowdown. "There's a difference between a slowdown and a stop, and we have had no reduction in our double-digit growth. I think this is because human beings believe that it's their inalienable right to travel and President Xi Jinping told me himself during our meeting that tourism is the best way to break down barriers and encourage relationships between people," he said.