With 1,348,532 hotel rooms open as of the end of last year, Marriott continued to top the 2019 global HOTELS 325 ranking list, followed by China's Jin Jiang International with 1,081,230 rooms as of the same time.
Indian budget hotel chain OYO rose from the eighth place to the third place in the list with 1,054,000 rooms, according to the ranking report, overtaking Hilton which had 971,780 rooms at the time.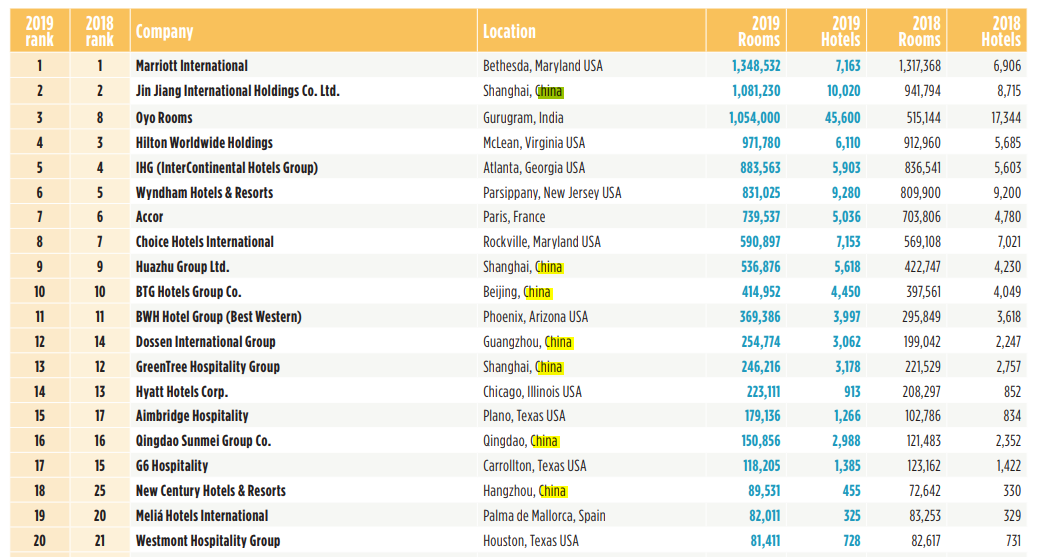 It is worth noting that the global hotel group ranking by the HOTELS magazine was based on the data as of December 31, 2019, while the outbreak of COVID-19 has had an unprecedented impact on the global hospitality industry since earlier this year, forcing hotels worldwide to close down and making this 2019 ranking much less meaningful in the post-pandemic context.
Still, it is interesting to look at the global hotel group ranking, prior to the uncertainties brought by the coronavirus.
Among the global top 20 list, seven hotel groups were from China, including Jin Jiang, Huazhu Group, BTG Hotels, Dossen International, GreenTree Hospitality, Qingdao Sunmei Group and New Century Hotels.