As of February 10 at 23:05 in Beijing time, more than 900 people have died from the coronavirus and over 40,000 more infected. Tour operators across the world are feeling the pinch, short-term rental platforms are freezing check-ins in Beijing, Asian destinations are concerned.
Key developments:
* Tour operators in India could lose $500 million
* China's air travel demand dropped 40%
* Epidemic could cost Vietnam $5.9-7.7 billion
* Airbnb suspending check-ins in Beijing
Worldwide updates:
Tour operators feel loss
>> Australia's ban on Chinese visitors has swung a wrecking ball through the country's tourism sector. More than 620,000 Chinese visited Victoria, representing 21% of all visitors to the state and pumping AUD 2.7 billion into local economy.
The impact of the China ban on trade, tourism and international education would be significant but could not yet be quantified.
>> Australian travel giant Flight Centre said the virus's emergence has inevitably made the company more difficult to deliver a strong second-half result. The coronavirus had already adversely affected the company's small corporate travel operations in China, Singapore and Malaysia, which together generate 2.5% of total transaction value.
>> Indian tour operators estimate they could lose up to $500 million because of cancellations from tourists from China and other countries due to the coronavirus outbreak, a cost that could rise four-fold if it persists through the year.
IATA's air travel data
>> Domestic and international air travel demand in China has dropped by as much as 40% in the wake of the coronavirus outbreak, according to data from the International Air Transport Association.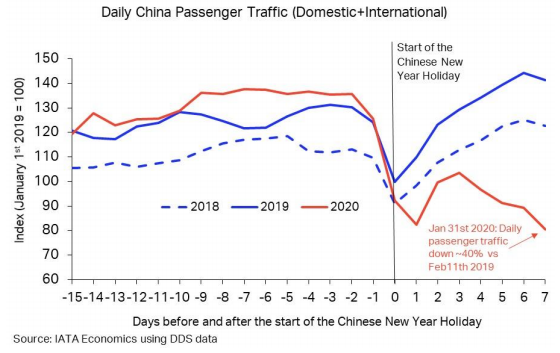 Passenger volumes declined sharply following the closure of Wuhan airport and World Health Organization's declaration of the virus as an international public health emergency.
Asian tourism concerned
>> The spread of the coronavirus has raised concerns over the prospects of Asia's most popular destinations including Thailand, Japan and South Korea, as Chinese visitors generally top the charts in terms of numbers and spending.
>> Amid the ongoing virus outbreak, Thailand has not restricted Chinese tourists from entering the kingdom, or dropped its visa-on-arrival fee waiver implemented to mainly attract Chinese. In clear contrast, Singapore bans entry to all Chinese passport holders and foreigners with a recent history of travel to China.
>> South Korea's international tourism destinations are in panic over the Wuhan coronavirus and its impact on business. According to the Jeju Tourism Organization, the number of visitors to Jeju Island for six days, from Feb 1-6 declined 47.4%. The number of foreign tourists went from 24,473 last year to 9,936, a 59.4% drop.
>> The epidemic in China could wipe $5.9-7.7 billion from Vietnam's tourism earnings in the next three months as international travelers stay away from the region. China was Vietnam's biggest source of foreign tourists, accounting for a third of the 18 million visitors last year, official data showed.
>> Indonesia's tourism sector has taken a hit amid the coronavirus outbreak, following travel bans on tourists to and from China. Chairman of the Indonesian Hotel and Restaurant Association (PHRI) Hariyadi Sukamdani said more than 40,000 hotel bookings in Bali have been cancelled since the outbreak.
"Arbitrary restrictions" hurt industry
>> The head of the Association of Asia-Pacific Airlines (AAPA) said travel bans and canceled flights imposed to deal with the global outbreak of coronavirus were hurting the industry and were a disservice to the flying public. "Arbitrary restrictions and blanket travel bans are inconsistent with international health regulations and result in unnecessary inconvenience and added uncertainty among members of the public."
Airbnb freezes check-ins
>> Airbnb is suspending check-ins at all of its Beijing listings until March to comply with local regulations intended to curb the coronavirus outbreak. The San Francisco-based company said it will offer refunds to all those affected or that cancel their bookings.
Local rival Xiaozhu will match Airbnb's actions, shutting down all rentals in Beijing for February and issuing full refunds while also waiving landlord commission fees. Trip.com Group Ltd.-backed Tujia is following suit.
Fears on cruise
>> Halfway through a two-week quarantine, 66 more people aboard the Diamond Princess cruise ship in Yokohama have tested positive for the coronavirus, bringing the tally to 136 with only a fraction of the passengers tested.
>> After canceling up to eight cruises last week in response to the coronavirus outbreak, Royal Caribbean announced on Friday it's banning any guests with Chinese, Hong Kong or Macao passports from boarding its ships until further notice.
Read earlier reports on coronavirus:
>> Billion-dollar trade events hit, luxury brands suffer
>> F1 Shanghai race at risk, Indonesia could lose $4 billion
>> Europe mulls US-type travel ban, Disney expects $175m loss