Supported by Vpon's Trata DMP which possesses 60 million Asian tourists' behavior data, the APAC Mobile Advertising Statistics and Trends Report throws light on the mobile behavior of Greater China (Mainland China, Hong Kong and Taiwan) tourists traveling to Singapore, Japan and Thailand, as well as the latest APAC mobile programmatic advertising statistics and trends.
Nearly one-third of Greater China tourists visit the same destination more than once per year, while Mainland China tourists has got the most frequent tourists. Particularly, one out of three Mainland China tourists who are defined as frequent tourists hit Singapore three times or above, taking up a larger proportion than tourists from Hong Kong (24%) and Taiwan (8%).
Mainland China and Hong Kong tourists engaged more with their mobile devices during day time, especially around meal hours. The mobile activeness for Taiwan tourists soars from early evening to mid-night across all three destinations.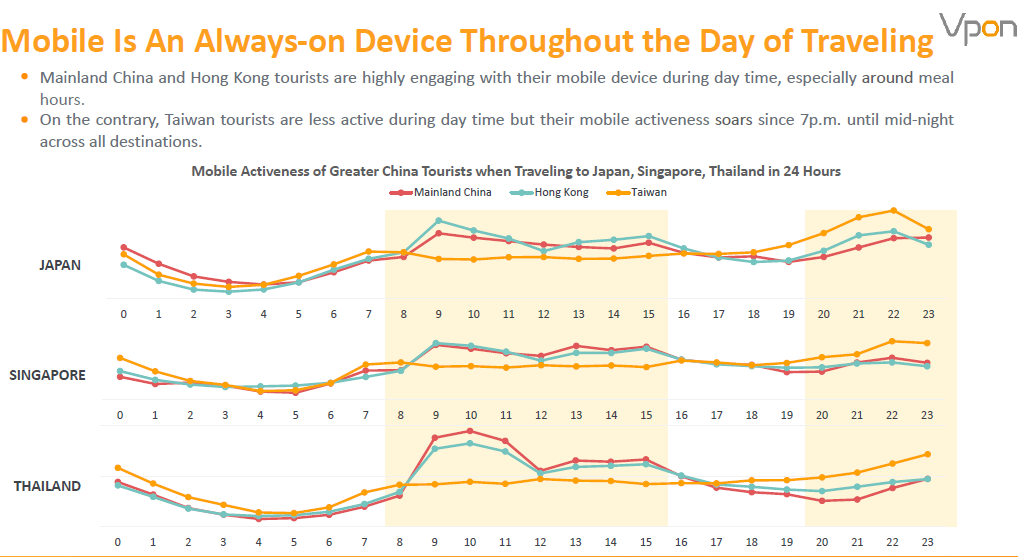 Greater China tourists' ad preference appears to be more consistent at pre-trip stage, but varies more at during-trip stage across all three destinations. It is seen that their ad preference changes in accordance to the destinations they are traveling.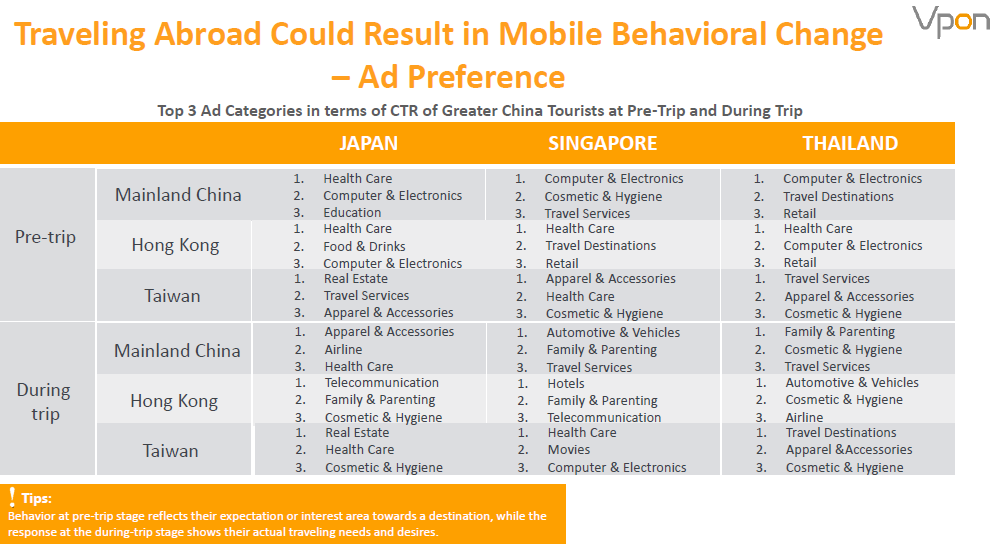 "What we advise, based on these data insights, is advertisers should adopt different approaches in engaging tourists at different stages of their journey. For instance, general tourists are more preferable to be targeted from pre- to during-trip as a one-off approach, while frequent tourists are preferable to be targeted by on-going communication through the entire journey," said Arthur Chan, Chief Operating Officer at Vpon.
Data shows India and China generate the most biddable inventory in mobile advertising, occupying 46% in APAC. While mobile app (66%) takes up a bigger proportion than mobile web (34%), Southeast and South Asian regions have higher mobile ad inventory than average.
For mobile advertising format, despite banner ad remains to be the major ad format (53%) in APAC, native ad has grown in its popularity and obtained a considerable share among others.
Read Original Report