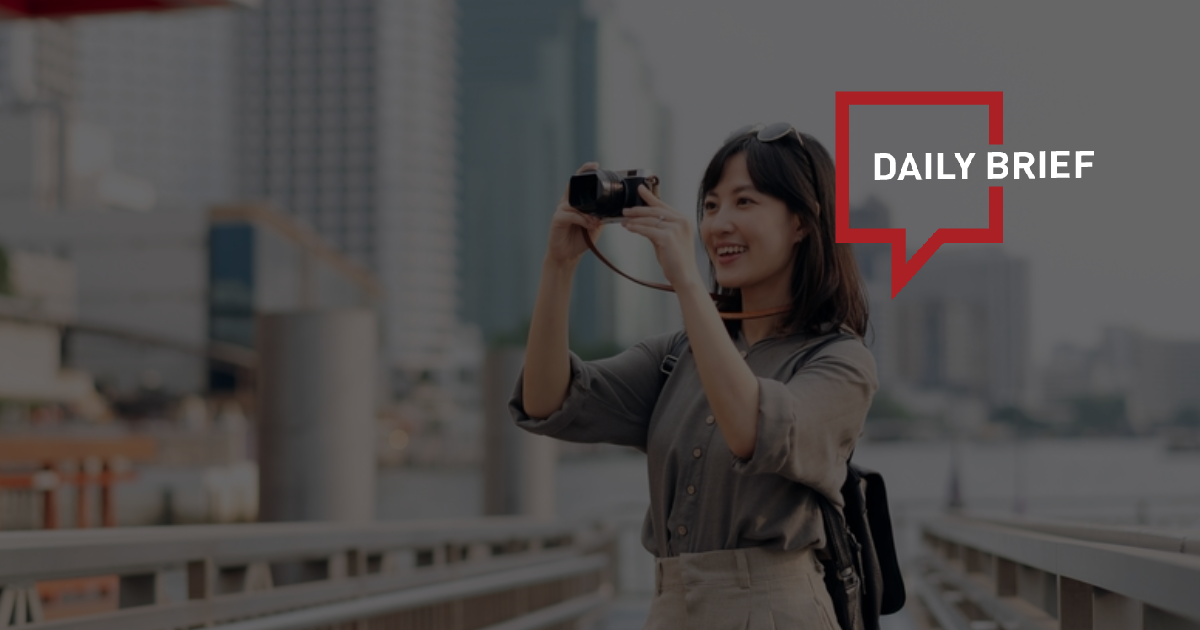 China leaves Canada off list of countries approved for group tours
>> The Chinese government has left Canada off a list of countries approved as international travel destinations for tour groups — a decision that threatens to leave Canada's travel industry at a competitive disadvantage as it continues its post-pandemic recovery.
Chinese tourists are ready to book trips, but 2019 levels are far off
>> China recently announced the easing of restrictions on group tours and would-be travelers immediately started searching for trips. Online travel platform Ctrip reported a 20-fold increase in searches for outbound travel options. Still, numerous challenges and bottlenecks remain. International flights from China remain at around 50% of pre-pandemic levels. The visa application process is still tangled up. And prices are elevated for many popular tourist destinations after strong demand this summer.
AirAsia inaugurates Penang to Hong Kong service
>> AirAsia inaugurated a new flight between Hong Kong and Penang on August 10, operating thrice weekly from Penang. This marks AirAsia as the sole low-cost carrier providing a direct air link between the two cities.
Royal Caribbean's Spectrum of the Seas returns to Hong Kong
>> Royal Caribbean's Spectrum of the Seas returns to Hong Kong for the first time since travel resumed and its future homeport announcement in 2024. Hong Kong Tourism Board (HKTB) organized a ship welcome ceremony on August 4, 2023, featuring a lively lion dance and drums performance at Kai Tak Cruise Terminal. HKTB plans to attract more cruise lines, support them in increasing Hong Kong cruises, and foster partnerships in the Greater Bay Area.
Klook survey highlights latest travel trends of Millennials and Gen Z in Asia Pacific
>> Travel is no longer about crossing destinations off a checklist for Millennials and Gen Zs in Asia Pacific, according to a Klook survey, instead experiences are now the first consideration factor when planning for a holiday. More than 90% of Millennials and Gen Zs place importance on unique and memorable experiences during their travels, with 85% signaling a willingness to invest in them during their holiday.
OTA Tuniu reports first quarterly operating profit since listing
>> Chinese online leisure travel company Tuniu said its net revenues in the second quarter of 2023 increased by 170.5% year-over-year to RMB 100.0 million (USD 13.8 million). The company said it reported its first quarterly operating profit since Tuniu's listing and the first quarterly net income since the pandemic outbreak.
Legoland Shanghai Resort has completed key design of theme park
>> The key design of a theme park at Legoland Shanghai Resort has been completed and construction of the main project will begin in September, local government authorities said on Wednesday. Covering a total area of 318,000 square meters, the resort — located in Jinshan district in the southeastern part of the city — will consist of the Legoland theme park and a hotel.
First group of Chinese tourists in Cuba highlighted
>> The first group of Chinese tourists arrived in Cuba for vacations, following the authorization in February for Chinese travelers to resume international vacations post the Covid-19 pandemic interruption in 2020. The Ministry of Culture and Tourism of China initiated a pilot program to restart group travels to 20 destinations, including Cuba, earlier this year.
China climbs the Dubai tourism source market leaderboard
>> Inbound tourism from China to Dubai is growing steadily after the Covid-19 pandemic. China is now the eighth largest source market for Dubai's tourism, with a 297% YoY increase in visitors. More Chinese visitors came to Dubai than France, Canada, Egypt, and the Philippines in the reported period.
Japan welcomes first Chinese tour group in three years
>> The first Chinese tour group in three years arrived in Japan on August 14 as China reopens outbound travel to Japan after the pandemic. The group from Beijing visited the hot spring resort Hakone upon arrival. The Japanese tourism industry sees the arrival of Chinese group tours as vital for its recovery.