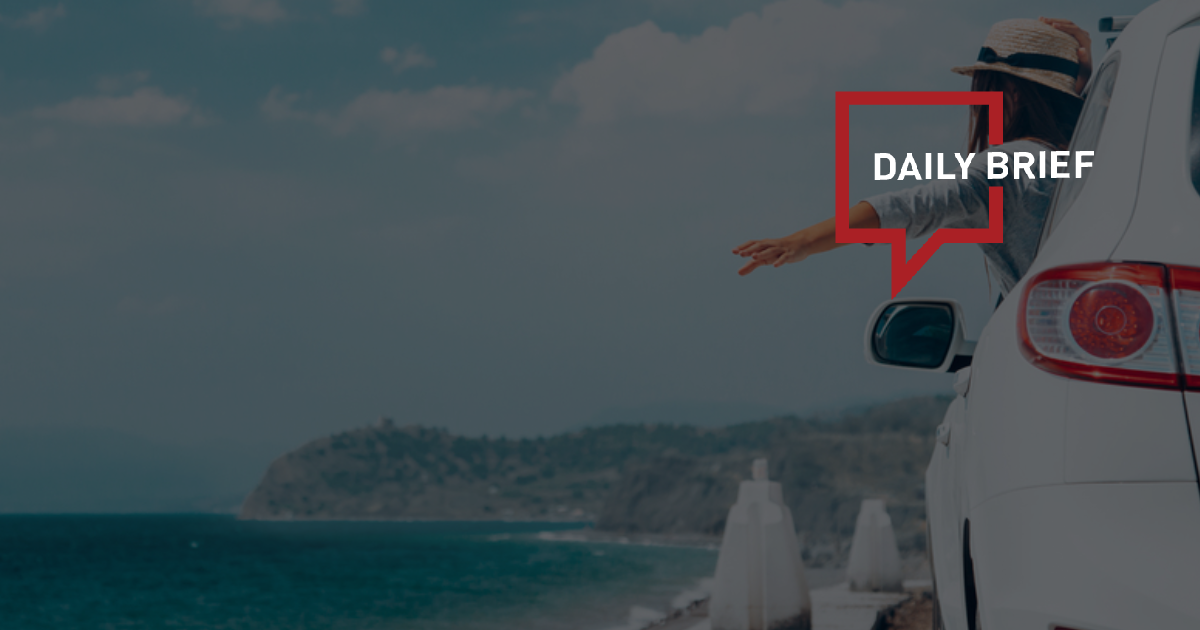 China's first domestic large cruise ship passes sea trial
>> China's first domestically-built large cruise ship, the Adora Magic City, has just completed its first sea trial, according to the China State Shipbuilding Corp, the world's largest shipbuilder. The sea trial started on July 17 when the massive ship set sail from Shanghai Waigaoqiao Shipbuilding, a CSSC subsidiary and the vessel's construction contractor. It returned to the shipyard on Monday evening.
Shanghai stops taking applications for ride-hailing licenses in overcrowded market
>> Shanghai has stopped accepting applications for new ride-hailing permits because the local market for such services is fast approaching saturation point. Other Chinese cities have already done so.
Applications will no longer be accepted from July 22, the city's road transport authority said the previous day. Any applications submitted before that date will be processed, with the last batch issued before Sept. 20, it added.
Trip.com presents AI assistant TripGenie incorporated into its mobile app
>> Trip.com presents TripGenie, an advanced AI assistant incorporated into its mobile app, designed to revolutionize travel planning and booking. Leveraging large language model technologies, TripGenie covers all aspects of travel, from detailed itinerary crafting to immediate bookings. Responding seamlessly to text and voice commands, it enhances the user experience by displaying images, links, and swiftly directs users to relevant app results, saving precious time and effort.
China's COMAC wants to build an electric passenger aircraft
>> On July 19th, COMAC, CATL, and Shanghai Jiaotong University jointly established a joint venture named COMAC CATL Aviation Co., Ltd. The establishment of the new joint venture company is aimed at a pre-research project for an electric aircraft to develop a fixed-wing electric aircraft. However, this project is still in the initial pre-research stage at the COMAC Beijing Research Center and is a long way from production.
Hong Kong ranks No.1 in APAC travel confidence
>> Booking.com has released the 2023 edition of its APAC Travel Confidence Index (TCI). Despite financial concerns ranking highest among their worries (42%), an astounding 73% of APAC travelers maintain unwavering optimism for their future travel plans over the next 12 months. Over half (53%) of travelers surveyed have no intention of postponing any of their travel plans. The report includes rankings that assess the confidence level of travelers in each market, with Hong Kong ranking No.1.
China-Laos passenger train cuts by over 1 hour in travel time
>> The China-Laos passenger train has implemented a new working diagram since Tuesday, which will reduce its travel time from the previous 10 hours and 30 minutes to 9 hours and 26 minutes, allowing passengers to arrive at their destinations before dinner, according to the China Railway Kunming Group.
Singapore to China SIA ticket prices soar above S$2,000 following 15-day visa-free travel resumption
>> Following the announcement that Singaporeans bound for China can once again travel visa-free for 15 days from Wednesday (July 26) onwards, flight ticket prices for the coming weekend to popular China travel destinations, such as Beijing and Shanghai, have soared. An SIA economy ticket from Singapore to Shanghai this weekend costs as much as S$2,878.
TFG International completes acquisition of China Cultural Tourism
>> TFG International Group completed the acquisition of China Cultural Tourism Group after fulfilling all conditions of the transaction. The real estate developer settled the consideration through the payment of RMB 36.3 million (USD 5.1 million) in cash, RMB 133 million (USD 18.6 million) through allotment and the issuance of about 740.8 million shares. After the issuance, TFG International's shares rose to 7.69 billion shares from 6.95 billion shares.
China Trading Desk launches comprehensive China travel dashboard amid rising outbound travel
>> China Trading Desk, a premier provider of marketing and advertising solutions for the Chinese market, announced the release of the China Travel Dashboard. The tool encompasses three modules, including Travel Sentiment, Pre-Trip and In-Trip. The dashboard's data allows businesses to formulate personalized marketing strategies, optimize ad scheduling, undertake destination marketing, predict upcoming trends, and facilitate product development.