It appears that people are obsessed with measuring airlines. From the quality of service, the number of destinations served, on-time performance, passengers carried, load factors and just occasionally profitability, there are many interesting data points (many of which can be answered by OAG data). However, we rarely measure, or even note, one of the largest data points in the whole aviation industry - Available Seat Kilometres (ASKs). And even more rarely, ASKs by specific aircraft type; well until now!
Big Crunchy ASK Data
Within the airline industry ASKs are a key production measurement. However, airline analysts prefer to measure both RPKs (Revenue Passenger Kilometres) and CASK (Cost per Available Seat Kilometre). Understand all three "Ks" and you're halfway to evaluating how an airline is performing, and of course years of insights!
ASKs can be complex - two airlines flying the same route with the same aircraft type can generate two very different sets of ASKs as the table below shows:-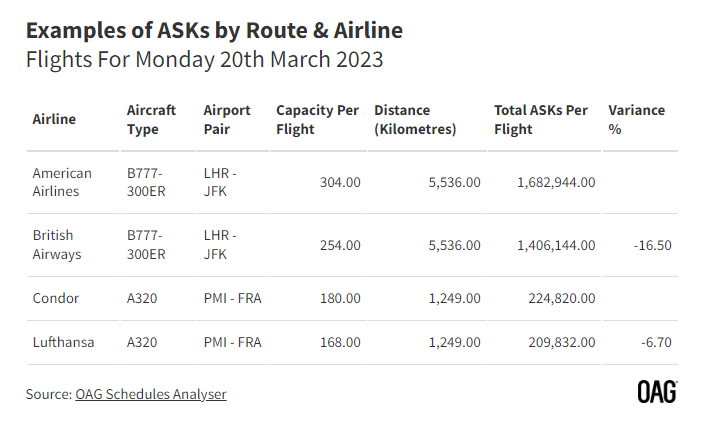 In both cases there is a difference in the ASK production, same distance, same aircraft type but different aircraft capacity. That one variable can result in a significant difference in ASK production. Of course, both British Airways and Lufthansa may argue that their RPKs are higher due to a better mix of traffic than their competitor, but only the accounts will be able to tell us that at some stage.
Even based on one flight a day the ASK sum can be quite large, and this got us thinking about which aircraft type and airline have historically operated the most ASKs. By using OAG's historical flight data (dating back to 1997) we can ask "What is the world's most heavily used aircraft type? And which airline has operated the most ASKs?"
Aircraft Leaders by ASKs Reflect Changing Global Markets
Some twenty-five years ago, the B747-400 was, at least in productivity terms, the leader in ASKs, with 31% more production than the combined total of all other B747 passenger aircraft. Indeed, half of the top ten were wide-bodied aircraft and interestingly at that time Airbus only had the A320 – 100/200 appearing on the list.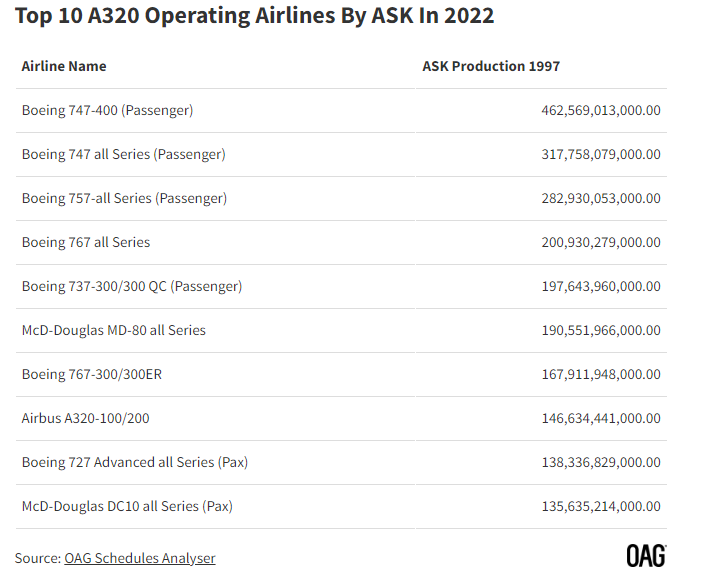 The fact that the B747-400 tops the list of ASKs by aircraft type for 1997 is perhaps no surprise. Airlines were, to a large extent, still operating in regulated markets and the concept of open skies was still in its infancy. Air travel was both a very expensive and luxurious experience; all of which lent itself to the B747-400. And, the largest operator of the aircraft, at least when measured by ASKs, was Singapore Airlines, with eight of the carriers being from the Asia Pacific Region - reflective perhaps of their geographic locations and distance to some (then) major markets, as much as the non-stop capabilities of the aircraft. For Singapore Airlines much of the B747-400 operation was based around markets to Europe and North America, including what looked like a valuable Seoul to Vancouver 5th Freedom flight.
A320s Hold Their Position
Since 2008 the A320 has held onto the crown as the most productive aircraft type flying, at least based on ASKs, and remains some distance ahead of its closest rival the B737-800 Passenger model in the rankings for 2022. A subtle change sees the balance between wide-bodied and single-aisle aircraft equally split at five aircraft types in the top ten, with a similar equal distribution between Airbus and Boeing - some nice coincidences there.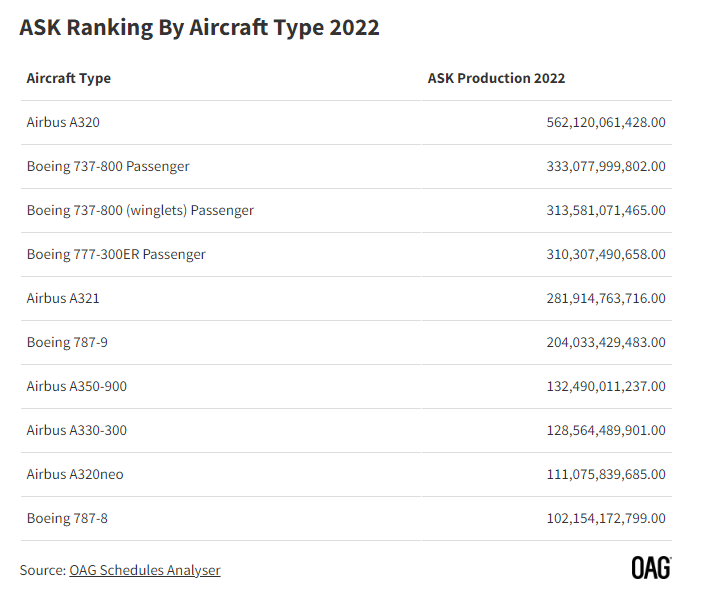 Although the A320 continues to be the largest aircraft type from an ASK perspective, the changing market and shifting geographical balance is reflected in easyJet now leading the top ten airlines by ASK in 2022, and Indigo in a close second spot - increasingly edging closer to the leader. Whilst China Eastern, with the international reopening of their market, will undoubtedly be adding to their production in 2023.
Meanwhile, easyJet's highest producer of ASKs in 2022 is their Luton – Tel Aviv service – who would have expected that? Additionally, seven of the top ten airport pairs are to or from a London Airport, highlighting the importance of this market to the airlines. And this summer easyJet will operate from four London airports, including of course their return to London Southend.