Global airline capacity has bounced back as a combination of both lockdowns in China and the end of Golden Week has resulted in airline capacity moving back to 97.2 million. In a nutshell, all that increase is down to the growth in China, although quite how long before the next capacity cut is anyone's guess.t. This week's capacity data would be very quiet if it wasn't for that one major change in China.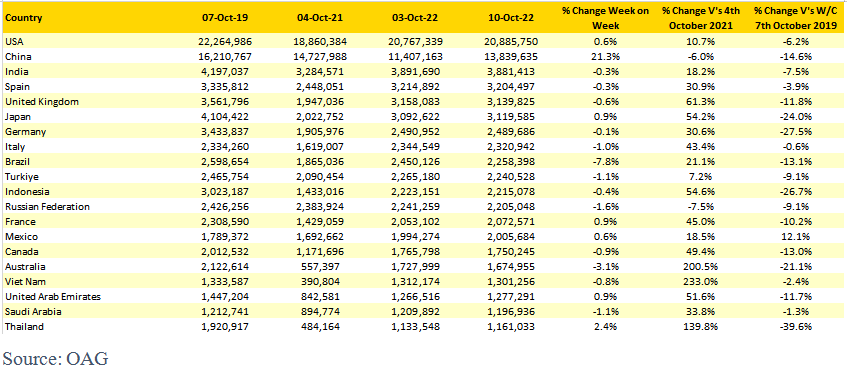 The 15% week-on-week increase in capacity across North East Asia is nearly all due to the movements in China. Hong Kong has a modest 15,000 more seats this week with Cathay Pacific reopening some routes including Bangalore and Japan Airlines relaunching their Haneda service. This week finally sees Japan reopening its borders to international visitors, but capacity is not flooding back quickly which is not a surprise given the relatively short notice of the change in restrictions. Aside from the HKG service "new" routes have launched to six destinations including London Heathrow and Kuala Lumpur.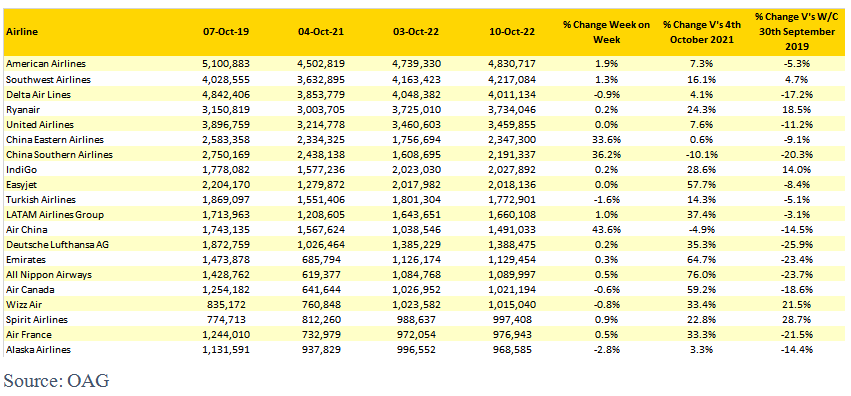 China's bounce back is highlighted by the specific capacity growth of two carriers in the top twenty, China Eastern (+33%) and China Southern (+36%) who both nearly added back some 600,000 seats in one week. To put that in context that is more capacity than the whole Avianca or Eurowings network operation this week.