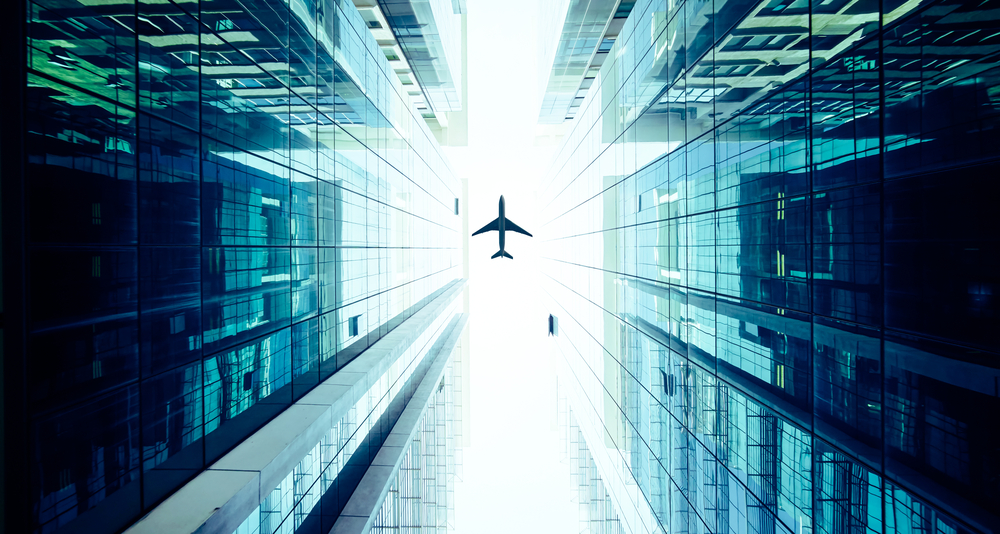 The last two years have challenged the airline industry in so many different ways - incredible network planning, financial engineering and then re-engineering, and of course considerable disruption to thousands of careers and businesses. The professionalism of the industry has never been in doubt but last Friday's events in Europe where aircraft were landing into some of the strongest winds recorded were incredible; to those that were handling the aircraft well done, to those sitting further back, phew! In so many ways those images that travelled around the globe reflect the skill and robustness of an industry that has been stressed and tested.
For the first time in living memory, or at least the last two years there were more seats added on the rolling three-month basis than removed with a net increase of just over 780,00 all of which is based on an additional 4.1 million seats added for April. That growth in airline capacity is, of course, all based around the reopening of major markets in nearly all parts of the world - although as we will see later North East Asia remains stubbornly locked down with no signs of a change to those conditions.
Scheduled Capacity January 2019 - April 2022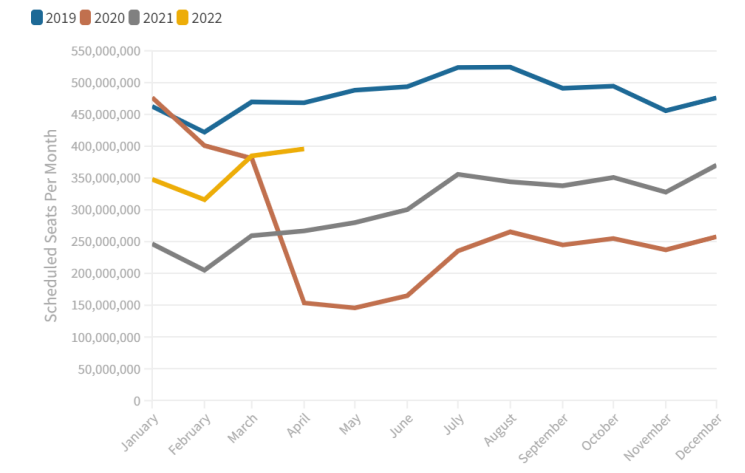 Source: OAG
Another 3.7 million seats were added this week across the globe as the recovery appears to gather strength every week. The two largest growth regions were in South and North East Asia with Central Europe in third place. In absolute numbers then North East Asia with 1.5 million additional week-on-week seats leads the way with Western Europe growing by some 880,000 and then South East Asia reporting growth of just over half a million in the last seven days. In fact, only lower South America reported any significant reduction in capacity with 173,000 seats dropped most of which were from the Brazilian market.
As we enter a period of comparison versus two years earlier, as noted last week there are wide variations in percentage recoveries. For instance, North East Asia looks very positive with 63% growth in capacity versus two years ago, whilst the Southwest Pacific region remains at -43% against the same moment in time. All of which highlights that no two markets anywhere in the world applied similar restrictions on travel at the same time and that each country continues with its own unique experience within a global pandemic.
Perhaps the most positive takeaway from this week's data, and we like to be positive where we can, despite what colleagues say, is that year-on-year capacity is up by 31.8 million or 60%; in the dark moments of last year that may have seemed a long way from being possible.
Scheduled Airline Capacity by Region



Source: OAG
Apart from the capacity reductions in Brazil the only other top twenty country market to report a week-on-week capacity cut is the United States with nearly 50,000 fewer seats reported or a minor 0.2% cut; hardly worth worrying about when compared to the swings that we have seen in the last two years. Continued strong growth in both Spain and the United Kingdom puts the two countries into 5th and 6th positions respectively with the UK just nudging ahead of Indonesia on the basis of both British Airways and Ryanair adding back more seats this week; a legacy and low-cost carrier working together in the national interest…probably not!
The top twenty country listing is beginning to look very similar to the listing from February 2019, only two countries listed in 2019 remain outside of the current top twenty; Thailand (currently 21st) and South Korea (currently 22nd) with Thailand looking capable of catching Colombia in the next few weeks. Unfortunately for South Korea unless China or Japan change their current restrictive travel requirements re-entering the top twenty will be very difficult.
Scheduled Capacity, Top 20 Country Markets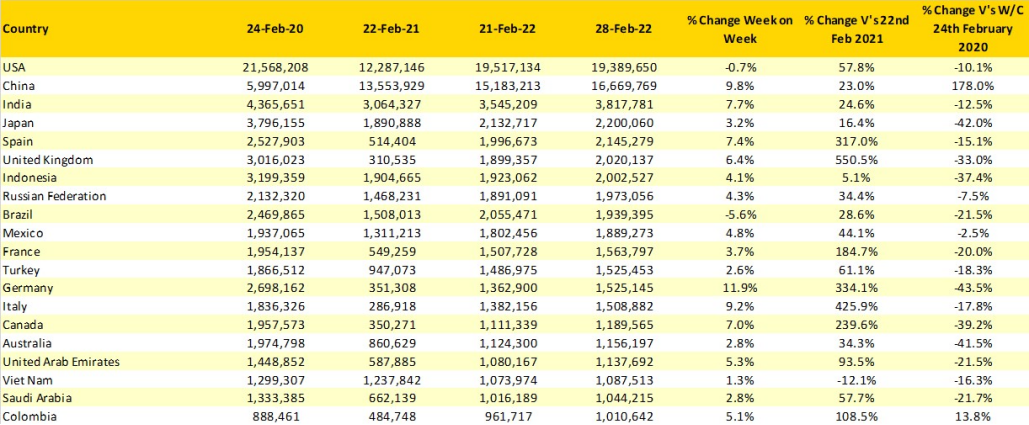 Source: OAG
Another 10% capacity growth week-on-week from Ryanair moves the carrier into the top five global airlines from a capacity perspective and when looking back twelve months the airline operated just 142,000 seats then their recovery has been nothing short of amazing. However, it's very unlikely that Ryanair will ever break into the top four group of US carriers who remain at least in size some way ahead of all others.