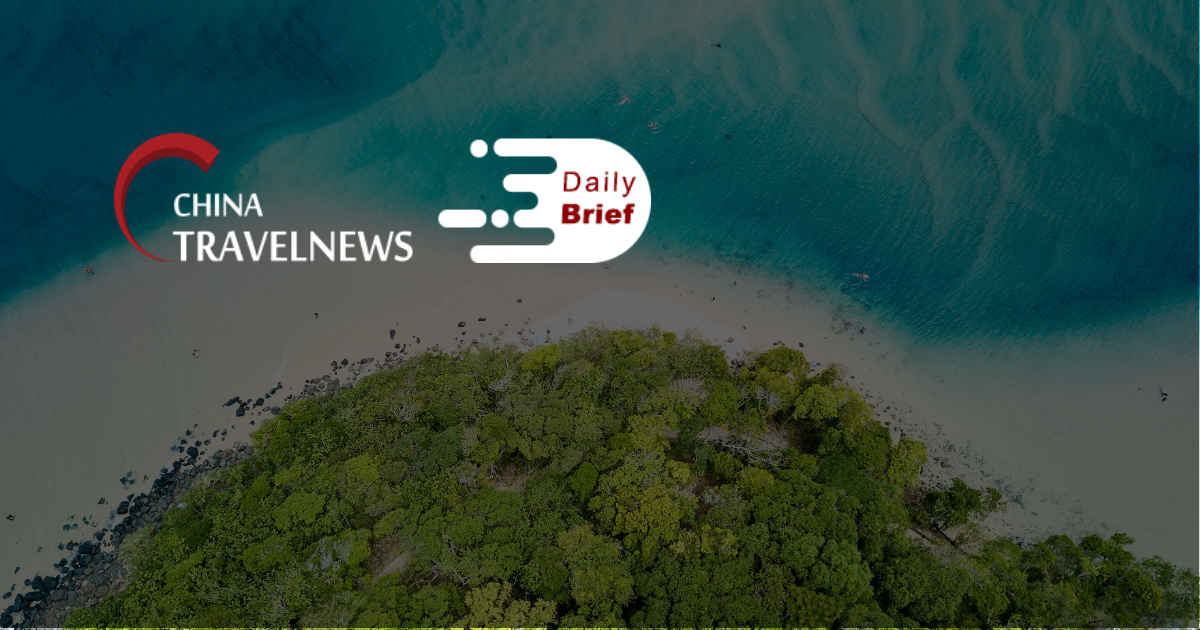 Trip.com Group launches hybrid work policy as 75% of employees report improved wellness
>> Trip.com Group announced it will implement a global hybrid work model where employees will be given the option to work remotely on certain days each week from March 1st. With the launch of this new policy, Trip.com Group will become the first internet company in mainland China to implement a comprehensive proactive hybrid work model.
New air route links south China metropolis, skiing destination
>> China Southern Airlines on Wednesday opened a new flight route linking the southern Chinese metropolis of Guangzhou to the Shennongjia Forestry District in central China's Hubei Province. Included on the UNESCO World Heritage List in 2016, Shennongjia is a popular skiing destination for people from south China and is home to four ski resorts and two ice and snow-themed parks, with a daily passenger handling capacity of 20,000.
Ice-snow consumption booms in China's warm south
>> Thanks to the Beijing 2022 Olympic Winter Games, consumption related to the ice-snow industry has gained steam across China. The revenue of ice and snow tourism in the country is expected to exceed RMB 320 billion (USD 50 billion) from 2021 to 2022, according to the China Tourism Academy. While residents of northern provinces remain the main consumers of winter sports due to relatively favorable snow conditions and temperatures, data shows that such recreational activities are also increasingly sought after in southern Chinese cities.
Hong Kong's extended airport restrictions impact Cathay Pacific again
>> Travel to and through Hong Kong will not get easier anytime soon. The Hong Kong International Airport Authority has extended a ban on transit travel through the airport for passengers from more than 150 countries, including the US, UK and Australia, through March 15.
Sino-Russian CR929 takes shape
>> With parts manufacturing launched last summer, the Sino-Russian CR929 widebody twin has begun the long journey toward certification. Managed by the China-Russia Commercial Aircraft International Corporation (CRAIC), the project calls for final assembly to take place in Shanghai. But much has changed since the company's founding in May 2017 as a 50/50 joint venture between China's Comac and Russia's UAC. The Covid 19 pandemic, a chill in relations between the East and West, and design complexities all have conspired to force a delay to the original schedule.
China plays long game on C919 development
>> In the case of China's aerospace ambitions, the fable of the tortoise and the hare is instructive. Naysayers have spent almost a decade writing off the chances of the country's first-ever full-narrowbody-class commercial aircraft, but as 2022 dawns — and despite the disappointment of China Eastern Airlines over delays to the first-ever delivery of the aircraft, expected before the end of 2021 — the Commercial Aircraft Corporation of China appears on the verge of making the C919 a reality later this year.
Hello Kitty theme park in China to open in 2025
>> A theme park with Hello Kitty, a popular Japanese character, will open in China. The park, which will be built around the theme of Kitty, the beloved hero of this cartoon, will open its doors in 2025.
Spring Festival embraces smart, green travel rush
>> This year's Spring Festival travel rush began on Jan 17, and will continue till Feb 25. In the first three days of the travel rush, or chunyun, about 74.86 million passenger trips were made across the country, an increase of nearly 41.5% year-on-year but about 60% lower than in 2019, with the passenger flow being at the medium-to-low level.