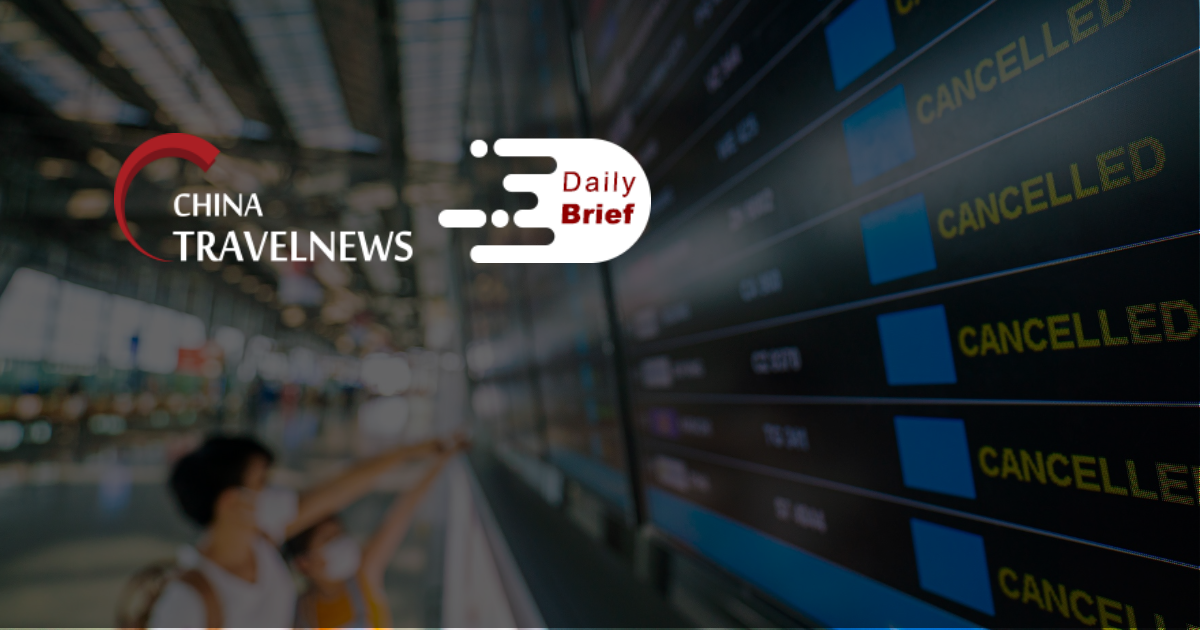 Chinese outbound tourism falls below 2000 levels in 2021
>> Fewer Chinese travelers crossed the border out of Mainland China in 2021 than in 2000, according to new figures from the Chinese Outbound Tourism Research Institute (COTRI). The 8.5 million outbound travelers from China in 2021 were below the 10 million seen in 2000 and less than 5% of the figures seen pre-pandemic in 2019. The rise of the Omicron variant has raised new questions about whether Chinese travelers will return this year.
China blocks some flights from the US as Covid precautions rise
>> American Airlines and United Airlines said Chinese aviation regulators have blocked some of their flights from entry as the country steps up precautions against Covid-19, triggering discussions between industry representatives and government agencies. At least six of American's flights have been barred from China. United canceled flights from San Francisco to Shanghai on six days in late January.
China Southern Airlines suspends departing services from 38 countries
>> China Southern Airlines suspended the transportation of passengers departing from 38 countries and transferring to China via a third country, effective January 11. The countries are: Ghana, Guinea, Ethiopia, Tanzania, Cameroon, Cote d'Ivoire, South Africa, Nigeria, Egypt, Mozambique, Algeria, Uganda, Democratic Republic of the Congo, Sudan, Djibouti, Senegal, Benin, Zambia, Botswana, Eswatini, Lesotho, Malawi, Namibia, Zimbabwe, India, Philippines, UAE, Iran, Saudi Arabia, Sri Lanka, Maldives, Kazakhstan, Russia, Serbia, Belarus, Suriname, Guyana and Mexico.
Cathay Pacific faces "legal action" over Hong Kong virus outbreak
>> Cathay Pacific is being investigated and faces possible legal action over an Omicron variant coronavirus outbreak in Hong Kong that began with the airline's employees, the city's leader said Tuesday. The revelation came as chief executive Carrie Lam announced the suspension of all kindergarten and primary schools until after the Lunar New Year in early February.
Travel sector chiefs ask Hong Kong government for relief fund
>> Industry chiefs have called for Hong Kong's battered hotel and travel trade to be allocated HKD 1 billion (USD 128.3 million) from the government's new round of pandemic relief funding, saying two years of closed borders have taken a heavy toll with no end in sight. Hong Kong leader Carrie Lam Cheng Yuet-ngor on Wednesday revealed that the government would give extra attention to travel agencies in the coming round of funding, with details to be announced on Friday. The chief executive had previously said about HK$4 billion would be distributed to affected businesses through the funding.
China's aviation sector eyes profitability, 85% domestic traffic recovery in 2022
>> China's aviation sector is hoping to turn the corner and return to profitability in 2022, after being in the red for nearly two years amid the coronavirus pandemic. In a work plan meeting for 2022, the Civil Aviation Administration of China (CAAC) also expects the aviation sector to recover domestic traffic to around 85% pre-pandemic levels.