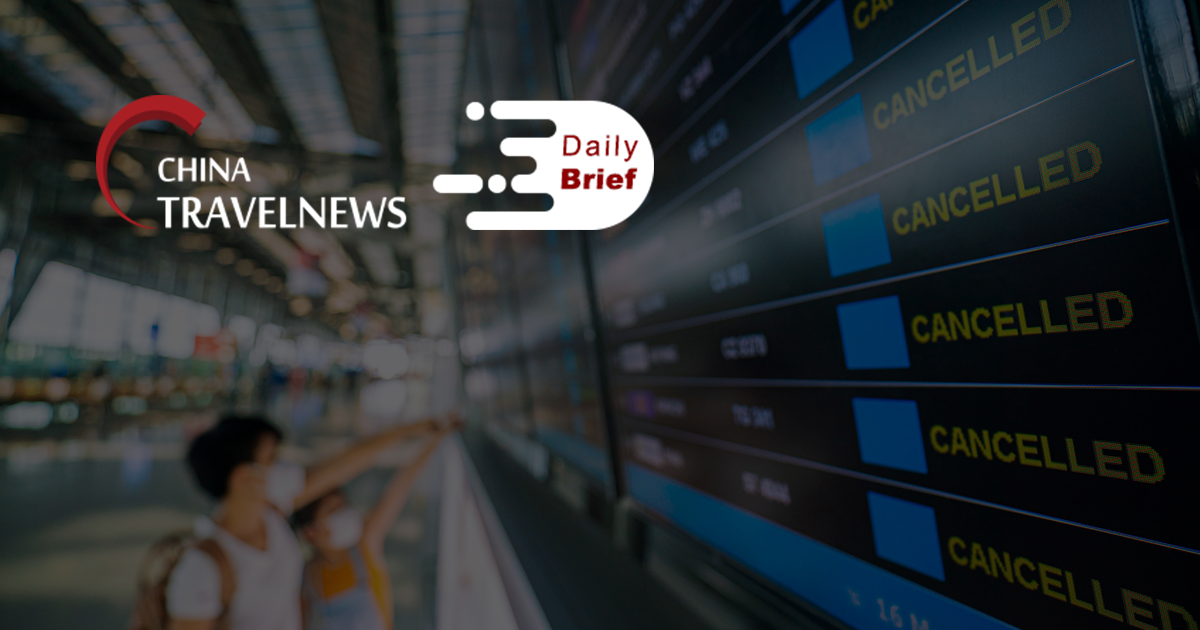 Hong Kong ends quarantine exemptions for bankers, executives
>> Hong Kong will end quarantine exemptions for senior executives, bankers and most other groups starting Nov 12, tightening what is already one of the world's strictest Covid-19 policies as it works to open the border with mainland China. The city is also dropping a provision for most consular staff to serve quarantine at home, opting for hotel stays instead.
China's leisure, tourism feel chilly grip of COVID curbs
>> China's leisure and tourism businesses are feeling the bite of the country's zero tolerance for COVID-19 as cities with infections, or have concerns about the virus, close entertainment venues, restrict tourism or delay cultural events. As China steps up vaccinations for children and rolls out booster shots, the impact from the current outbreak on economic growth in the fourth quarter will be smaller than in the third, said Nie Wen, a Shanghai-based economist at Hwabao Trust.
Half of Beijing's flights are canceled as Chinese capital tightens Covid restrictions
>> About half the flights to and from Beijing's two airports were canceled Tuesday as the capital tightened travel restrictions after a trickle of new cases in the city and other parts of the country in the last few days. Beijing's health commission said that residents who left the city for business trips or leisure trips to areas with confirmed cases should "postpone" returning and stay where they are.
Profitability in Asia Pacific hotel markets well below pre-pandemic levels
>> The hotel industries in seven key Asia Pacific markets reported profitability levels well below pre-pandemic levels, with only Beijing above 40% of the 2019 comparable, according to STR's September 2021 monthly P&L data release. Beijing's gross operating profit per available room (GOPPAR) of USD 29.91 was 70% of September 2019 levels. Singapore (USD 39.99) came in at 35% using the same time comparison, while Hong Kong (USD 6.22) was at just 10%. Sydney, Bali, Bangkok and Tokyo were all in negative GOPPAR territory. Tokyo has seen the biggest profitability decline over the past several months.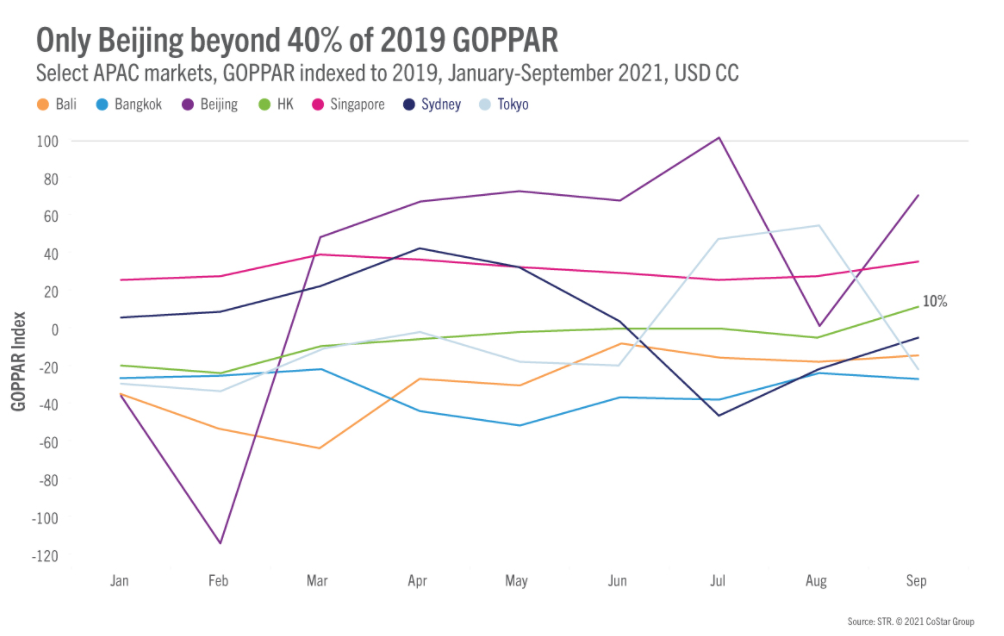 Shanghai Disney to resume operations on November 3
>> The Shanghai Disney Resort announced that Shanghai Disneyland and Disneytown, which went through temporary suspension of operations according to directives on pandemic prevention and control earlier, will resume operations on Wednesday, November 3, with Shanghai Disneyland operating from 10:00 to 19:00, and Disneytown operating from 10:00 to 21:00.
China Tourism Group's Q3 net profit rise 40%
>> China Tourism Group Duty Free Corp said third-quarter net profit rose 40% from a year earlier, supported by its duty-free business. Net profit for July-September quarter was RMB 3.13 billion (USD 488.6 million). Revenue fell 12% to RMB 13.97 billion, partly weighed by the impact of pandemic of its business in Hainan.
ITB China 2021 goes fully digital
>> ITB China announced that due to dynamically developing restrictions related to the pandemic situation in China, the organizers of ITB China have therefore decided to not hold the physical part of the show, which was scheduled to take place in Shanghai from Nov. 24 to 26, 2021, and to proceed with a fully digital event.
China to hold World Cup prelims in UAE due to travel restrictions
>> China's hopes of playing their upcoming home World Cup qualifiers against Oman and Australia in front of their own fans have been dashed after the matches were moved to Sharjah in the United Arab Emirates due to travel restrictions.