ChinaTravelNews, Ritesh Gupta - How does Generation Z differ from other consumer groups, for instance, Millennials? How does Gen Z, (born after 1995-96) as compared to Millennials (born between 1981 and 1996), stand out for the way they shop or how do they go about every aspect of their lives?
Travel brands in China are already responding to the expectations of Gen Z shoppers. They acknowledge that in addition to how travel is perceived distinctively by this demographic, it is also becoming important to look at aspects like how they wish to pay and their focus on sustainability.
Letting Gen Z travellers immerse themselves
Interestingly when global brands talk of the influence of content on TikTok and how the blend of music, dance and fashion is enabling them to connect with Gen Z, it must be remembered that the origin of this video-streaming app was in China, known as Douyin here.
The likes of Marriott and Hilton acknowledge the same.
Traveling is no longer about transportation, spending time away from home or just stopping to take pictures.
"Young Chinese customers travel to explore new destinations and experience different cultures. They see travel as an opportunity to deepen connections with their friends and family," said Wendy Huang, Senior Vice President and Commercial Director, Hilton GCM (Greater China and Mongolia), who added that as digital natives, young Chinese customers have higher expectations in using digital technology to enhance their travel experience. They rely on the convenience and efficiency brought about by digitalization.
Hilton's Huang said, "We were also pleasantly surprised to see that young Chinese customers are increasingly conscious about the importance of sustainable travel. According to a survey, we conducted at the end of last year, more than 90% of Chinese Gen Z will take the impact on the environment into consideration for their travels."
Marriott's spokesperson also referred to digital natives' decision-making process of travel consumption: recommendation (influence)-booking-experience-sharing. The hotel company believes it is imperative to win over Gen Z with diverse and wonderful content through multi-linkage media matrix and the help of cutting-edge creativity. For instance, in its most recent Marriott Bonvoy travel campaign, Marriott used a group of graphic ideas for travel philosophy, chose to resonate with Gen Z travel attitude and encourage them to explore the myriad possibilities in life. Inspirational content was presented via social channels (e. g. WeChat, Xiaohongshu, and WeChat video accounts) and also worked with popular travel bloggers.
Douyin is now an integral part for some when it comes to targeting Gen Z.
For example, for the opening of Moxy Shanghai Hongqiao CBD in June 2021, Marriott's Moxy Hotels, designed for "young guests", created a Douyin account, attracting 193,000 followers and still growing. The hotel pitches that it has bedrooms that are minimalist yet multifunctional, "furiously fast and free WiFi", 55-inch flat screen TVs etc. and essentially offers "room to play".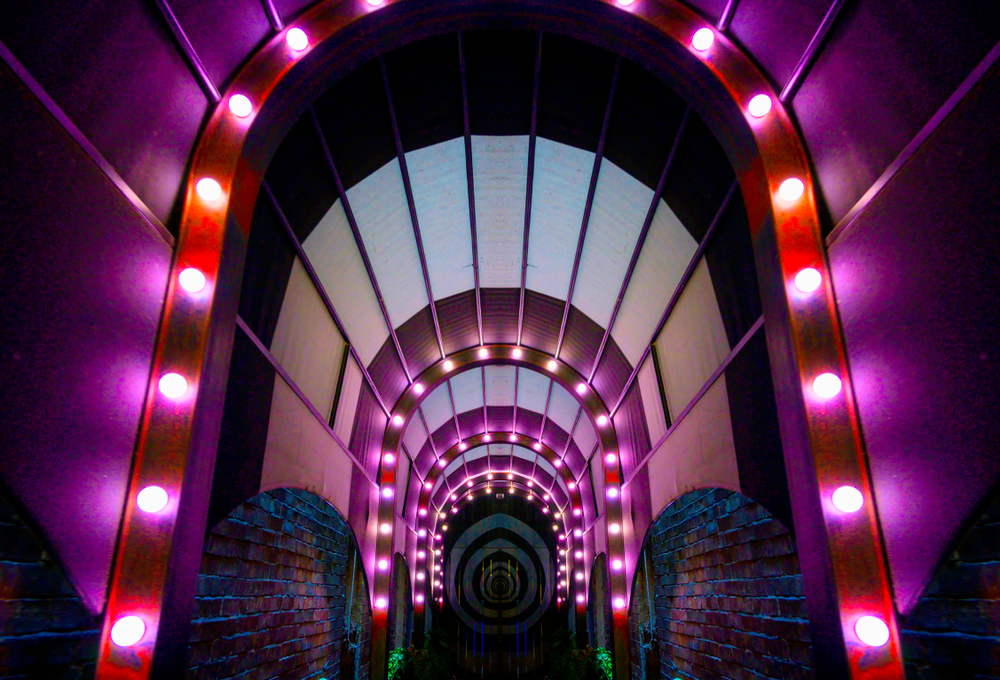 Significance of Gen Z demographic
Gen-Z consumers are powering domestic travel in China, said Vincent An, Head of China Business, Klook.
"During this pandemic, Gen-Z consumers have developed a keen interest to explore more of their backyard. Compared to the Gen-X and Millennials, Gen-Z consumers are even more spontaneous with their purchasing, desire more distinctive and uncommon experiences, and have a stronger affinity for social media. It is crucial for travel platforms to think of even more innovative ways to capture this rapidly rising new generation of travellers," said An.
Sun Bo, CMO of Trip.com Group highlighted that Gen Z travellers around the world are starting to enter adulthood and will have the money and autonomy to take control of their trips for the first time. Their thirst for travel means they will be key contributors to the recovery of global travel so it is important to build brand affiliation with them, said Bo. "Gen Zers are digital savvy and are rapidly becoming highly influential on social media to their peers because it is their main source of content. They are booking their trips using their smartphones and other mobile devices so it's important to target them through online platforms and ensure they have a seamless booking experience."
Comparing the demographic in China and the U. S., Bo said the two markets can be similar, considering that they have been surrounded by technology from early on in their lifecycle and also embrace new and unique products and experience; plus they have increasing consumption power. "However, digital infrastructure in China is more developed than the US. Our apps and content hosted on our China-focused platforms incorporate the latest technology to meet Chinese Gen Z user expectations, and inspire their next trips," said Bo.
Marriott's spokesperson pointed out that China's Gen Z consumers are confident, optimistic and impulsive, representing the next engine of domestic consumption growth.
Marriott International has implemented a dual-brand strategy to offer diversified choices to young guests, such as "Luxury Brand+ Select Service Brand" (JW Marriott Hotel Yinchuan and Courtyard Yinchuan Hotel), "Classic Brand + Distinctive Brand" (Delta Hotels Kunming and Sheraton Kunming), and "Hotel + Residence" (Yi Wu Marriott Hotels and MEA Yiwu).
According to Bain & Company, mainland China is expected to become the world's largest consumer market for personal luxury goods in 2025. And from the perspective of consumption age structure, Chinese luxury guests are 25 years younger than that in the U.S. "Therefore, it is crucial for Marriott International to build luxury hotel brand identities and connect with young guests effectively. In the future, Marriott International will continuously expand its portfolio of W Hotels and introduce The Ritz-Carlton Reserve into the Chinese market to provide young guests with personalized brand experiences and better connect Gen Z travellers to the destination via the lens of brand," said the spokesperson.
Focus on content, tech and offers to build stickiness
Hotel companies have enhanced the capabilities of their direct channels. Hilton is letting guests book and instantly confirm at least two connecting rooms through official booking channels, which is especially convenient for family and young travellers.
Referring to another move, Huang shared, "Another highlighted feature is our AI Customer Service, Xiaoxi, which can respond to various travel booking queries in real-time through our in-language Hilton Honors mobile app and WeChat mini program, which enables members to use a flexible payment slider that allows them to choose nearly any combination of points and money to book a stay." Also, looking at the popular ecosystems, Hilton chose to partner with Fliggy several times over the past year to introduce attractive travel packages and properties via live-stream. "The performance has been quite promising and helped us to achieve a 120% increase during last year's double 11 campaign compared to the previous year," said Huang.
Trip.com Group has looked at every aspect of the booking funnel, be it via content, digital tools or offers to build stickiness.
A main aspect is the reach. Talking about the reach of live-streaming, Trip.com Group's Bo mentioned that it resulted in as much as 200 million consumers tune in for live broadcasts. A campaign offered users the chance to lock-in flexible reservations at a discount of up to 60%. There are other events, for instance, ones that feature celebrities to engage young travellers. "A famous Chinese songwriter, Mao Buyi, engaged with our Ctrip Community to write and record a song for our users, performing it live at the International Travellers' Festival," said Bo. It was also attended by travel influencers, industry leaders, avid travellers and Ctrip community users.
In addition to reach, the group is also looking at relevant products, be it for staycation packages or transportation options. Trip.com recently became the first OTA to offer Eurail and Interrail train Passes, available via the Trip.com app. "(It) will be popular among Gen-Z travellers," said Bo.
Also, as Bo mentioned, the company has built up a content community with more than 300 million users and 24,000 destinations all over the world, especially through video, where young creators born after 1995 account for 80% to inspire others to make travel-related purchases. "Gen Zers are only just entering adulthood so affordability will be a key factor in their decision making and they are likely to check competitors' prices - this is why our flash sales have been so successful," said So, who added seamlessness and frictionless that is about sustaining continuity and ease of use of digital assets is of paramount importance.
Plus, travel companies are going beyond traditional products to target the younger audience.
Marriott has partnered with Eleme, an online food delivery platform powered by Alibaba, to offer food delivery service at more than 130 hotels across 49 cities in China.
Trends to watch out for
Some of the trends:
* Special events: According to Klook's research around the travel preferences of young travellers in China, more than 60% (18 to 28 years old) of them are willing to travel exclusively for a concert, art festival, or local event. The company cooperated with the city of Jingdezhen to promote the local culture and art scene in April this year. In collaboration with Zhihu Travel, the company invited nine local artists and culture experts to discuss art crafting techniques, share how local artisans have shaped Jingdezhen's art and culture.
* Night-time attraction: Recent research from Trip.com Group shows that Gen Z is a driving force behind night-time attraction sales and 34% of the tourists in this group are booking night-time attractions. Night-time tourism bookings on the Trip.com Group Ctrip platform this summer increased nearly three times among consumers born after 1990 compared with the same period last year, more than four times among young people born after 2000.
* College students: According to Trip.com, this group shows stronger willingness to travel and purchase. On average, college students spend nearly 2,500 yuan for custom tours, a 40% increase from the last year. Among students who book summer tours, college students (19 to 23 years old) account for 69%.
* Adventure trips: Booking.com, in its Generation Z Insights, indicated that Gen Z is a daring bunch with 73% wanting an adventure experience from their travels, such as paragliding or bungee jumping and 65% planning on visiting or trekking to an extreme location.
* Going solo: Independence is a priority for this generation. Over the next ten years, nearly half of Chinese Gen Z (45%) plan to have travelled on their own at least once (48% women vs. 42% men), stated Booking.com.
* Sustainable travel: Booking.com also indicated that almost three-fourths (73%) of Chinese Gen Z travellers plan to visit less known destinations over popular ones if it means having less of an impact on the environment.
Standing out at every touchpoint
Klook's An made a vital point. "From discovery to purchase, what we've observed is that Gen-Z consumers have unique preferences which need to be addressed or we risk losing out. For example, with a limited attention span, it is key to have an omni-channel marketing strategy and strong cross-industry collaborations to ensure we hit every consumer touchpoint. This encourages conversions and helps to keep our user base retention high," said An. He said word-of-mouth reviews online and credible authorities of information play a critical role in influencing the purchase decisions of Gen-Z.
Last year, Klook invited several KOLs to Shanghai Disneyland where they shared tips on photography, dressing, food, and even dating tips on multiple social media platforms including Redbook (Xiaohongshu), appealing to an even wider range of audiences.
"Nowadays media and channels are fragmented, and the needs of the consumers are more segmented. There is a greater emphasis on emotion linkage, experience and interaction. However, as tourism products are relatively complex and personalized rather than standard, we need to continue optimize digital marketing matrix including optimizing marketing channels, strengthening private domain traffic operation, screening and building appropriate IP to effectively transform traffic," said Marriott's spokesperson.
Other than crafting its portfolio of brands designed for young guests by introducing Moxy Hotels and AC Hotels, and relevant experiences, Marriott intends to deeply connect with loyal member base via "exceptional hospitality and benefits". For instance, building a closer connection with the younger demographic via #WMUSICSERIES, featuring the supremely talented Chinese DJ and producer Chace as its guest music curator to amplify the W music experience.
It's the connection that matters, and for Gen Z, travel brands in China are not averse to starting from the scratch or redesigning every aspect of their product, marketing and distribution strategy.