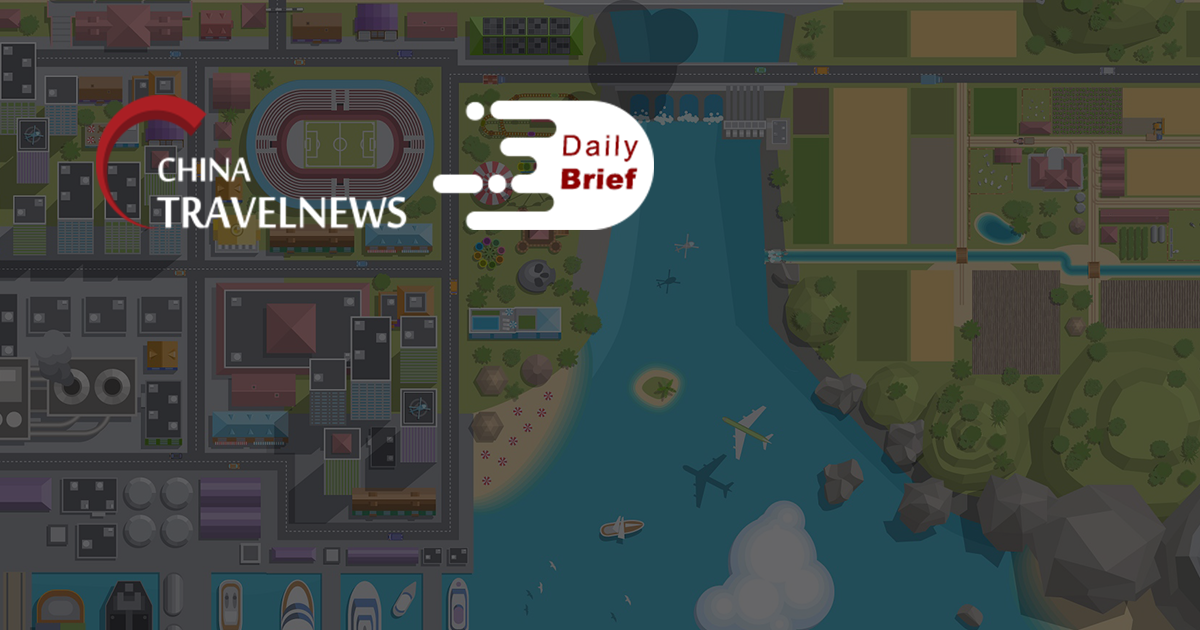 Major Chinese airlines ranked in global top 10 brands
>> Three of America's biggest airlines - Delta, American Airlines and United Airlines - were listed by Brand Finance as the world's top 3 airline brands in 2021, which have a total brand value of more than USD 16,100 million, while China's "Big Three" carriers - Air China, China Southern Airlines and China Eastern Airlines - were also ranked in the top 10 list, representing a brand value of USD 2,880 million, USD 2,601 million and USD 2,171 million respectively.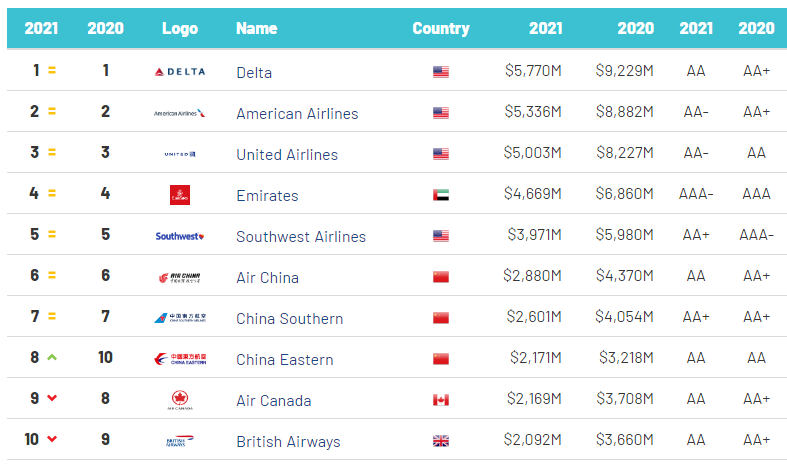 Chinese airlines warn of continued pandemic impact
>> China's main airlines are warning of continued risks posed by the Covid-19 pandemic, with their June operational data showing a slowdown in air traffic from the previous month. China Southern carried 8.5 million passengers last month, 19% more than a year earlier but a 28% drop from the previous month. Air China said it carried 6.3 million passengers in June, a 41% rise from the previous year but 25% less than a month earlier. China Eastern carried 8.02 million passengers in June, a 54% rise from a year earlier but this was 14% lower compared with the previous month.
Airport parking service provider Feibotong raises $3.85 million
>> Chinese airport valet parking service provider Feibotong announced that it has closed its series B2 funding round securing RMB 25 million (USD 3.85 million). Shangshi Fund was the lead investor. Established on July 23, 2015, Feibotong boasts 1,621,367 users according to its website and has launched airport pick-up and drop-off services and more. The company won funding from China Southern Airlines in an earlier round last year.
Bankrupt HNA Group struggles to repay 60,000 retail investors
>> China's debt-laden HNA Group faces billions of dollars in debt claims filed by 60,000 retail investors who poured money into wealth management products sold by its units as the once high-flying ocnglomerate struggles in a lengthy bankruptcy restructuring. The investors, mainly HNA employees and their relatives, filed debt claims exceeding USD 4.6 billion, according to a Caixin report.
China Southern Airlines plans 24 international routes for August
>> China Southern Airlines announced (in Chinese) on July 20 that it has scheduled international flights on 24 routes for August to global destinations like Amsterdam, Paris, Los Angeles, Vancouver, Sydney, Kuala Lumpur, Singapore, Bangkok, Tokyo and others. The state carrier also mentioned that, according to regulations in China, passengers from some destinations may need to provide negative results of serum IgM antibody and nucleic acid tests.
Trip.com could cut its Huazhu stake from 6.9% to 3.0% in future exchange deals
>> Trip.com Group could decrease its shareholding in Huazhu Group from 6.9% to 3.0% through the online travel company's exchangeable senior notes deals with its investors, according to the Chinese hotel giant's latest SEC filing. The OTA group announced in July 2020 that it proposed to offer up to USD 500 million in aggregate principal amount of exchangeable senior notes due 2027 in offshore transactions to non-U.S. persons. The company said it will pay or deliver to such exchanging holders, cash, American Depositary Shares of Huazhu Group, or a combination of cash and the Huazhu ADSs.
High-speed maglev train with a top speed of 600km/h to be rolled out
>> China's first high-speed maglev train with a top speed of 600 kilometers per hour will roll off the production line in Qingdao, Shandong province, on Tuesday, a major achievement in the country's development of rail transportation. The train is due to undergo several years of testing before it enters service, and high-speed maglev tracks will have to be laid.
Overseas Chinese Town establishes fund to invest in tourism, mass consumption
>> Overseas Chinese Town (Asia) Holdings, a Chinese state-controlled investment giant, said it has teamed up with partners to set up an RMB 1 billion (USD 154 million) fund to invest in science and technology, culture, tourism and mass consumption and more.
Macau reports 52% hotel occupancy for July 1-15
>> Macau's average hotel occupancy rate reached 52.1% in the first 15 days of July, up by 8.4 percentage points when compared to June, according to the Macao Government Tourism Office. The tourism body said the hotel occupancy improvement showed that a recovery in the city's travel trade was in "progress".
First Hong Kong tour group to Europe in over a year sets off
>> The first Hong Kong tour group to Europe in more than 16 months set off over the weekend but industry insiders doubt it marks the start of a recovery for travel agents amid a Covid-19 resurgence in several countries. Miramar Travel general manager Alex Lee Chun-ting said a small tour group and their guide were fully vaccinated and tested positive for antibodies before departing for Europe on Saturday.
Hong Kong, Singapore to review travel bubble date in late-August
>> Hong Kong's government said on Tuesday authorities will review a planned air travel bubble with Singapore in late August, given the recent surge of COVID-19 cases in Singapore. Both governments would review the target date "taking into account the effectiveness of the enhanced infection control measures implemented by Singapore and the global situation at that time," Hong Kong's government said in a statement.
JLL Hotels & Hospitality Group names Tao Zhou Greater China Managing Director
>> JLL Hotels & Hospitality Group appointed Tao Zhou as Managing Director and Head of Greater China. Based in Shanghai, Tao assumed the newly-created role on 15 July and will draw on his extensive Greater China hospitality experience to facilitate the next phase of growth for the business in this priority market.