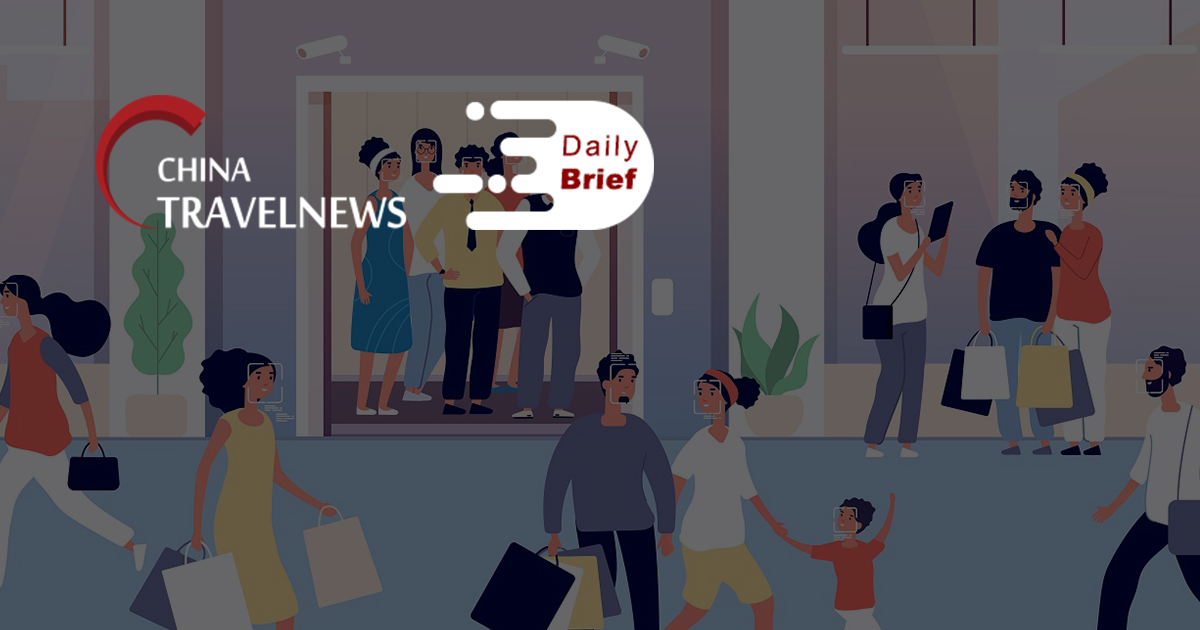 China to recognize Western shots for its vaccine passports, as it seeks to reopen
>> China has begun accepting U.S. coronavirus vaccination records in travel applications to the country, as it seeks to negotiate mutual recognition of vaccine passports with other nations. Chinese Embassy added Pfizer-BioNTech, Moderna and Johnson & Johnson vaccine records to its vaccine passport.
Domestic revenue of Chinese travel agencies totals $18.33 billion last year
>> As of December 31, 2020, China had a total number of 40,682 travel agencies, up by 4.47% year on year, according to the Ministry of Culture and Tourism. Except for Jilin and Heilongjiang provinces in northeastern China, all regions had seen an increase in the number of travel agencies. In 2020, organized domestic tours had drawn the most tourists, accounting for 94% of the total number of tourists, followed by outbound trips (5%) and inbound trips (1%).
Chinese independent travelers seek authenticity in European dining, study finds
>> A recent study has revealed how independent Chinese tourists' authenticity-seeking through tourism dining in Europe. The study led by the University of Greenwich revealed that independent Chinese travelers navigate e-WoM and media influence and spontaneous risk-taking in tourism dining. They seek the novelties and familiarities of food in the process of perceiving, understanding, appreciating and rejecting authenticity. Destination marketers need to revisit their symbolic food images to showcase diversity of local cuisines, adjust expectations and broaden understanding of international visitors.
PayPal to work on China's cross-border payments without fighting Alipay, WeChat Pay
>> PayPal is planning to launch a local wallet in China that will focus on cross-border payments, CNBC reported on Monday citing Hannah Qiu, the China CEO for PayPal. The U.S. fintech company plans to launch a domestic wallet in China that will not compete with the dominant local players such as Alipay and WeChat Pay.
Fosun Tourism reports 74.5% business volume decrease in Q1 2021
>> Fosun Tourism, the leisure travel unit of Chinese conglomerate Fosun International and parent of French resort brand Club Med, said its business volume dropped 74.5% to RMB 1,057.5 million (USD 162.9 million) in the first quarter this year. The company said it made a rapid progress in "industrial digitalization" during the time. Since the launch of the Thomas Cook lifestyle platform last July, there were 990,000 app downloads and 595,000 active monthly users as of end of the first quarter of 2021.
Tours and activities players announce online distribution partnerships
>> Klook has inked a deal with travel technology company Fareportal to provide its in-destination activities to the latter's booking platforms CheapOair and One Travel.
Meanwhile, Klook's competitor Viator (a Tripadvisor company) said it has formed a global partnership with Booking.com to bring thousands of Viator's high quality attractions, tours and activities to Booking.com.
Macau government, analysts tip May Day bounty at casino resorts
>> The average nightly occupancy rate for Macau hotels – including properties in casino resorts – could reach "70% to 80%" during the upcoming Labour Day break in May, indicated a Macao Government Tourism Office (MGTO) senior official on Tuesday, citing the latest hotel room booking data from the industry.
Singapore eases restrictions for travelers from Hong Kong
>> Singapore's health ministry on Tuesday said it will ease border restrictions for those entering from Hong Kong. Currently, those arriving from Hong Kong are required to observe a 14-day stay-home notice at a dedicated government facility. From April 22, travelers will be allowed to complete a seven-day isolation period at their place of residence.
Genting Hong Kong to help Dream Cruises sail again via new shares subscription
>> Genting Hong Kong has boosted its stake in Dream Cruises as part of a USD 307 million deal aimed at keeping the global cruise ship operator afloat. The issue of new shares will see Ocean World's interest in Dream Cruises increase from 67.42% to 69.97% while Darting's will fall from 32.58% to 30.03%.
Chinese airline to operate 27 international routes in May
>> China Southern Airlines announced via its official WeChat account that it will operate 27 international services in May, including routes connecting Guangzhou, Shenzhen to Amsterdam, Paris, Los Angeles, Sydney, Singapore, Tokyo and Nairobi.
China's Tibet to build three new airports
>> The Tibet Autonomous Region in southwest China will build three new airports, a move to further improve the region's comprehensive transport system, according to the Civil Aviation Administration of China (CAAC). The National Development and Reform Commission has approved the construction of the three new airports and the expansion of the Lhasa Gonggar Airport in Tibet.
Trip.com Group's switch to Hong Kong listing opens a new revenue source
>> Ahead of the coming "hottest" May Day holidays, Trip.com Group debuted in Hong Kong on Monday in its secondary listing, raising about HK$8.5 billion. This year, intra-provincial and long-distance travel may see explosive growth, with about 70 percent of consumers choosing intra-provincial trips, according to Trip.com Group. Shanghai, Beijing, Sanya in South China's Hainan Province and Guangzhou in South China's Guangdong Province were among the most popular destinations.