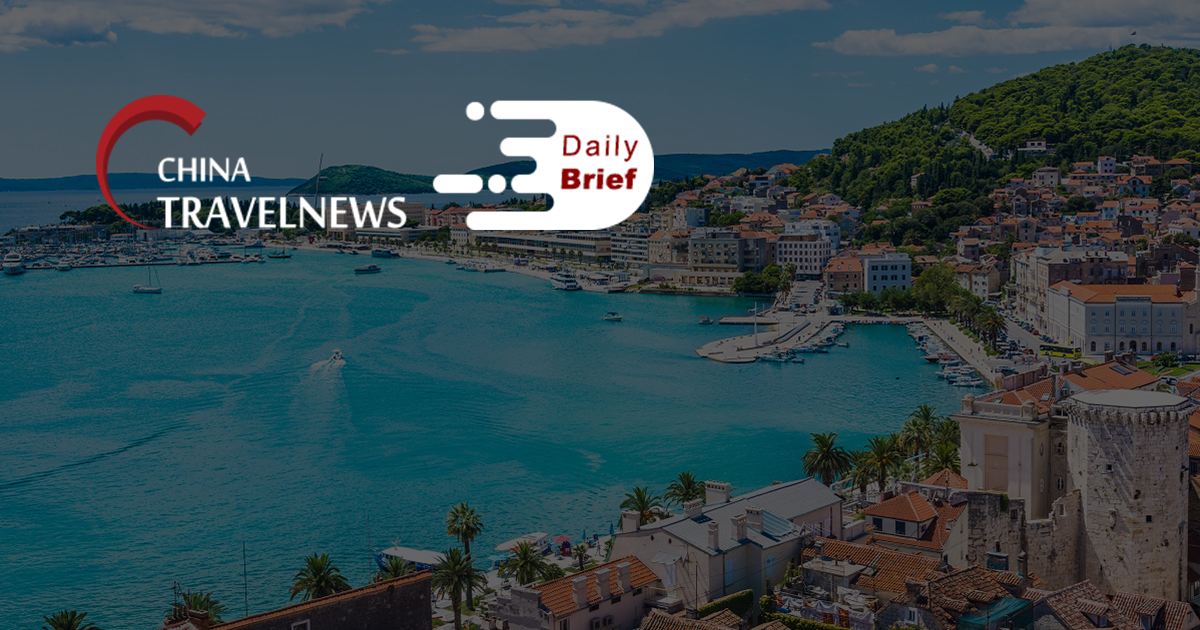 Trip.com to raise about $1.09 billion in Hong Kong listing
>> Online travel platform Trip.com Group is telling prospective investors it plans to price its Hong Kong second listing at HKD 268 per share, on track to raise about USD 1.09 billion, according to people familiar with the matter. The price represents a discount of about 2% to Trip.com's closing price of USD 35.20 on Monday on the Nasdaq. Trip.com's U.S. shares have risen about 4% this year, giving the firm a market capitalization of USD 21 billion.
OTA data shows boom in Chinese demand for travel to Macao in upcoming May holiday
>> Trip.com Group has released data showing a big increase in mainland Chinese demand for travel to Macao in the upcoming May Day holiday. Whilst there are still three weeks before the holiday, the number of bookings for Macao hotels through the Trip.com Group platform Ctrip has doubled compared to the same period in 2019. Room night prices of high-end hotels have increased 30% compared to the Qingming Festival holiday in early April.
Radisson to launch a separate loyalty program for travelers in the Americas
>> Radisson announced that it will split its Radisson Rewards loyalty program into two programs: Radisson Rewards and Radisson Rewards Americas. This change will take place sometime in June 2021. Radisson stated that it's splitting its program to "deliver a more localized experience" to ensure "Radisson Rewards members will continue to enjoy great regional offers." But as noted by One Mile at a Time, the real reason for this split could be changing data regulations in the U.S.
Deutsche Hospitality debuts "Steigenberger Icons" brand to bring together luxury hotels
>> Deutsche Hospitality is uniting its flagship hotels under a new umbrella brand. The name "Steigenberger Icons" will be used in future to position luxurious Steigenberger Hotels & Resorts which are characterised by their singular quality aspirations, location, and historical background. Huazhu is planning to use Steigenberger Icons as a strategic vehicle to move into the luxury hotel segment within the Asian market.
Newly launched Louvre website in Chinese wins support of Chinese netizens
>> France's Louvre museum, the world's largest art museum, launched a Chinese version of its website on Saturday as well as a new database website providing information for 482,000 artworks and cultural relics in French and English. Many Chinese netizens expressed their excitement for getting access to the newly launched website.
Air France to boost China Eastern venture after share issue
>> Air France-KLM will expand its partnership with China Eastern Airlines, as the Chinese carrier contributes to a 1 billion-euro (USD 1.2 billion) share issue heavily backed by the French government, the airline group said on Monday. The French state will cover as much as two-thirds of a 988 million-euro capital increase by Air France-KLM, more than doubling its stake to nearly 30%, while 8.8% shareholder China Eastern invests up to 168 million euros to maintain or slightly increase its stake, subject to a 10% agreed cap.
North Korean airline publishes flight schedule to China, but no flight detected yet
>> North Korea's national carrier was set to operate two flights between Pyongyang and Beijing, its website showed earlier, drawing attention to whether the route will resume after more than a year of suspension amid coronavirus concerns. But no flight took off from Pyongyang as scheduled, according to Flightradar24, a real-time flight tracker.
Amadeus expands into Chinese market to bring efficiencies in expense management
>> INEOS Styrolution has extended its use of Amadeus cytric Expense for its China and Hong Kong operations. The cytric Expense will enable a better user experience and improved processes for INEOS Styrolution employees when it comes to claiming and processing expenses in these fast-growing markets. It will also bring meaningful cost savings and added efficiencies across its various entities in China.
HRS China Support Center is now "Live"
>> HRS Hospitality and Retail Systems, Oracle's largest hospitality partner worldwide, has set up a new Support Center in China, operating 24/7, and it is now 'live'. The HRS China Support Center will be in the "new tier 1 city" of Chengdu. The establishment of this office in the Sichuan province will give HRS China a presence in all four main regions of the country.