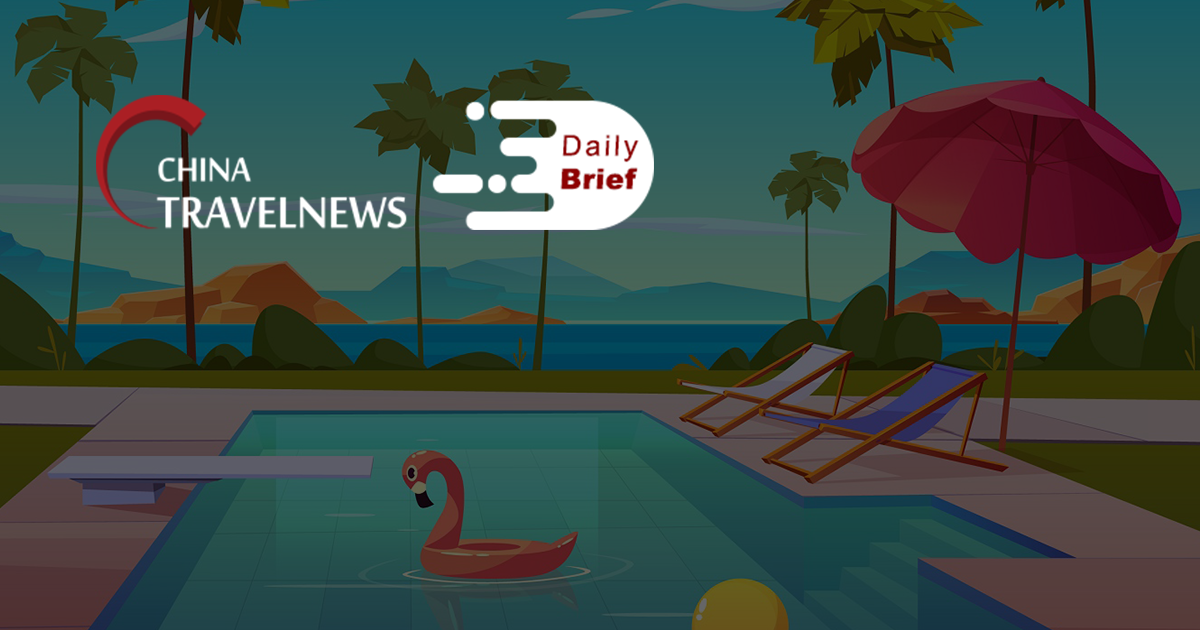 China's tourism to rake in $195 billion in first half of 2021
>> China Tourism Academy (CTA) forecasts that country's tourism revenue will increase 102% year on year and reach RMB 1.28 trillion (USD 195 billion) in the first half of 2021. More than 1.7 billion domestic trips in China are expected to be made in January-June this year, up 85% year on year, the academy announced at an online press conference today. During the upcoming Labor Day holiday from May 1 to 5, domestic tourist trips will recover to or even surpass the pre-COVID-19 level, said Dai Bin, director of the CTA.
Macao expected to be "dark horse" in the coming May holidays
>> As mainland residents' only outbound destination free of 14-day quarantine, Macao continues to rise in popularity for the Chinese travelers, and is expected to become "a dark horse" in the upcoming May Day holidays. Data from Trip.com Group showed that, as of April 6, the total number of orders for Macao during the May Day holidays saw a positive growth rate of 20% from last year, which has doubled from the same period in April. Search volume for flights in and out of Macao was 140% higher than the previous month.
Luxury hot spring resort operator to launch first hotel in mainland China
>> Hoshino Resorts, a Japanese luxury hot spring resort opeartor and hotel management company inaugurated more than 100 years ago, is planning to launch its first property in mainland China this year. The Hoshino Resorts KASUKE Tiantai, located in the Tiantai Mountain of Zhejiang Province, will be the company's first hotel in mainland China, in addition to Hoshino Resorts's other overseas properties including HOSHINOYA Bali in Ubud, Bali, and HOSHINOYA Guguan in Taichung, Taiwan. The company operates over 40 properties within and outside of Japan.
Tourism board website hosting hotel discount giveaway crashes under intense demand
>> The website hosting the Hong Kong Tourism Board's giveaway of HKD 10 million (USD 1.28 million) worth of hotel discounts crashed on Friday under intense demand from the public. The website "Staycation Delights – Holiday At Home" which is offering discounts worth HKD 500 (USD 64) for 20,000 hotel bookings, was offline for half the day as eager users tried to access the page at 10am on Friday. More than half of the hotels participating were booked out by the evening.
77% of Hongkongers would prefer a faraway vacation over finding true love
>> Booking.com has revealed the results of a new travel survey that reveals just how badly Hongkongers are aching to vacation once again. When it comes to post-pandemic priorities, 77% of Hong Kong travelers admitted they would rather go on vacation in 2021 than find true love, while 68% would pick traveling over success at work. It seems that promotion can wait. With or without the vaccines, 71% of Hongkongers would happily accept having to wear a mask when traveling.
China Eastern Airlines launches distance-based travel product
>> China Eastern Airlines launched a new product based on flight distance on April 6. The Shanghai-headquartered airline said in a WeChat post last week that the new product offers each customer flight service of a total flying distance of 10,000 km. Customers can book all the domestic flights (excluding flights to Hong Kong, Macao and Taiwan) that China Eastern and its subsidiary brand Shanghai Airlines operate. A unit of this product is valid for a year while buying two units of the product will extend the validity period to two year.
Chinese carrier banned from New York-Shanghai route for 4 weeks
>> China's civil aviation regulator CAAC has banned China Eastern Airlines from operating its New York – Shanghai route after 10 passengers tested positive for COVID-19. China Eastern will be suspended from the route for four weeks. While the ban will come as a blow to the airline, China Eastern is in the middle of a surge in passenger traffic.
China's domestic travel recovery boost prospects for inflight connectivity providers
>> As China's domestic travel and tourism industry shows signs of recovery, inflight connectivity (IFC) service providers including Global Eagle and Panasonic Avionics are looking to the world's most populous country as a growth market. After all, the lion's share of China's domestic airline fleet is still not fitted with IFC systems that support broadband Internet for passengers.
Qatar Airways launches ferry transfer from Shenzhen to Hong Kong airport
>> Qatar Airways is launching a sea-to-air ferry transfer service from Shenzhen Shekou Port to the SkyPier in the airside of Hong Kong International Airport starting from April 15, providing passengers in the Guangdong-Hong Kong-Macao Greater Bay Area (GBA) convenient access to the airline's global network from "Asia's World City".
China launches COVID-19 vaccination certificates for cross-border travel
>> China has launched a digital COVID-19 vaccination certificate for its citizens planning cross-border travels, joining other countries issuing similar documents as they seek ways to reopen their economies. The certificate issued by China will have details about the holder's COVID-19 vaccination information and coronavirus test results, the Department of Consular Affairs under China's foreign ministry said on its website.