ChinaTravelNews, Ritesh Gupta - Trip.com has asserted that the online travel group is fully prepared to grab "additional market share" in the anticipated global recovery as it disclosed its fourth quarter results this week.
Accentuating on the same during the earnings call, James Liang, Executive Chairman, Trip.com Group mentioned that innovation and improvement in certain areas meant that the concerted initiatives have not only paved way for additional market share for products during the pandemic, but the same has also set up a concrete foundation "for new growth drivers beyond COVID".
Also, in China, the group witnessed average spending on domestic package tours rising notably year-over-year in Q4, especially for its mobile users. Plus, the company believes that its live-stream and special deals channel have now become a place where shoppers expect luring deals. Overall, the team is certain that the domestic market will come back with the growth trajectory this year, owing to the efficient pandemic control and extensive distribution of vaccines.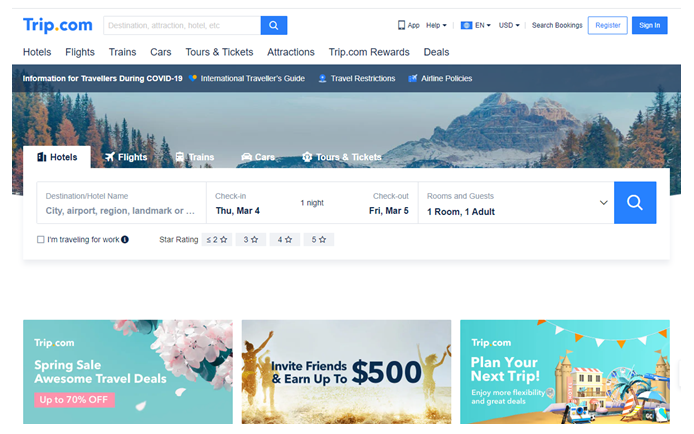 In terms of financial performance, net revenue for the last quarter was RMB5.0 billion (US$761 million), representing a 40% decrease from the same period last year.
And for the full year, ending in December, net revenue was RMB18.3 billion (US$2.8 billion), representing a 49% decrease from 2019.
Operating highlights
Jane Sun, CEO, Trip.com Group referred to four areas as she referred to operating highlights.
Jane started by explaining the performance in the middle-to-high end market. "Our middle-to-high end hotel bookings reached the double-digit growth year-over-year far exceeding the industry average by 15% to 20%," Jane said. "In addition, high quality niche and boutique travel has become an important alternative for our previously outbound customers."
Moving on, Jane pointed out that the group extended its market share in the low tier markets. Last year more than 40% of new customers came from third tier cities and below, she said. She singled about transportation products' potential in garnering new users. And with them, the team can further target cross-selling of other products. Revenue generation is also being fuelled by lower tier cities offline stores. "…we have special teams to look at specific markets such as for people who are retired, et cetera, these segments also presents different opportunities for our new businesses," said Jane.
Third, the decision to focus on "highly frequent categories such as short-haul and staycation" is already paying off. These are being termed as emerging opportunities. Liang mentioned that the product offerings can be tailored with swiftness. "…we are best positioned to expand the breadth and depth of our product offerings to capture users evolving demand, such as the unique and in-depth experiences as alternatives for outbound travel, and short-haul and the staycation trips, which are incremental to the typical long-haul sites. This is a near-term goal that's already started to bear fruit," explained Liang during the call. Trip.com combated external factors such as weak winter seasonality in the final quarter. "We are glad to see reservation for short-haul travel and in-destination activities achieved strong year-over-year growth despite industry fluctuations in the past winter."
"The number of our in-destination activity and suppliers increased by over 25% year-over-year by the end of last year. As a result, short-haul and the local travel has become a key contributor to our recovery," said Jane. The group's solid performance for short-haul and local travel extended into the past Chinese New Year holiday.
"Compared to the same period in 2019, our hotel GMV for the same province space achieved 20% year-over-year growth and reservation for local attractions and activities more than tripled," she said.
The fourth highlight and a major plan for the future is content offering.
It is expected to play a vital role in sustaining the interest of the travel shopper is content.
"We believe comprehensive content offering will help attract new users and improve the engagement in terms of frequency and time spent on our apps," said Liang.
The consumption of content to eventually facilitating a transaction is the sort of integration plus the user experience, what is being referred as a "virtuous cycle", is also going to be the focus going forward. Another aspect where content comes into the picture is the overall positioning as a tourism marketing hub for branding, promotion and other marketing activities. This is expected to shape up an incremental revenue opportunity in tourism and industry advertising and marketing, said Liang.
"By the end of 2020, our content channels contributions to the total app traffic more than doubled compared to the beginning of the year and the visit time of our information seems more than tripled during the year," said Jane.
The group acknowledged that there is volatility in the margin to an extent due to the pandemic, but in general, Trip.com Group is still targeting at the 20% to 30%, non GAAP operating margin, which is "achievable if everything resumed normal".