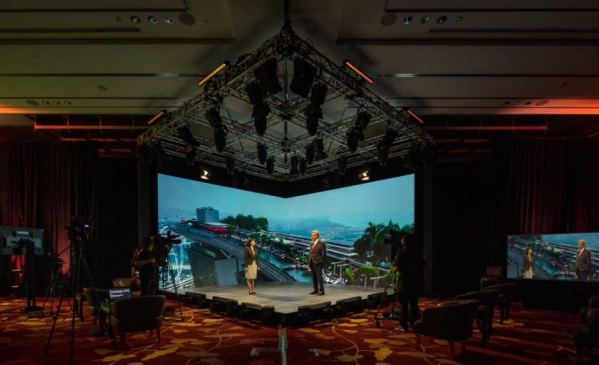 Marina Bay Sands has launched a state-of-the-art hybrid event broadcast studio at Sands Expo and Convention Centre in a first for the industry, as the awardwinning venue paves the way to redefine the future of meetings.
Designed to accommodate a live studio audience with a maximum capacity of 50 persons at any one time, the hybrid broadcast studio – which offers broadcast-quality live-streaming capabilities and hologram functionalities – will act as the central hub for event planners looking to produce hybrid meetings in the new era.
"Hybrid meetings will help enable the return of large-scale events in a virtual manner amid the Covid-19 situation and we want to set the stage for these shows by providing planners with a suite of useful and innovative solutions which are relevant for the times," said Paul Town, Senior Vice President of Resort Operations, Marina Bay Sands.
The studio's centerpiece is a cutting-edge three-dimensional stage fitted with an immersive backdrop and floor that can be reconfigured to fit every event's needs. Replacing the conventional green screen backdrop are two massive 6 metre by 4 metre right-angled LED walls which can show high resolution 360-degree visuals, while a plexiglass LED floor can display stunning floor projections.
The three-dimensional stage is designed to provide presenters with a better perspective of their surroundings, helping them to visualise and deliver their presentations in a more immersive environment. Stage lighting systems can be customised, designed and operated to fit an event's specific needs. In this season of travel restrictions, the studio is also able to beam someone from a different part of the world 'live' into Singapore through a holographic presence.

Marina Bay Sands currently offers three virtual conferencing options – full virtual webcasting and live streaming events; hybrid events with in-person and online audiences; and hybrid events with holographic telepresence. Clients can look forward to an enhanced suite of event tech capabilities incorporating Virtual Reality (VR), Augmented Reality (AR) and Extended Reality (XR) solutions as Marina Bay Sands continues to reimagine the future of meetings.