As the world enters a new era of international travel, Beijing Tourism is leading the way with a two-part online forum series, "Beijing Culture and Tourism Global Online Strategic Forum - Restart Travel, Together with Beijing." Held on 22-23 September 2020, the forums are aimed at tour operators and travel agencies who manage and sell travel to Beijing, destinations and tourism businesses around the world who can learn from Beijing's examples, and others working in the tourism industry and travel media. Attendees will come away with a practical understanding of how Beijing is tackling many of the most challenging issues facing international tourism, and looking ahead to the future, by embracing new technology, creative solutions, and learning from past experience.
The two forum sessions will bring together an expert lineup of more than 30 speakers from throughout the tourism industry, including industry leaders such as Airbnb, TripAdvisor, Lufthansa Group, TUI, PATA, WYSE Travel Confederation, Marriott, and many others. Please refer to http://traveltrade.visitbeijing.com.cn/forum for the full program and speaker lineup.
The forum's events include seven panel discussions and keynote presentations. In the first panel, "Rebuilding Tourism from the Ground Up," speakers from Beijing's hospitality sector, travel agencies, aviation industry, World Tourism Alliance, and Beijing Daxing International Airport discuss how tourism destinations and businesses can bounce back from the COVID-19 crisis, taking Beijing as a case study.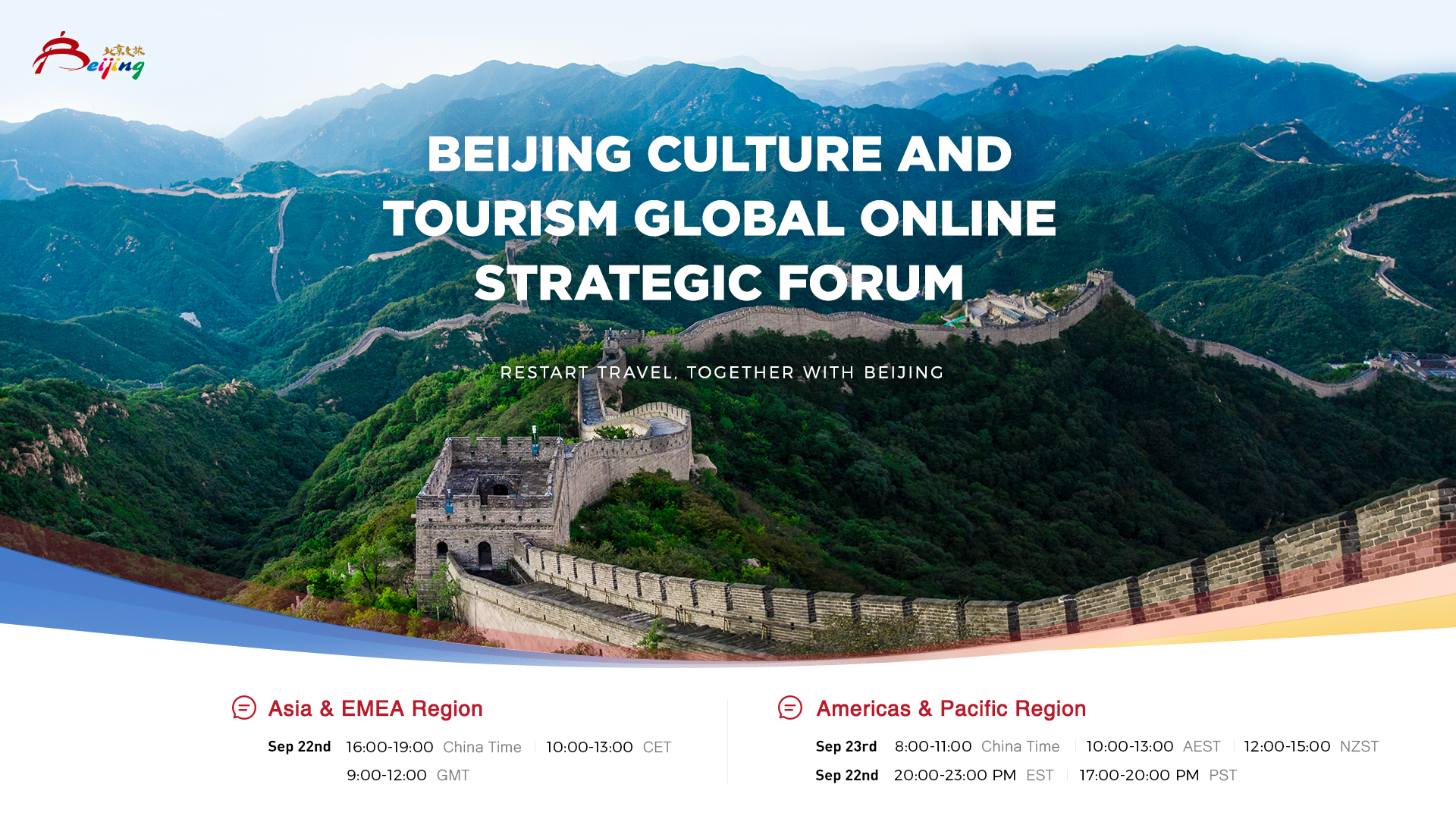 A second panel focused on the return of the MICE sector examines the future of business travel and events, and how they can be held safely in a post-COVID world. Speakers include MICE-focused DMCs, hotel, exhibition organizers, and international organizations.
The final panel discussion concentrates on one of the most important markets in the return of international tourism: youth travel. While young people are pegged to lead the recovery of tourism, the COVID-19 pandemic could have long-lasting effects on attitudes they hold about travel as a leisure activity and career path. How can we ensure that younger generations see the value in global travel and hospitality?
Keynote speeches address Beijing's greatest developments, as well as its biggest challenges. Kicking off the forum, attendees will hear from the Beijing Organizing Committee for the Olympic Games, on the key developments of tourism resources and preparations for the 2022 Beijing Winter Olympic Games.
Especially in the shadow of COVID-19, Beijing – like many global destinations – faces very real challenges when it comes to standing out as a first-choice tourism destination. The forum aims to empower travel agents overseas to be able to answer clients' questions and better sell Beijing with a Q&A session addressing questions regarding health and safety, air quality, visas, and other crucial topics. In another practical session for the travel industry, learn about Beijing's potential for post-COVID tourism, with detailed plans for upcoming products and campaigns.
Each forum session wraps up with a special research presentation session, in which attendees will learn about the latest updates on the global travel market and prospects for recovery, based on consumer and industry research by McKinsey.
"Beijing Tourism's goal in building this platform is to welcome friends around the world to discuss how to restart travel – not only travel to Beijing, but on an international level. As we move forward to embrace the new normal together, our Forum will develop confidence within the global travel industry by showing how Beijing and China are successfully leading the recovery of tourism," said Wei Pang, Deputy Director General, Beijing Municipal Culture and Tourism Bureau, Department of Foreign Exchanges and Cooperation.
The forum will be broadcast live over two days, with speakers selected for each session to best match the target audiences. The event will be held from 4pm China Standard Time on Tuesday, 22 September, for attendees in Africa, Asia, and Europe. A second session from 8am China Standard Time on Wednesday, 23 September, is aimed at attendees in the Americas and Oceania. Both forum sessions will be recorded and available for playback.
Registration:
To register for Beijing Culture and Tourism Global Online Strategic Forum, scan the QR code below, or visit http://traveltrade.visitbeijing.com.cn/forum.
Contact: Sienna Parulis-Cook
communications@dragontrail.com