ChinaTravelNews, Jerry Tang - Super apps like WeChat, Alipay and Meituan are now integral to life in China, and similar platforms are also gaining greater popularity in the Asia Pacific region.
These all-services-in-one mobile platforms are omnipresent catering to virtually every aspect of consumer needs, from dining to accommodation, transport, travel, shopping and entertainment.
But super apps need supplier partnerships across different sectors to flourish.
How did the partnerships between super apps and their suppliers evolve? Where will these transforming vendor-marketplace relationships lead us? And what lessons can the hospitality and travel industries learn from other sectors in leveraging super apps?
Explore the new technologies and new partnerships of super apps with Kevin Guo, vice president of Meituan, who will speak at the 2020 TravelDaily Conference hosted by TravelDaily China and co-hosted by ITB China on November 26 in Shanghai.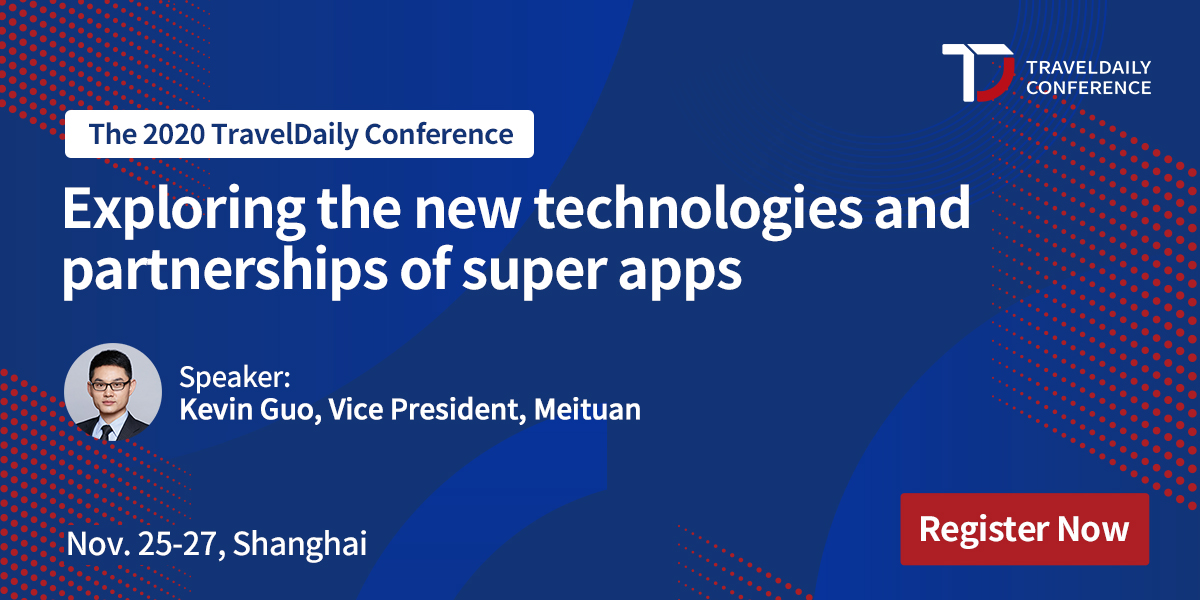 Mr. Guo will discuss how super apps are switching their focus from being a conversion funnel to facilitating data-driven target marketing with more advanced algorithms and models, and how hotels should understand the digital trends and improve their revenue management systems.
Why it matters
Super apps are not just disrupting traditional travel and tourism services, but also posing a growing threat to the OTA players in their customer acquisition and retention.
Travel brands including hotels, airlines, tour operators and online travel agencies should go beyond recognizing the challenges amid industry transformation, to seeing the opportunities and exploring creative ways to cooperate and compete with these lifestyle mobile marketplaces.
2020 TravelDaily Conference
The 2020 TravelDaily Conference is a must-attend travel event hosted by TravelDaily China and co-hosted by our strategic partner ITB China. The annual event provides high-profile platforms for travel trade professionals to gain industry insights and network with counterparts.
The TravelDaily Conference, combined with its breakout sessions of the Hotel Marketing Conference and the Destinations Go-Digital Conference, will bring together travel industry professionals of China and the world. The show will be held concurrently with the third edition of Digital Travel Show, the only trade exhibition in China for promoting travel marketing and technology products.

Contact: Amy Guo
Email: register@traveldaily.cn