China's travel market and consumer confidence recovering
>> With the gradual mitigation of the pandemic outbreak, the willingness of Chinese tourists to travel is rising every day as a recent report conducted by ITB China revealed. According to the survey, over 90 percent of the respondents believe travel to be still one of the preferred leisure activities among Chinese consumers. Over 40 percent of those surveyed have recently received inquiries from consumers on outbound travel products.
Top 20 airlines for intra-Asia Pacific international flights
>> Although some Asia Pacific nations such as China have achieved strong recoveries in domestic air operations, intra-regional international flights are running at a small fraction of last year's level. Only 11 airlines operated more than 10 intra-regional international services in Asia on August 10, and United Airlines came in at number three with 15 flights, compared with 21 last year. On August 12 last year, China Southern was the largest operator of intra-regional international flights with 286, but it completed just four on August 10 this year. AirAsia was a close second last year but had no tracked international flights on this year.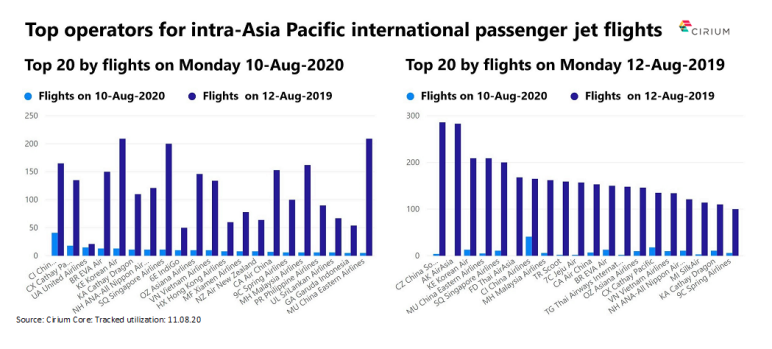 IHG's Greater China RevPAR drops 62% in half year
>> IHG reported a 52% global RevPAR decline for the first half of 2020, while RevPAR in Greater China dropped 62% during the time. Global occupancy rate was down to 25%. CEO Keith Barr revealed during the earnings call that the company made the decision in July to eliminate about 10% of its corporate staff. The Greater China area generated USD 18 million in half-year revenue for IHG, and that's only 1.4% of the UK-based hotel chain's global income in the period.
Duty-free boom fuels surge in Chinese tourism stocks
>> Chinese tourism stocks are flying high, thanks to a bet by investors that travelers will stick to domestic excursions due to the pandemic and also take advantage of relaxed duty-free rules. State-backed China Tourism Group Duty Free has surged 143% in Shanghai this year, helping fuel a 19% rise in the CSI Tourism Thematic Index, whose constituents include operators of scenic spots, travel agencies and hotels. The smaller Caissa Tosun Development Co. has gained 84%, aided by its own plans to tap opportunities in the duty-free business.
Macau casino stocks soar due to the resumption of mainland tourist visas
>> Macau casino stocks soared on Tuesday on excitement that mainland China will begin reissuing tourist visas after the coronavirus left baccarat tables nearly vacant and slot machines untouched, causing a 90% plunge in gaming revenue. Neighboring city Zhuhai will be the first mainland Chinese city to be issued with tourist visas beginning on Wednesday, the Macau government announced.
Domestic travel is just the ticket for travel-hungry Asian travelers
>> Travel has become an indispensable part of life for many, and people are keen to get back to it. But there are some changes to where and how people are traveling. Agoda's GoLocal survey reveals a shift from international to domestic travel as borders remain closed for many countries, yet the urge to travel continues. Three-fifths of travelers are ready and willing to pack their bags and head on a trip according to the survey, with travelers in Vietnam (87%), Indonesia (78%) and Taiwan (59%) leading the pack.