China's next-generation travel consumers have solid purchasing power but they remain rational in their spending, according to the Generation Z Travel Consumer Trends Report by TravelDaily, parent of ChinaTravelNews.com.
Purchasing power and budget
According to a survey conducted by Beijing-based market research firm DATA100 sampling 2,580 young respondents aged between 11 to 25 in China's first-, second- and third-tier cities, more than 60% of the Generation Z consumers (born in 1995-2009) have a monthly salary of at least RMB 5,000 (USD 717). Among them, 17% of the respondents have a monthly salary of RMB 10,000-20,000 (USD 1,434-2,867).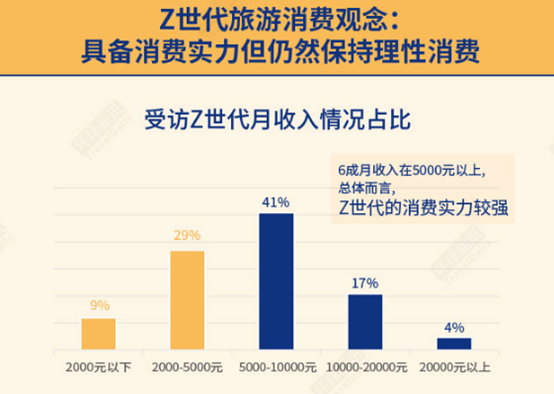 Some 77% of the respondents said they travel one to three times per year, with 55% travel two to three times yearly and the remainder 22% travel once in a year. Around 15% of the respondents travel four to five times per year and only 5% of the respondents travel more than five times in 12 months.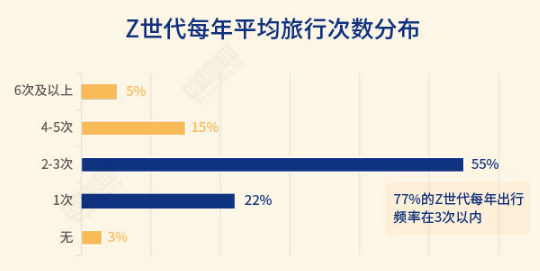 For travel spending, 77% of them have a budget of no more than RMB 5,000 (USD 717), with 30% spending RMB 3,000-5,000 per trip, 37% spending RMB 1,000-3,000, and 10% spending less than RMB 1,000. Some 13% of the respondents spend RMB 5,000-8,000 every time they travel and only 4% of them have a budget of over RMB 10,000 per tour, according to the survey.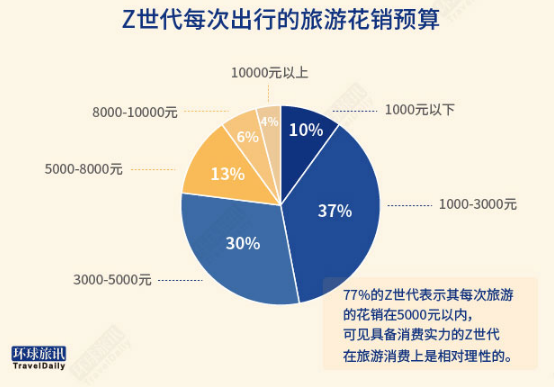 In terms of breakdown in travel spending, accommodation accounts for the biggest 35% share of the young Chinese travelers' travel budgets, followed by food and beverage (19%) and transportation (16%).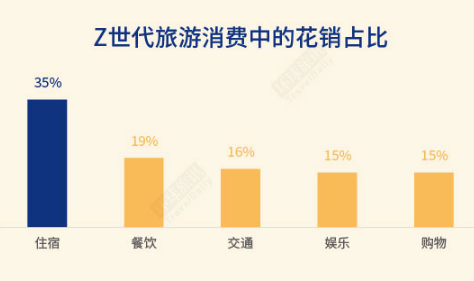 About 80% of the young travelers expect a hotel room rate of RMB 100-500 (USD 14.3-71.7) per night, and even the high-income groups of them show limited interest in luxury hotel options, according to the report.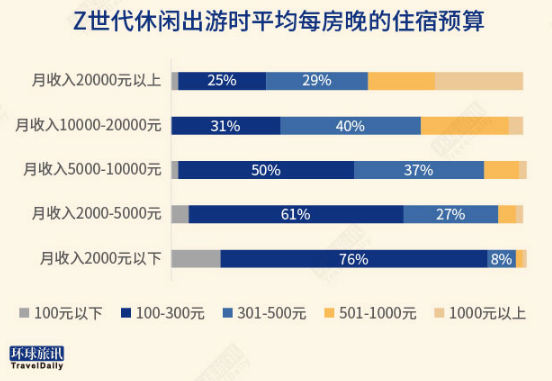 Travel options
More than half (65%) of the Generation Z travelers like to plan free individual trips on their own completely while 42% of them opt for semi-free-individual trips. The survey finds only 16% of them are interested in traditional group tours.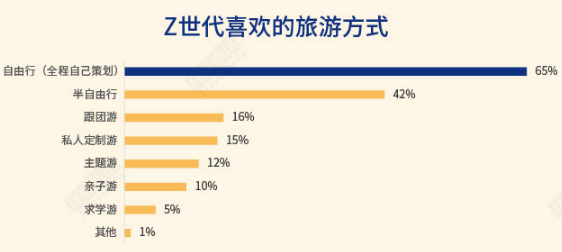 For means of transportation, nearly half (47%) of the Generation Z travelers choose railways including high-speed railways. Some 27% of them take flights and 25% of them are interested in self-drive tours. Only 1% of them are cruise passengers.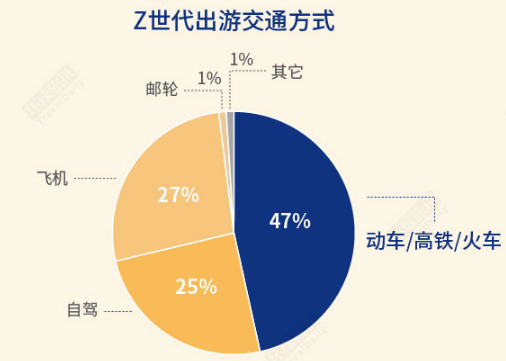 Booking channels
Most of the young travelers use established online travel platforms for bookings, with 59% of them using Trip.com Group, Meituan and Qunar etc. Some 12% of them go to direct booking websites of hotels, airlines and tourist attractions and 11% of them go to travel agency outlets. It is worth noting that 10% of them make travel reservations on e-commerce platform Taobao, video-sharing app Douyin (TikTok's Chinese domestic version) and lifestyle sharing platform Xiaohongshu.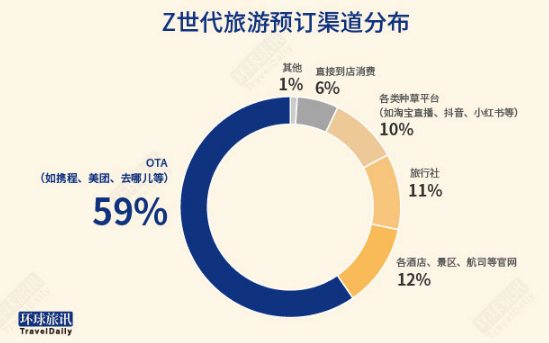 Growth opportunity for brands
The Generation Z travelers currently take up just a small fraction of most travel companies customer base, according to the report. Just a bit more than half (56%) of the travel companies have above 10% of their customers in the Generation Z groups. Some 14% of the companies said that at least 20% of their customers are Generation Z travelers.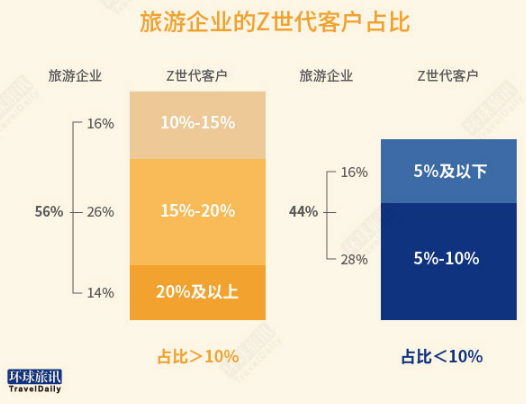 The Chinese Generation Z travelers present a growing opportunity for travel brands at home and abroad, and only the companies that are better prepared for this emerging group can gain more traction in the sector.