ChinaTravelNews - India-headquartered hospitality startup OYO has finally appointed a CEO for its China unit, an internal source told ChinaTravelNews recently. The source also said that the company's China CEO is an Indian national who had worked for management consulting firm Mckinsey.
According to the public information on LinkedIn observed by ChinaTravelNews, Mr. Gautam Swaroop, an Indian businessman in Shanghai, updated his occupational status as "CEO (China) at OYO China" on May 16.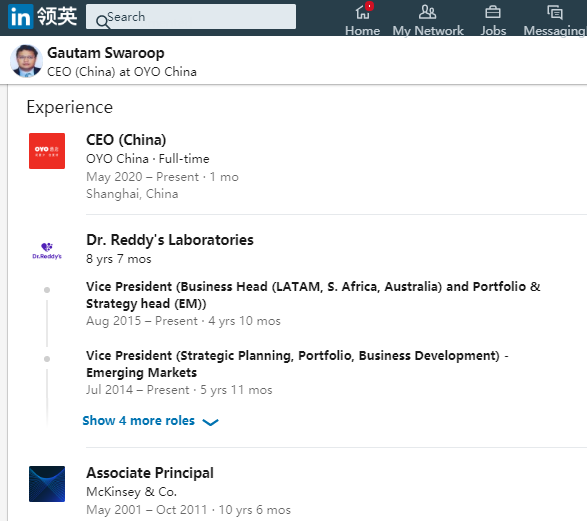 Mr. Swaroop has joined OYO since May 2020, according to his LinkedIn page.
Before that, he had worked for Dr. Reddy's Laboratories, an Indian pharmaceutical company for more than eight years, mostly leading the company's business development and strategic planning in global areas such as Australia and China. From July 2019 to May 2020, he served as Head of Dr. Reddys China in Shanghai.
Prior to joining the pharmaceutical company, Mr. Swaroop had more than ten years of experience working as associate principal at McKinsey & Co.
OYO told Business Insider a few days ago that 70% of the OYO hotels in China have reopened for business, and that it plans to open the remaining hotels in the next 30 to 45 days. The COVID-19 pandemic has caused OYO to lay off 60% of its workforce in China, according to a TechNode report in March.
But the Softbank-invested unicorn faced challenges long before the emergence of coronavirus.
OYO reported in February that its revenue in fiscal year 2019 rose 4.5 times to USD 951 million while net loss widened six times to USD 335 million. The China market generated revenue of USD 307 million during the fiscal year, but also posted a net loss of USD 197 million, accounting for nearly 60% of the company's total loss for the year.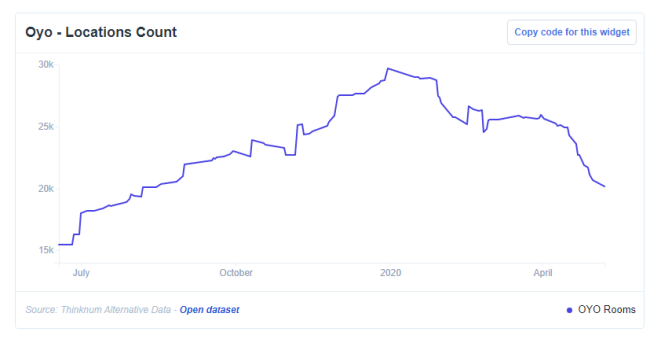 Data research firm Thinknum said that the number of OYO's global hotels dropped 32% from 29,700 late last year to around 20,000 in May this year.
Separately, news outlet TechInAsia reported that Ritesh Agarwal, founder of OYO, is stepping down as the Group CEO of the India-based hospitality firm. The report also said that Mr. Agarwal is to assume a non-executive role in OYO, and he will continue to hold a stake in the company.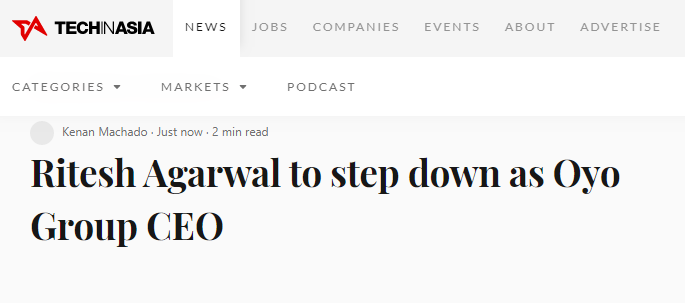 But the TechInAsia report was soon removed from its website.
ChinaTravelNews had approached OYO for comments on the report but did not receive any reply from the company as of publication time. ChinaTravelNews cannot independently verify the authenticity of the TechInAsia report.