China sees surge in new travel-related virus cases
>> As China opens up for businesses, the country is witnessing a new surge of travel-related COVID-19 cases in Jilin province in northern China. The country had successfully kept the new cases in the single digits for a while, but there have been more than 40 new cases in the last five days, according to data and analytics company GlobalData.
China's passenger number down by nearly 70% in April
>> The decline in all major performance indicators of China's civil aviation services in April had slowed compared to March. Data released by the Civil Aviation Administration of China (CAAC) during a press conference on showed that the total volume of air transportation was 3.95 billion ton-kilometers last month, decreasing 62.4% year-on-year. The decrease rate was one percentage point lower compared to the previous month. Passenger throughput declined 68.5% year-on-year to 16.715 million, 3.2 percentage points lower than that of March.
China Southern plans to issue up to $2.25 billion in bonds
>> China Southern Airlines is planning to issue up to 16 billion yuan (USD 2.25 billion) in A-share convertible bonds to fund purchases of aircraft, maintenance services and spare engines, and to boost cashflows. The move came after the biggest Asian carrier by passenger number reported an almost 300% plunge in its first-quarter net profit due to the impact of the coronavirus pandemic.
Cathay Pacific loses money, flags 'very bleak' outlook
>> Cathay Pacific said it made a loss of HKD 4.5 billion (USD 580.53 million) at its full-service airlines during January-April and flagged a "very bleak" outlook as the coronavirus crisis grounded planes globally. The Hong Kong-based airline said passenger numbers in April dropped by 99.6%, compared with last year as it flew a skeleton network due to a ban on transit traffic in the Asian financial hub and little outbound demand.
Chinese visitor arrivals to Australia decline 99.8% in April
>> Australia's statistics bureau said the country received 98.7% less overseas arrivals in April than the same month last year. The number of Chinese visitor arrivals to Australia declined 99.8% from 132,360 in April 2019 to just 320 in April 2020.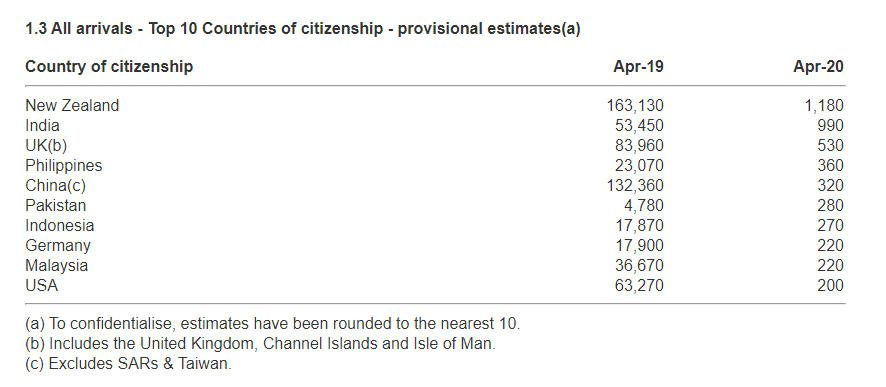 'Unprecedented' times to explore hotel opportunities in Hong Kong
>> The potential re-introduction of regular travel between Hong Kong and Mainland China provides optimism for the recovery of the Hong Kong hotel market after 12 months of unrest, according to a new report by Colliers International. Colliers International Senior Director for Capital Markets, Shaman Chellaram, said pre-COVID-19 figures demonstrated cross-border travel contributed to 80% of the city's inbound tourism.
Serbia pins hopes of tourism revival on Chinese
>> Serbia is pinning its hopes of a tourism revival on Chinese visitors as it emerges from its coronavirus lockdown. Rasim Ljajic, Serbia's tourism and trade minister, is looking for help from Alibaba's Fliggy to promote travel to Serbia. Chinese tourists made up about 10% of foreign tourists in 2019, a fivefold increase from 2018 after the two countries reached an agreement on visa-free entry.
Hotel occupancy in China reaches 40%
>> Hotel occupancy in China reached over 40% during May 6-10 as business travel increased, according to data from hotel data firm STR. In Beijing, occupancy increased after government restrictions were further relaxed The Beijing CBD and Beijing Downtown Financial Street submarkets saw demand almost triple during May 6-10 when compared to April weekdays.