Booking loses $130 million in Trip.com equity sales
>> Booking Holdings said its Q1 results have been significantly impacted due to the COVID-19 pandemic. Gross travel bookings plummeted 51% in the quarter and room nights booked decreased 43% over a year ago. Booking Holdings has sold its USD 655 million equity investment in Trip.com Group with a net loss of USD 130 million. But the company said it did not plan to sell its investment in Trip.com Group's convertible debt securities prior to their anticipated recovery.
Airbnb China to lay off employees as 25% workforce cut globally
>> As Airbnb is laying off 25% of its global workforce, the company's China unit has also started the layoff process. A source told local media outlet Pandaily that Airbnb has more than 550 employees in China, most of whom are based in Beijing. The source also said the company will start one-on-one meetings with employees starting May 7 and will likely finish the layoff process by the end of this month, downsizing less than 25%.
China gains and US loses in a world with no foreign tourism
>> A hypothetical analysis by Bernstein explores the winners and losers from a staycation boom if all international travel demand was redirected domestically. China and UK come out on top, while Spain and U.S. are huge losers.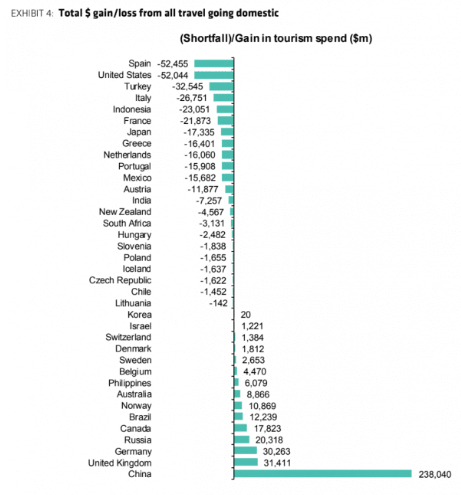 Hyatt Hotels sees occupancy improvement in Greater China
>> Hyatt Hotels said its comparable RevPAR decreased 28.1% in the first quarter of the year. System-wide occupancy rates as of April 30 were around 15% for hotels that remain operational. Occupancy in Greater China have shown gradual improvement over the past few weeks, with occupancy approaching 25% at the end of April.
Hilton sees recovery in Asia Pacific
>> Hilton said its first-quarter results were not significantly impacted by the COVID-19 pandemic until March 2020, with the exception of the Asia Pacific region. The company has begun to see a recovery in Asia Pacific. In China, occupancy as of May 4 was about 40%, up from about 9% in early February, and nearly all of the approximately 150 hotels that had suspended operations have reopened.
Ticketing agents in China banned from selling international flights
>> Thousands of brick-and-mortar travel agents have seen their businesses flatline since April, when the industry became embroiled in the coronavirus pandemic. To contain the number of imported cases, Chinese authorities required airlines to drastically cut international flights to China. Airfares soon skyrocketed. With public anger mounting, the Civil Aviation Administration of China (CAAC) blamed the spike in prices on rogue agents, banning all domestic airlines from collaborating with agents when selling tickets for international flights.
45% of Chinese FITs plan to visit reopened Vietnam this year
>> Nearly half of the respondents from first-tier cities in China want to travel abroad this year, with 45% interested in traveling to Vietnam, according to a survey by hospitality consulting group C9 Hotelworks and and Delivering Asia Communications.
Younger travelers are reflected in rising sentiment with 81% saying they would choose independent travel versus group tours. This fact, coupled with younger Chinese booking travel digitally via WeChat and Fliggy is a new twist in Vietnam's marketing to China inbound tourists.