Hotel bookings through global distributors, suppliers down 80% in early April
>> The hotel occupancy trends for January 1 to April 11 of 2019 and 2020 mapped by STR show that occupancy was at its lowest just ahead of the Spring Festival in 2019, but rebounded sharply as holiday leisure traffic increased and business travel picked up post-holiday.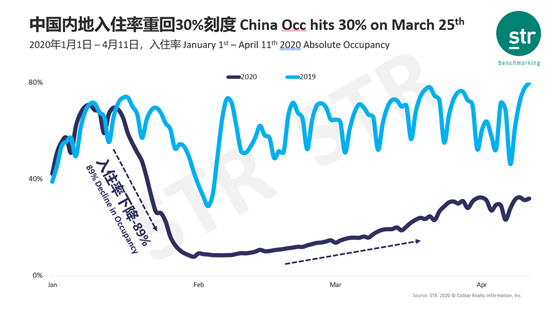 Global hotel distribution technology provider DerbySoft revealed that Asia Pacific had the highest share of hotel bookings from regional visitors in the first 12 days of April, though only up to 34.9% of last year's level. Booking volumes started to decline since February 19. The biggest drop was recorded between March 4-11 by supplier data, falling sharply from 81.5% to 46.7% of the previous year's level in just a week.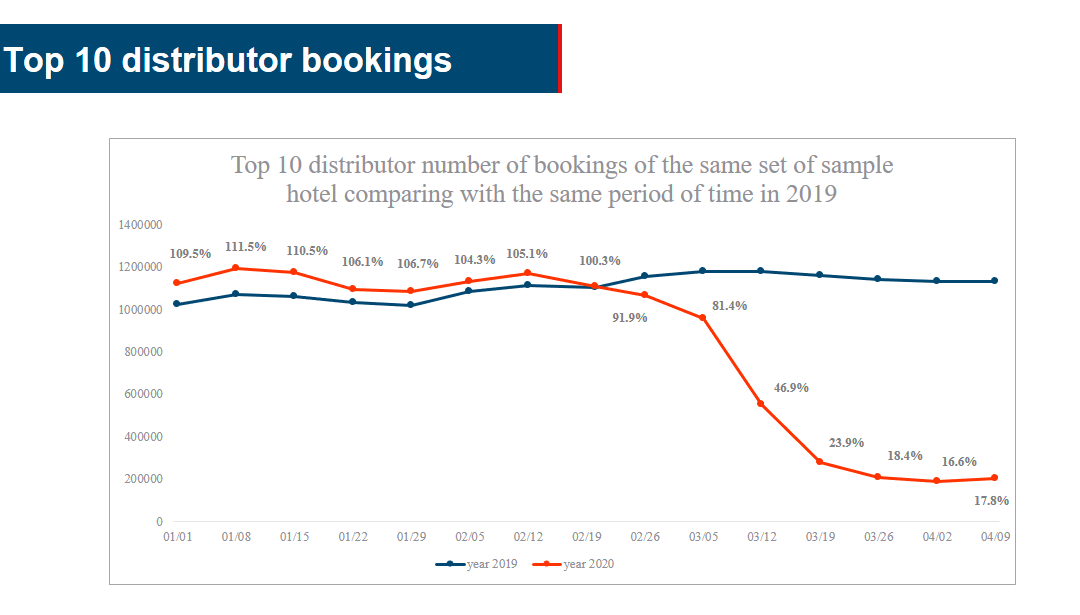 Accor Q1 RevPAR falls 67.7% in China
>> Accor said its first-quarter RevPAR fell 25.4% on a like-for-like basis due to the sharp deterioration in the industry amid the global coronavirus outbreak. For the month of March, the decline was 62.6%. Quarterly RevPAR was down 33.7% in Asia Pacific. In China, where the virus was first reported, first-quarter RevPAR fell 67.7%, however the company sees signs of an improvement with a pickup of occupancy rates and restaurant business.
China flights show signs of recovery since March
>> Global airline industry has seen a dramatic reduction in the number of scheduled seats compared to last year. The number of seats within Europe declined by 94%, and North America by 63%, the volume in Asia is now down by 47%, according to data from Cirium.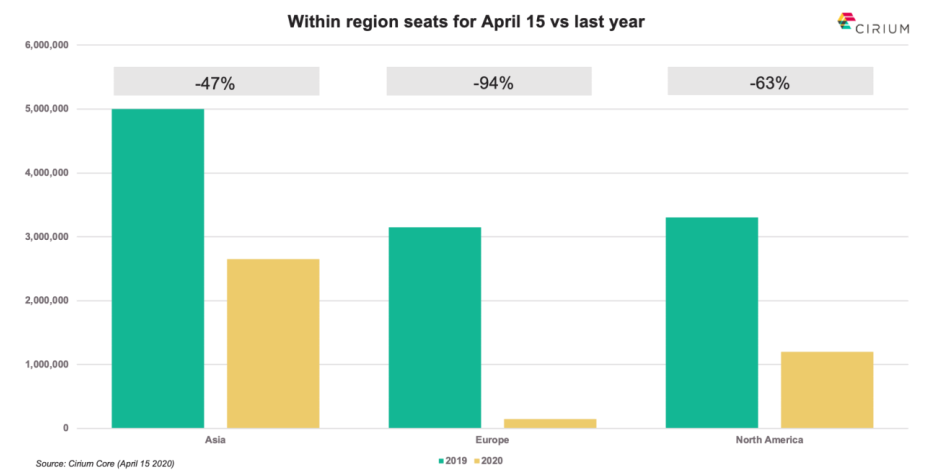 In China, which experienced the outbreak sooner, flights were cut drastically from early February. But since the beginning of March the actual number of flights on China's domestic routes have recovered slightly.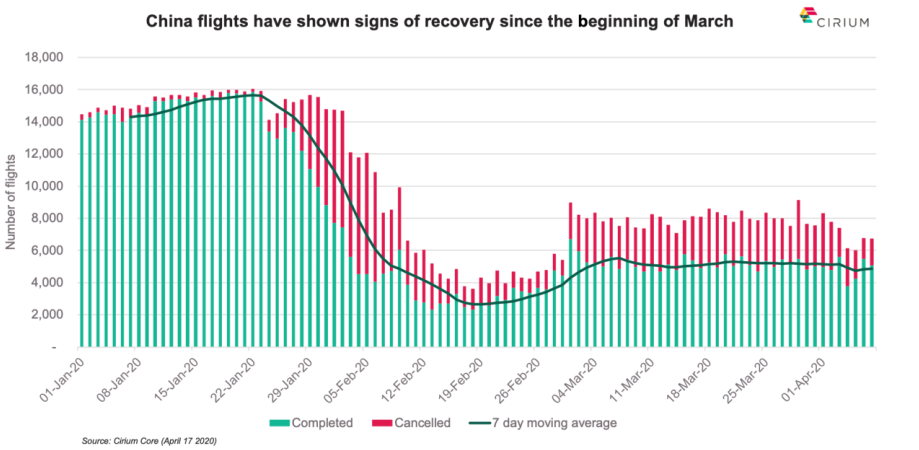 Theme park reopenings in China show possible future for U.S. attractions
>> More than two months after shuttering due to COVID-19 crisis, most of the Fantawild theme parks in China have reopened, and the safety measures they are employing provide a preview of what visitors to U.S. attractions may experience in a post-coronavirus era. Fantawild has implemented some strict social distancing rules, and watching Fantawild's efforts may prove a peek into the future of Western theme parks.
Over 3,700 tourist attractions encourage online booking
>> Some 3,770 tourist attractions in China have resumed operation and launched online booking access on Trip.com Group, the country's largest online travel agency. Tourists have booked tickets for tourist attractions for the upcoming International Labor Day holiday through the online platform.
>> China's hard-hit tourism sector is poised for a gradual recovery and the upcoming Labour Day holiday is expected to see a record number of over 80 million tourists as people try to return to normality after the recent COVID-19 lockdown. Hotel bookings are emerging with "several hundred million yuan" in gross merchandise value, and 55% of bookings have been made with four- and five-star hotels as higher quality trips are in demand amid safety concerns, according to Trip.com.
Expedia names new CEO, raising $3.2 billion amid COVID-19
>> Expedia Group said its Board of Directors has approved the appointment of Peter Kern, Expedia Group's Vice Chairman, to serve as Chief Executive Officer of the company. The OTA giant also announced that it is raising USD 3.2 billion of new capital, consisting of a USD 1.2 billion private placement of perpetual preferred stock and warrants and USD 2 billion in new debt financing.
Virgin Australia's rescue up in air with HNA debt woes, tighter scrutiny
>> The bailout of Virgin Australia is under a cloud of uncertainty amid the financial troubles among its majority-owned Chinese investors, and tightening scrutiny on foreign investment by authorities.The airline last week went for voluntary administration under AUD 5 billion (USD 3.15 billion) of debt burden.