The darkest hours for China in the battle against the coronavirus outbreak have come and gone, but the nightmare is only beginning in Europe. Tough time is not yet over for the tourism industry worldwide.
Over the years since 2012, the global tourism industry has been thriving on booming outbound tourism from China, which has been the world's largest outbound travel source market buoyed by the country's economic progress for the past decade.
Renowned Hong Kong-based retail brands such as DFS had 70% of the sales from mainland Chinese consumers. Chinese visitors to the UK spent an average of £2,059 per visit, and 40% of Burberry's customers were Chinese, many of them tourists.
The COVID-19 outbreak has changed all that. Travel restrictions mean fewer shoppers, forcing many to close shop. Retailers around the world are bracing for depressed results this year.
The vulnerability of duty-free shops, outlets and malls in their heavy reliance on Chinese visitors has been exposed in the pandemic, and their weaknesses in online and digital marketing strategies, or the lack of it, are apparent.
Businesses are now feeling the pinch. However, the crisis does present opportunities to disrupt and prepare for future competition.
"It is imperative for the overseas travel retail industry highly dependent on the Chinese consumers to build an online e-commerce presence," said Alpha Xu, founder of ASAP+, a China digital marketing agency with over ten years of experience partnering with international brands.
China's travel industry was decimated by the coronavirus outbreak early in the year, but consumer confidence is returning as the country is gaining the upper hand in containing the epidemic. Online sales of branded goods are on the upswing, particularly through WeChat Mini Programs.
Within just five days in early February, a major Chinese fashion retailer that has more than 7,000 outlets registered a spike in sales through its WeChat Mini Program channel, at three times higher than its brick-and-mortar sales, according to ebrun.com data.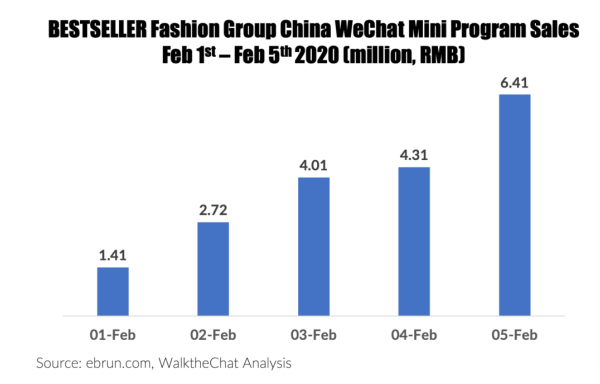 Chinese consumers are increasingly active in digital and mobile shopping. Market research data jointly released by ASAP+ and Puzzle show that 97.5% of Chinese internet users go online via mobile devices and 84% complete online orders with their mobile devices. As to overseas travelers, up to 95% make purchase decisions on mobile phones, and 65% complete bookings with mobile payments.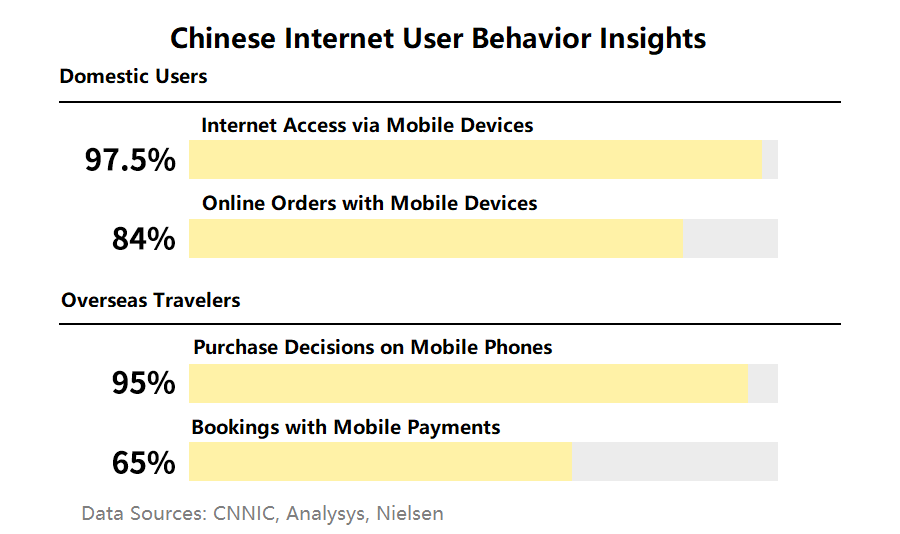 As the pandemic continues to wreak havoc around the world, the travel retail industry will have to prepare for extreme challenges. They will need to strengthen brand presence and expand sales channels to stay in the game. How should the industry turn this virus crisis into an opportunity?
1. Think outside the box, and expand the experience beyond travel
Traditionally, travel retail only engages with customers and generates transactions during a consumer's journey. When travel is disrupted, such as during the COVID-19 outbreak, brands will be hard hit. Retailers need to change their mindset and adjust to users' changing habits in the digital era. They need to provide a one-stop shopping service and experience before, during and after a trip. By formulating an overall digital strategy and building cross-border e-commerce capabilities, they can transform from traditional retailers to cross-border e-commerce players and drive the growth of travel retail.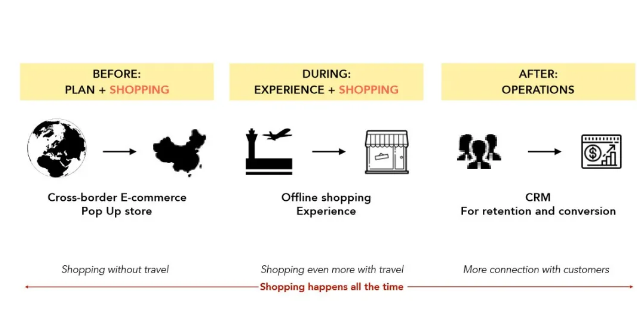 For example, global sneaker marketplace GOAT has maintained rapid expansion in China, leveraging digital and cross-border e-commerce systems. The company entered the Chinese market in 2019 and launched its WeChat Mini Program store "GOAT Online". It offers an extensive sneaker product line for Chinese consumers and delivers all goods directly from overseas.
2. Meaningful engagement with customers to enhance digital brand awareness
Social media platforms including WeChat, Weibo, TikTok and Red have become effective touchpoints for international brands to engage with Chinese consumers, through delivering rich content and diverse ways of interaction.
Short-video social platform TikTok is a case in point. Its rise in recent years has offered brands an opportunity to engage with next-generation consumers in a targeted way, as its users are primarily young people aged 24 or below. American fashion brand Michael Kors had three fashion KOLs as its ambassadors, one of whom used the TikTok app to share a video with the "CityCatwalk" hashtag, which had been streamed over 5 million times, with about 30,000 users posting their own catwalk videos with the hashtag.
China's diverse social platforms are not only channels for brands to build awareness but also to monetize through inspiring consumers and providing a complete shopping experience. Retail brands should leverage these cross-channel digital touchpoints and establish a full-chain service system that includes content, advertising, e-commerce and delivery.
Luxury brands such as Gucci have made use of WeChat to build their own portfolio of Mini Programs in China. They combined advertising placement and account operation to fully satisfy consumers' needs in learning about their brands, taking part in campaigns, shopping online and more.
The DFS Group has also launched its own Mini Program store on WeChat for its Hong Kong duty-free shops, supporting online reservation, offline delivery and offering a complete experience from inspiration to transaction.
The social media followers and the paid customers accumulated from digital platforms are valuable consumer assets for brands. By leveraging (Social) CRM tools for user management and operation, brands can drive repeat business and take advantage of user data to better understand their target groups and make better insight-based marketing decisions in the future.
3. Building an overseas travel retail brand from scratch
Overseas travel retailers should look at entering the China marketplace during the virus outbreak, before this window opportunity disappears. Brands need to consider and make decisions on every link in the process, from strategic planning to speedy setup of online stores, payment, logistics, operational management and CRM.
The travel retail ecosystem is evolving rapidly amid the coronavirus epidemic and will go through a new round of transformation, with traditional retailers seeking new opportunities and growth engines in the crisis. Click here to read the full report "Travel retail: Cross Border E-commerce Solutions for the China Market " by ASAP+ and learn more about the analysis and applications of travel retail solutions.