ChinaTravelNews - A dangerous respiratory virus named 2019-nCoV is expanding in the central Chinese city Wuhan and to other cities in China as well as some overseas destinations. Death toll has soared to 41 as of 15:00 on January 25, 2020, and more than 1,300 confirmed cases were reported national-wide.
Ten cities in China including Wuhan, neighboring Huanggang and Ezhou have been locked down, suspending buses, subways, ferries, and shutting the airport and train stations to outgoing passengers.
The country is mobilizing medical teams from Shanghai, Guangdong and other cities to fight the virus in Wuhan. In addition to that, the travel and tourism industry is also taking measures to participate in the fight.
TravelDaily and its English news portal ChinaTravelNews.com called on hotels in Wuhan to offer free shelter and accommodation to medical professionals fighting the virus in the city through a WeChat post at noon on January 25. As of 18:00 today, 229 hotels incluidng those under the umbrellas of Huazhu, Jinjiang, BTG Homeinns and DOSSEN International has vowed to participate in this initiative.
Regulators
Civil Aviation Administration of China: The aviation authority requested that all airline companies and ticketing agents grant free cancellations to passengers who would voluntarily cancel their flights, starting from on January 24, 2020.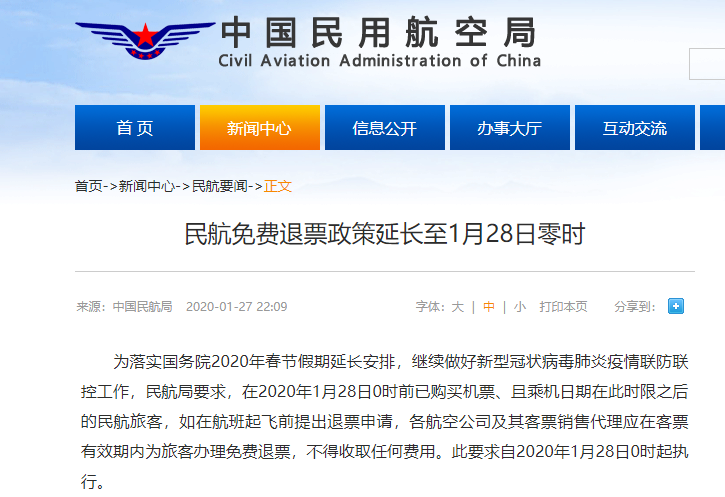 Ministry of Culture and Tourism: The national travel and tourism administrator reportedly asked all travel agencies and online travel services to suspend all group tour offerings and flight plus hotel packages through an unofficial announcement circulated online on January 24. Multiple industry sources have confirmed the authenticity of this announcement and local culture and tourism regulators of Zhengzhou, Shanghai and Jiangsu have officially released similar announcements.
Online travel
Online travel service providers including Meituan Dianping, Trip.com Group, Tuniu.com, Tongcheng Group, Mafengwo.com, KLOOK, Fliggy and Qunar have released free cancellation policies on flight, rail, hotel, attractions, package bookings for travelers to or from Wuhan city/Hubei Province with suspected/confirmed cases of coronavirus, or had close contact with patients.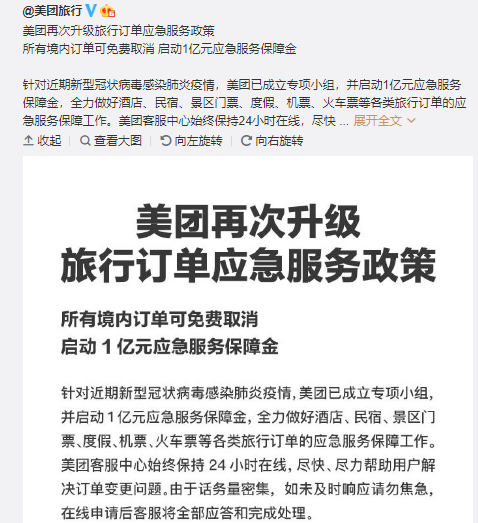 Trip.com Group: the Chinese online travel giant has announced to close all its brick-and-mortar stores in the Wuhan city and stop accepting orders from customers. The company has notified its customers that they can cancel all relevant orders by contacting the store directly.
On January 23, the company's hotel business unit released a free-cancellation initiative to its 800,000 partner hotels nation-wide and urge the hotels to provide cancellation free of charge on all orders for stays from January 22 to February 8, a peak season of the Lunar Chinese New Year holidays. In just an hour, tens of thousands of hotels had vowed to participate in the initiative.
Meituan Dianping: the food-delivery, group-deal and travel-booking platform initiated a similar program on the evening of January 22 to ask its merchant partners of hotels, short-term rentals and tourist attractions to waiver the cancellation fees on all reservations related to the virus outbreak. More than 40,000 hotels have joined this initiative.
Qunar: the travel metasearch and aggregator's chief executive officer Mr. Gang Chen released an internal letter on the evening of January 23, calling on all Qunar employees to stay on their posts, respond to all inquiries and help all customers in trouble. The company handled five times more phone calls on January 22 and 23 than usual.
Hotels
Chinese and international hotel companies such as BTG Homeinns Hotels Group, Jinjiang, Hilton, Plateno, GreenTree, Shimao Star, Sunmei, Qingzhu, Atour, Wanda have all provided free cancellations for travelers to or from Wuhan/Hubei due to the virus outbreak.
Huazhu Group: the Nasdaq-listed Chinese hotel group decided to suspend the charging of franchise fees and central reservation fees on franchise properties in Wuhan starting from January 23, 2020. The company will announce further details about the suspension plan later based on the virus outbreak development.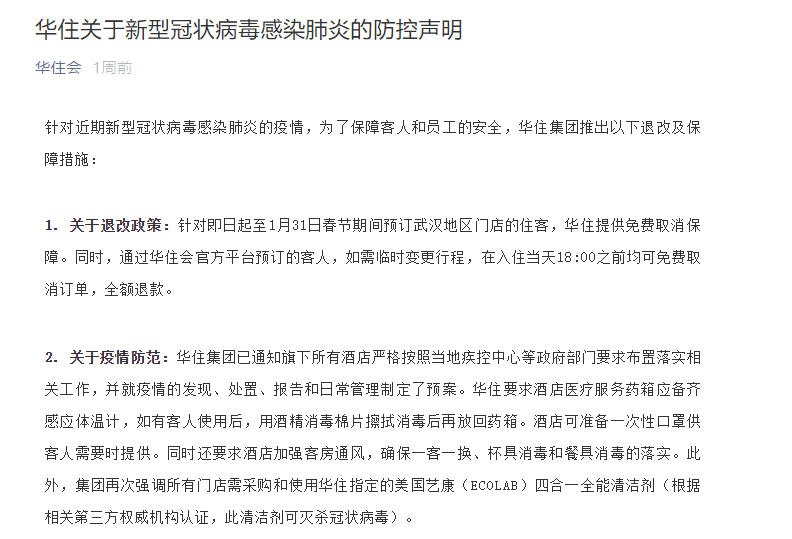 BTG Homeinns Hotels Group: the Beijing-based state-controlled hotel chain has decided to suspend the charging of franchise fees, service fees and central reservation fees on properties in Wuhan/Hubei starting from January 20. The company has also asked all its franchise partners and property general managers to provide their staff with protection including masks and disinfectant, strictly disinfected and nutritionally balanced staff meals, regularly cleaned dormitories, and well-arranged shift schedule.
DOSSEN International Group: the hospitality group has provided its forefront staff working at around 3,000 properties in more than 200 cities nation-wide with masks, and overseen the use since January 23. The company also offered masks and disinfectants to its employees and customers free of charge in Wuhan.
InterContinental Hotels Group: the company announced that all direct bookings made by guests from mainland China, Hong Kong, Macao and Taiwan for stays for January 23 to February 3 can be canceled or altered with extra charges, regardless of whether it's a guaranteed reservation or not.
Hilton: the hotel group revised its provisional cancellation and refund policy as follows: 1. All guests that have booked stays for January 23 to February at any Hilton hotels in China can cancel their bookings free of charge, regardless of booking channels. 2. All guests that travel from China to other countries and have booked stays for January 23 to February at any Hilton hotels can cancel their bookings free of charge, regardless of booking channels.
Transporation
China Railway: the state railway operator allowed passengers to cancel their tickets nationwide booked through various channels including railway stations, online booking platform 12306 or others, and get refunds without charging fees.
Airline companies including China Eastern, Air China, China Southern, Hainan Airlines, Spring Airlines, Juneyao Airlines, Sichuan Airlines, Shenzhen Airlines have released their provisional cancellation and refund policy, allowing passengers who have purchased tickets before January 24, 2020 to cancel their flights before expiry date through previous booking channels or the airlines' official channels.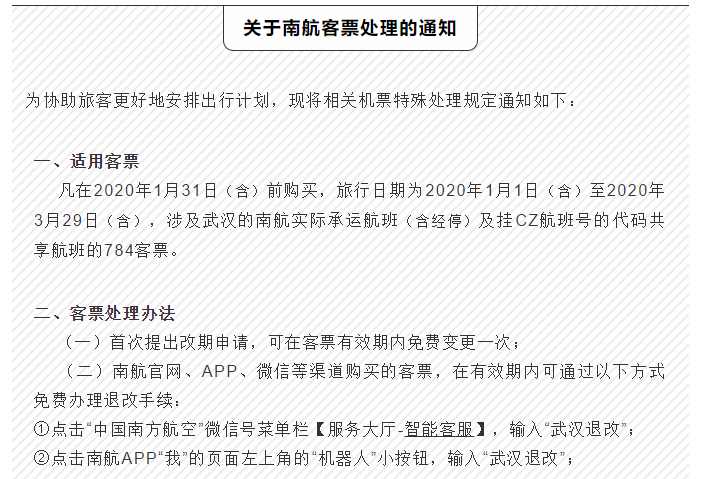 Tourist Attractions
The Palace Museum: the national museum housed in the Forbidden City at the core of Beijing announced on January 23 that it will be closed from January 25 until further notice in order to avoid cross-infection. Visitors who have purchased tickets will get refund from the museum shortly.
Shanghai Disney: Walt Disney Co's Shanghai Disney Resort will be closed until further notice to help stop the spread of the virus, costing the theme park operator revenue during the country's biggest holiday season.
Chimelong Group: the Guangdong-based theme park and resort operator announced on January 24 that it will close its parks in Guangzhou and Zhuhai from 5:00 PM until further notice to help contain the outbreak of the coronavirus.