ChinaTravelNews, Jerry Tang - When Gillian Tans started her career with Booking.com in 2002, the then six-year-old online travel company in Amsterdam only had around 20 employees. Fast forward 17 years to now, Booking.com has grown to be the world's largest accommodation reservation platform, with more than 17,500 employees worldwide.
Today, Booking.com has become the primary brand of the Booking Holdings group. It generated the bulk of the group's international business, which represented 89% of Booking Holdings' revenues in 2018, according to the Nasdaq-listed group's public filings.
This means Booking.com's profitability determines Booking Holdings' overall performance. For the past seven years, Booking Holdings' agency revenue (basically all from Booking.com) has been increasing, but the year-on-year growth rate has been falling, from 40.3% in 2013 to just 7.9% in 2018.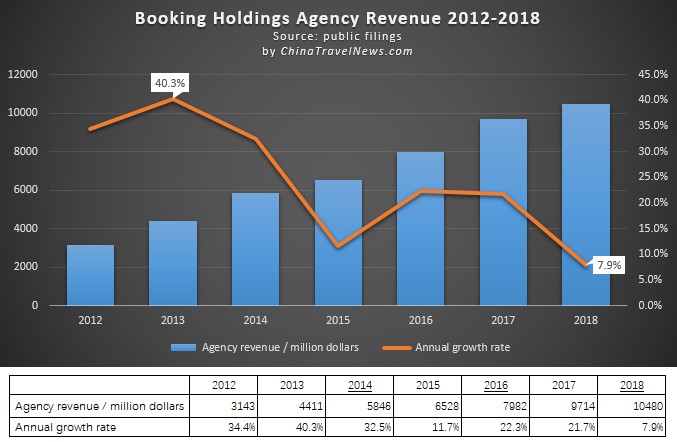 Geopolitical uncertainties, including the US-China trade war and Brexit, may have exacerbated the headwinds for the global travel platform to power ahead, and the company is also trying to grow more direct traffic and become less dependent on internet gatekeeper Google's paid search.
Having served as the company's CEO for three years from 2016 to 2019, Ms. Tans was moved to the role of chairwoman at Booking.com in June this year. Speaking in her new role, Ms. Tans said she is proud of the people they have at Booking.com and what they have accomplished as an innovative team.
Looking back at the past 17 years, Ms. Tans said that she is proud of Booking.com as a global company that entered and invested in different markets worldwide, including the Asia Pacific region and the China market.
Early entry to China
Booking.com started its operation in China in 2010. "We were quite an early mover as to servicing Chinese customers that were crossing borders," said Ms. Tans.
"We started translating our global destinations and inventory into Mandarin Chinese quite early on, when many local companies were not looking at it at all."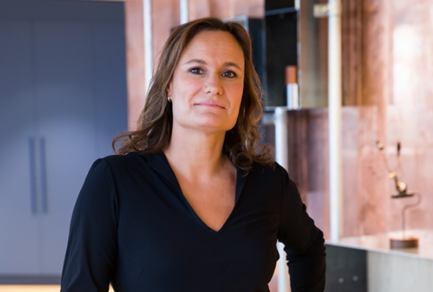 Gillian Tans, Booking.com's Chairwoman
Early entry was but the first step of Booking.com's game plan on building its presence in China.
Localization proved a challenge for most multinational corporations in the country. Booking.com soon found that, in China, localization had a different meaning.
"We need to be even more localized [in China] than we would have been anywhere else in the world," commented Ms. Tans. So the company started building its dedicated China product and marketing teams in Shanghai. It currently has nearly1,000 employees in the country.
Investments and partnerships
Apart from growing the local teams, the company also finds it essential to partner with major local platforms for growing its China operation.
* Booking Holdings owns 8% of the Trip.com Group as of February 2019 and has appointed an observer to the latter's board of directors, while the Chinese OTA has gained access to Booking.com's global hotel inventory since 2012.
* Most recently, Booking Holdings leveraged the partnership to tap Trip.com's car-rental offerings in Asia Pacific to better serve the users of its metasearch unit Kayak.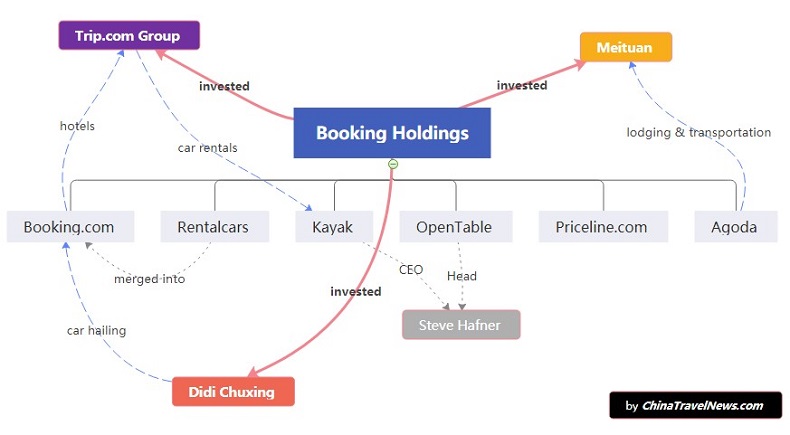 * Booking Holdings invested USD 450 million in Meituan two years ago, and its Asia-focused subsidiary brand Agoda sells lodging and transportation to Chinese travel consumers on Meituan.
* Booking Holdings has also acquired a strategic stake in Didi Chuxing for USD 500 million in 2018. Its subsidiary brands including Booking.com have started to offer Didi's car-hailing service to their app users, further diversifying and fulfilling Booking Holdings' travel experience.
Other than equity-related partnerships, Booking.com also launched a flagship store on Alibaba's travel marketplace Fliggy last year. So far, the store has attracted just 40,000 followers on Fliggy, while the e-commerce marketplace claims to have 200 million registered members, with around 10 million daily visitors.
Booking.com's flagship store on Fliggy is more a branding exercise than a significant point of sales. Ms. Tans did not share an exact performance figure but stressed that it's an important channel for branding in this market.
"The way we operate in the rest of the world doesn't work in China. So we have to find other types of channels and build the brand of Booking.com," said Ms. Tans. "We realized that we need to partner with the big platforms that have a lot of understanding about Chinese consumers. We can get our brand in front of all these consumers."
Building a brand takes time, and it's more than just developing consumption intention. "We want to make sure that we're top of mind when people start thinking about planning their trips," she said.
In addition to the Chinese outbound and inbound travel sectors that both Booking Holdings and its rival Expedia are going after, Booking.com goes further by working on China's domestic travel service, something its US-based counterpart is not looking at.
While international online travel firms are eyeing the Chinese source market, local giant Trip.com Group has embarked on its globalization and is expanding quickly in Europe and Southeast Asia, partly through its recent tie-up with TripAdvisor.
"For TripAdvisor to get more footprint in the China market, Trip.com Group is probably the right partner to team up with," Ms. Tans commented on the partnership between the two big players.
Booking.com has invested its marketing dollars in China partly through TripAdvisor, and Ms. Tans said this marketing investment will not stop despite the deal between Trip.com Group and TripAdvisor. "TripAdvisor has a similar role to that of Google, in terms of price comparison, but both of them don't facilitate bookings directly, so they are not directly competitive to Booking.com," she explained.
Integration for connected trips
The Booking Holdings group owns six primary brands - Booking.com, Kayak, Priceline, Agoda, Rentalcars and OpenTable. With the group's CEO Glenn Fogel expanding his role as Booking.com's CEO, Booking Holdings is taking steps in integrating different capabilities and inventories of its brand portfolio, to ultimately establish a one-stop booking platform for travelers.
In the initial steps, Rentalcars has been merged into Booking.com, and Kayak's CEO Steve Hafner is leading the OpenTable team. But it's a long-haul journey to build a one-stop travel super app, as cross-brand integration of data, inventories and commercial terms takes time.
Ms. Tans was coy about describing it as a one-stop super app. "We see customers benefit from the six brands which are leveraging each other, and that's what we will showcase." Before the ultimate and full integration of the brands, there's also potential for cross-sales and co-branding.
Being independent allows these brands to grow very fast, she said. "The strategy is eventually to build a connected trip, and the group has elements that can be utilized for that. Customers will be better off if travel is more connected, but it's still a massive undertaking."
Booking.com has rolled out its new flight offerings in Europe by working with local OTA eTraveli in a pilot program to complete the missing links of a "connected trip". Speaking at a call with RBC Capital Markets this month, Glenn Fogel said a connected trip creates better experience that will build customers' loyalty and direct connection, and personalization is a critical part as it gives suppliers the opportunity to merchandise what they have.
The road to connected trips never ends because technology changes all the time. And Mr. Fogel thinks that Booking.com with its parent group Booking Holdings stands a better chance of delivering that.
"Because we're the biggest, we have the technology and scale, and we can afford more than anybody else in the industry to bring it out," he said. "We can afford to have a center in Tel Aviv that has some incredible AI and machine learning gurus who are out there doing this personalization."
New growth engines
For the past nine quarters, the Booking Holdings group's sold room nights increased from 178 million in the third quarter of 2017 to 223 million in the same quarter this year; but year-on-year growth rate slowed to 11.0% in the latest quarter from 18.6% two years ago.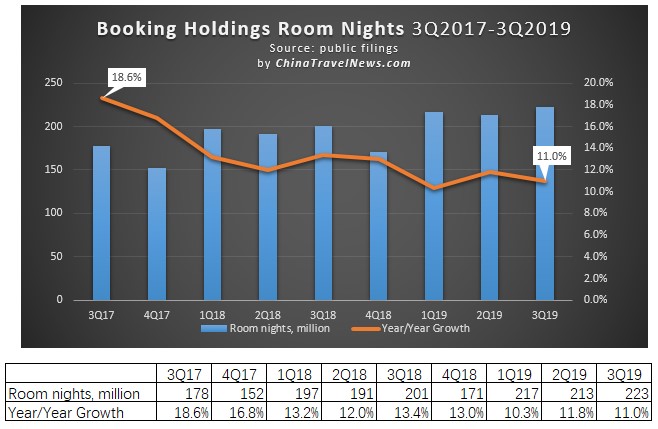 Building on its solid hotel reservation business, Booking.com is seeking new growth engines in other segments.
The company has expanded its alternative accommodation offerings with a listing of over 6.2 million units as of September 30. The short-term rental segment complements the company's traditional lodging service and recorded USD 2.8 billion in revenue last year, accounting for 20% of Booking Holdings' total revenue in 2018.
The company's major competitor in the sector, Airbnb, is facing increasing regulatory pressure in different cities across the world. But Ms. Tans thinks that Booking.com is not as affected. "Coming from a hotel background, we are never as aggressive as Airbnb in signing up lots and lots of properties."
Booking.com's listings are more of commercial apartments than private residences. The company frequently touts its 100% instant-booking and no-fee-for-guest experiences, something its rivals don't usually offer.
Last year Booking Holdings also stepped up its game in the burgeoning tours and activities sector after acquiring activities booking software provider FareHarbor and integrating it fully into Booking.com to make available in-destination activities online. The company currently offers tours and activities in 180 cities worldwide.
The FareHarbor business was initially US-focused, but the team has moved to Amsterdam to work on the Europe market as well. Ms. Tans did not let on when the team will venture to Asia or China too, suffice to say that "the goal is to make it global".
Unlike Berlin-based activities booking unicorn GetYourGuide has launched its own branded tours since 2018, Booking.com will still focus on bringing more tour operators online.
"The first priority is to connect all these activity providers worldwide before we can think about building our own activities," Ms. Tans said.