ChinaTravelNews, Jessica Yan – Aiming to improve the travel experience for Chinese outbound tourists through its ecosystem and facilitate digitalization of the global travel industry, WeChat rolled out its WeChat Alliance on November 26 in Beijing, in the attendance of the representatives of around 30 destination marketing organizations (DMOs) worldwide.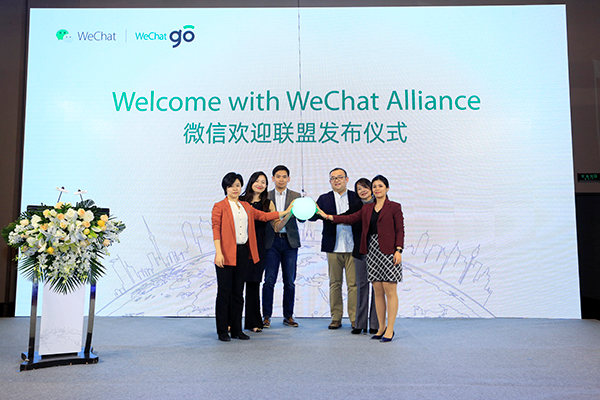 The WeChat Alliance initiative comprises four programs: Destination Service Digitalization, Industry Growth Workshop, Industry Growth Fund and Alliance Summit.
The Destination Service Digitalization program assists tourism boards in implementing their Mini Programs on WeChat, with technological and operational guidance as well as online traffic support. The service is extended to more than 30 tourism boards initially. They get authorization for the WeChat Go brand, advertising on WeChat's Moments channel, and technological and marketing support. The ultimate goal of the program is to reach tourism boards globally and build a huge merchant affiliate network.
The Industry Growth Workshop program hosts workshops with major local players in key destinations to introduce the WeChat ecosystem, including the Mini Programs, application development and case studies on selected Mini Program applications. This program will cover 20 major destinations on four continents in the future.
The Industry Growth Fund program hosts WeChat Developer Challenge (WDC) contests to recognize innovative third-party service providers on WeChat who offer the best solutions for the tourism boards. WeChat hosted a WDC event in Singapore in August this year focusing on the Southeast Asia markets and it is set to host another WDC event in Berlin in December concentrating on the European markets. The challenges offer millions of yuan in prizes.
As well, WeChat plans to host Alliance Summit each year in China, in which growth plans will be rolled out and tourism boards worldwide are invited to visit the country and experience the WeChat ecosystem's digitized services.
Since launching the WeChat Go Outbound Travel Solutions in 2016, WeChat has been using the program to introduce travel industry solutions for expanding the international coverage of the WeChat ecosystem, reaching out to the large group of ethnic Chinese travelers, including Chinese outbound traveler numbering more than 130 million annually and over 50 million overseas Chinese.
WeChat's parent company Tencent has been making ongoing investments in the travel space since launching its Tencent Industry Win-Win Fund in 2011, to the point that it has established a presence across different segments, including online travel agencies, hospitality, cultural tourism and destinations.
More than just making venture investment in the travel industry, WeChat waded into tourism operation through its "Internet + Travel" solutions launched in June 2016 and the Tencent Culture & Tourism brand unveiled in August 2018.
WeChat is China's largest consumer-facing super app and provides business solutions for more than 200 vertical sectors. The social messaging platform has over 20 million subscription/service Official Accounts, more than one million Mini Programs and a large community of app developers, operators and service providers.
In 2016, WeChat launched WeChat Go Sim Card in partnership with international telecommunications carriers, allowing Chinese travelers to communicate when they're abroad. The program accelerated the overseas expansion of WeChat's ecosystem.
Within the past three years since the introduction of the WeChat Go outbound tourism solution, it has become a one-stop service platform, complemented by the Mini Programs, WeChat Pay and Official Accounts, that includes accommodation, airports, tourist attractions, shopping, dining, telecommunication, insurance and transportation offerings.
The WeChat team has also worked with China's Ministry of Foreign Affairs to launch a Mini Program for consular assistance service, through which Chinese citizens can seek real-time advisory and assistance when they're abroad.
The launched of WeChat Alliance is a culmination of WeChat's strategy of more systematically connecting DMOs to improve communication efficiency, marking a huge leap from its early days of partnering individual destinations in Southeast Asia and the Greater China region in line with the footsteps of China's outbound travelers.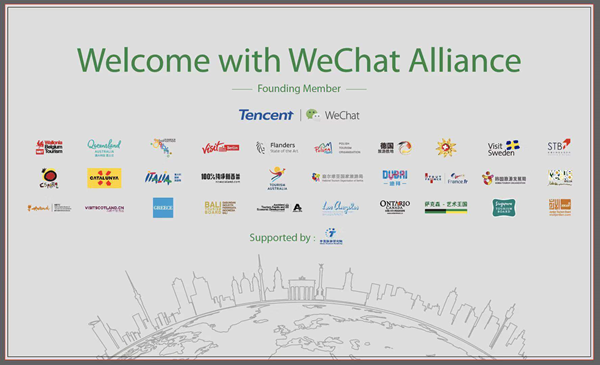 The founding members of WeChat Alliance
Connecting global destinations to travelers
WeChat announced in April the launch of the "Experience Burj Khalifa" Mini Program in its WeChat Go project, in partnership with Visit Dubai and the world's tallest building Burj Khalifa. The partnership was followed by new deals with the tourism boards of Malaysia, Singapore and others.
By teaming up with destinations, WeChat can effectively attract more destination partners to service Chinese tourists leveraging its WeChat solutions.
The company said it looks to deliver its value as a platform and connect the travel industry with its WeChat Alliance by providing cost-effective digital marketing services.
WeChat's monthly active users grew 6% to 1.151 billion in the third quarter of 2019 and it has more than 300 million daily active users on its Mini Programs, according to parent Tencent's latest quarterly report.
It is up to destination partners as much as WeChat to determine how destinations should leverage WeChat's Mini Programs to boost their brand awareness, stay attractive to and engage with tourists.
Alipay, the mobile payment affiliate of Alibaba and a major rival of WeChat, started its overseas expansion as early as 2007. As of February this year, Alipay has its service available in 54 countries and regions worldwide. In addition to mobile and digital payments, the company also facilitates travel services including tax rebates, car rental, local dining and shopping.
By comparison, the WeChat Pay service has currently been rolled out in 60 overseas countries and regions, supporting exchange and transactions of 16 currencies. Tencent recently joined hands with international credit cards to allow foreigners to use WeChat Pay. It is just a matter of time connecting foreign consumers on WeChat.