Over the last 4 years the number of passengers travelling back and forth between China and Europe has increased by 43%. While the number of air services have grown and there are a wider range of direct air services and route options than ever before, the truth is that over half of travellers still opt to make the journey by connect between flights. Maybe this suits them because of where they live in China, without access to direct air services. For many the availability of less expensive fares may be the key issue. Whatever the reason the latest data from OAG shows that 56% of passengers flew via one or more other airport.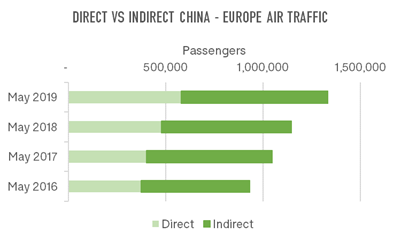 Source: OAG Traffic Analyser
There is a subtle shift taking place as to where passengers are choosing to connect. The large Chinese airports are taking a larger share of connecting traffic as the volume of Chinese travelling to Europe grows. Sometimes without direct services from their local airport, the best options are via Beijing or Shanghai. As a consequence, the share of journeys taken via Beijing and Shanghai have risen from 18.5% four years ago to 20.7%.
Top Connecting Points in Europe for Chinese travellers
For those connecting outside China on their way to Europe, Moscow is now the Number 1 choice. More than one in ten passengers travel via Sheremetyevo International Airport (SVO), while the preference for connecting at European airports appears to be declining. Frankfurt (FRA), Amsterdam (AMS) and Paris (CDG) have all have seen their share of connecting traffic fall in recent years, although Munich has held steady.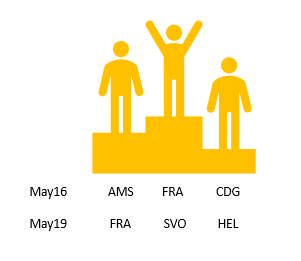 According to OAG's latest OTP Stars awards, SVO was one of Europe's most punctual airports, with 86% of flights operating on time. This is considerably better than other big European hubs and may be one of the factors in travellers choosing to route via SVO.
Reliability is especially important when connecting to and from relatively long flights, and no-one wants to miss a connection when a long way from home. More importantly, though, fares may be much more influential than on-time performance when it comes to routing choice.
Data from OAG Traffic Analyser for May 2019 shows that for Europe's biggest connecting points, SVO has the lowest average fare for travellers starting their journeys in China and travelling to Europe by some margin. At a quarter of the equivalent fare to route through London Heathrow (LHR), SVO certainly looks like it offers Chinese travellers value for money. SVO's biggest carrier, Aeroflot is a member of the SkyTeam alliance, and has a close relationship with their Chinese SkyTeam partner China Eastern although they also codeshare with China Southern.
Other SkyTeam alliance European hubs (AMS, CDG,) also have similarly low competitive fares so maybe SkyTeam carriers are leveraging the benefits of close co-operation and market share, especially as the alliance has the greatest share of international capacity from China, operating 37% of all seats across its various member carriers.
Helsinki (HEL) is also attracting a larger share of connecting traffic. In the last 3 years it has moved from being the 5th most used connecting airport in Europe to being ranked 3rd among the European airports. Average fares for connecting routings are higher than via SVO but still lower than many other European hub routings. Finnair dominates at HEL and has been operating China services for over 10 years. In September 2019 they have services from HEL to 6 Chinese cities and offer connections onto 74 European destinations. Minimum connecting times at HEL are 40 minutes whilst at other European hubs typically they are between 60 and 90 minutes. The airport and airline work closely together to ensure passengers make their connecting flights.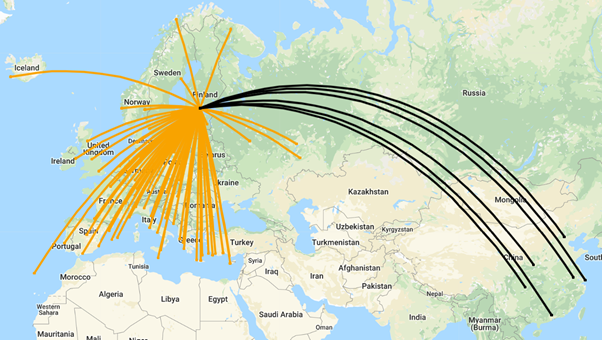 Finnair- China & European Network – September 2019
The emergence of three Middle East hubs and the rise of Istanbul as a connecting point with the development of Turkish Airlines has also added to the choice of routing for travellers. Of the Middle East hubs, Dubai (DXB) has around 4.3% of connecting China-European traffic, down from 5.6% three years ago, whilst Doha (DOH) has seen an increase from 2.6% to 3.9%. This shift to DOH undoubtedly reflects the greater route choice that the dominant carrier, Qatar Airlines, now offers. Both Emirates (which operates from DXB) and Qatar Airways serve Beijing (PEK), Shanghai (PVG) and Guangzhou (CAN) but Qatar Airways also operates to Chengdu (CTU), Chongqing (CKG) and Hangzhou (HGH). Routing through DOH also offers travellers lower average fares than through DXB so that may also explain the shift.
What is clear is that there has never been more choice for travellers in this market whether travelling directly or indirectly.