ChinaTravelNews, Ritesh Gupta – What has grocery shopping got to do with a consumer's next dream holiday?
If one assesses Alibaba's digital ecosystem, there is a synergy to be capitalized upon.
Alibaba operates an ecosystem that serves hundreds of millions of consumers in China in various sectors, ranging from e-commerce to entertainment, local services and travel. The resulting insights into consumer preferences from a gamut of its consumer-facing platforms, coupled with the use of AI, allows it to stitch "profiles" and provide targeted product and service recommendations to different categories of consumers – for example, a cruise vacation package for a young parent. With its insights and computing power, Alibaba is also able to provide merchants with tips to adjust and enhance their operations strategies.
A fillip for Fliggy
Fliggy didn't share the number of registered users for its travel offering but acknowledged that merchants on its platform enjoy exposure to users of a variety of apps that are run by the Alibaba ecosystem.
"The way we touch consumers' life is quite deep and it's all interwoven (the content, e-commerce, loyalty, etc.)," highlighted Frank Huang, Vice President of Fliggy.
"As an example, when consumers take part in the 11.11 Global Shopping Festival (this event achieved a record level of gross merchandise volume or GMV of RMB 213.5 billion (US$31 billion) last year), they use Taobao or Tmall but they can see hotel options from Fliggy. Traffic to Fliggy-hosted products can be generated from other platforms, which adds value to a merchant's flagship store on Fliggy," shared Huang.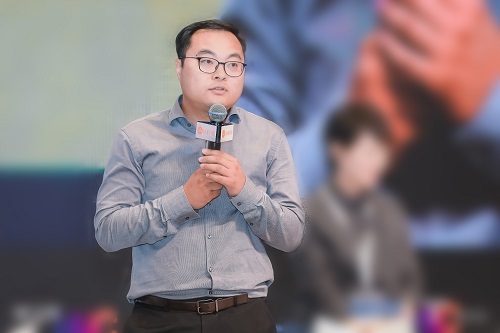 Frank Huang, Vice President of Fliggy
"Fliggy plugs into Alipay, Taobao (on the home screen there is an icon), Gaode Map app, Koubei app, Ele.me app, and even in our communication tool, DingTalk," added Huang. He acknowledged that it takes a while for travel merchants like hotel companies to understand the prowess of what Alibaba has to offer. "Honestly speaking it takes time for hotels to learn everything about us, such as how to optimize the use of the entire Alibaba ecosystem, especially in the initial stages."
The way it works
Fliggy is not an OTA – it is a marketplace. It provides traffic and e-commerce solutions (e.g., digital payment) for the brands which sell on its platform.
Huang said, "Fliggy can be described as an online travel marketplace, linked to the entire Alibaba ecosystem."
"We are not just a selling channel for travel e-commerce players." Being a part of an ecosystem means that "we can tap our insights from across our various platforms to offer value-added services to our merchants," mentioned Huang. For instance, Fliggy enables partner hotels to identify travelers with good credit and offer travel privileges such as zero-deposit hotel bookings, express check-out and automatic post-stay billing.
Hotels can manage and engage their target customers through a flagship store on Fliggy. For them, a flagship store on Fliggy is also a starting point for promoting their offerings on different platforms within Alibaba's ecosystem. For example, a hotel can promote its restaurants via Alibaba's local services arms like Koubei and Ele.me.
"One of our main goals at Fliggy is to bring more traffic to our partner's flagship store. Besides GMV or room nights growth, it is also about how many users or members end up coming to a particular store owned by a hotel. We encourage our partners to understand the ecosystem and that's how they can drive free traffic," mentioned Huang.
Huang said the team is in the process of boosting the number of travel flagship stores on its platform. "For Fliggy stores, as in our ecosystem, there is segmentation - Awareness, Interest, Purchase and Loyalty. The blend of free traffic from the Alibaba ecosystem and targeting options, and making it streamlined in terms of understanding the stages of the booking funnel in our case stands out. Running a flagship store on Fliggy is just like having your second official website," he said.
"Initially hotels tended to approach the ecosystem as a sales channel but increasingly hotel companies are looking at opening their flagship store on the platform. A big hotel chain can have the main store and for each property, they can have a sub-store. A flagship store is a sort of a private place for hotels and this can be managed by them. A property can be searched in a flagship store (like one can in a transactional site of a chain)," he said. "Currently a total of more than 1 million hotel properties are available for booking on our platform. In addition to working directly with hotels, we are also looking at suppliers like booking.com and Agoda and also working with several bedbanks for inventory."
"The opening of flagship stores on our platform featuring international properties is still a new phenomenon. We have been focusing on big resorts like ones in Singapore, for example, Marina Bay Sands, ones in Macau, also elsewhere like Caesars in Las Vegas of late," he said.
"For their stores, hotels have the option to work with a third-party service provider to manage or even decorate, and make promotions work on their respective stores," he said. So how much a hotel has to spend on running a flagship store? "The overall spend that a hotel has to incur on running a flagship store is typically less than the commission they end up paying for bookings to an OTA. Since we are a platform we don't ask for any commission like an OTA would do. The fee doesn't vary for any hotel, unlike commissions, rather our options are clear and same for all hotels," said Huang. "The booking takes place on our platform only. The traveler uses Alipay to settle the booking fee," added Huang.
As for the emergence of the likes of WeChat, Meituan, etc., Huang said the utility of Alibaba's offering in driving traffic is strong. "Fliggy has a specific focus on recreation, fun and travel and we showcase offerings from around the world. Our goal is to enable the younger audience to share their wish for travel or if we get to know their intent we work on a host of travel services around it. Even our other group offerings are focusing on certain localized services but Fliggy is different. For instance, when a hotel opens a flagship store on Fliggy they can also plug in any sort of offering on our Koubei platform. So one store solution plugging into many scenarios." Consumers are used to one service within many apps. For e.g., on-demand delivery and local services platform, Ele.me, lets consumers use the Ele.me, Taobao, Alipay and Koubei mobile apps to order meals, snacks and beverages online.
Other than expanding its user base, Fliggy aspires to address consumers' pain points specific to travel. Fliggy acknowledges that the largely offline and fragmented nature of travel services makes it very costly for individual travelers to plan their trips and difficult for them to enjoy a seamless experience. So be it for procuring a visa for travel or avoiding queues at various stages of a journey, Fliggy is looking at helping travelers beyond travel bookings.
Also, in terms of opportunity, Internet and tech giants in China are targeting lesser-developed cities. They still have huge untapped potential for e-commerce. Lower-tier markets generally include tier-three cities, and the list features more than 190 third-tier cities and 690 fourth-tier cities, according to data from McKinsey Global Institute. Alibaba is keen on targeting these areas as total consumption in these lower-tier cities and rural areas, which reached $3.3 trillion in 2017, is expected to reach $8.4 trillion in 2030, according to a Morgan Stanley study.
The platform is progressing. "Currently, more than 30,000 hotel chains operate in China, and many of them have already established a presence on Fliggy. These include Huazhu, Hilton, Marriott, etc. We have also started working with hotel chains outside China to serve the outbound travel needs of Chinese consumers. These are direct connections."
Huang concluded by saying, "We want each and every hotel property to have a store or a sub-store on Fliggy."