ChinaTravelNews, Ritesh Gupta - Imagine interacting with a chatbot for booking an air ticket. Not writing text rather interacting via a voice command, and completing a transaction in a minute or so.
Yes, this is happening in China!
It could be via a brand's WeChat mini-program or their own app. This is the level of proficiency with which travel e-commerce players, led by top OTAs such as Qunar, in China are progressing.
No wonder China has been setting the tone for making mobile commerce seamless and frictionless for travel shoppers. Progress isn't just about invisible payments or scanning QR Codes for completing a payment. Rather it is about way the entire tech ecosystem manages transactions along with ID management and many other aspects holistically.
Payment innovation in China is being driven by necessity, highlighted Raymond Cui, General Manager of Ingenico ePayments Greater China.
It all started with the fact that the penetration of international credit cards was low, and given the massive penetration of mobile phones in China, it was a natural direction to develop convenient, ubiquitous payment methods that could be available to anyone with a mobile phone or Internet connection, mentioned Cui, who spoke to ChinaTravelNews.com during the ITB China Conference in Shanghai.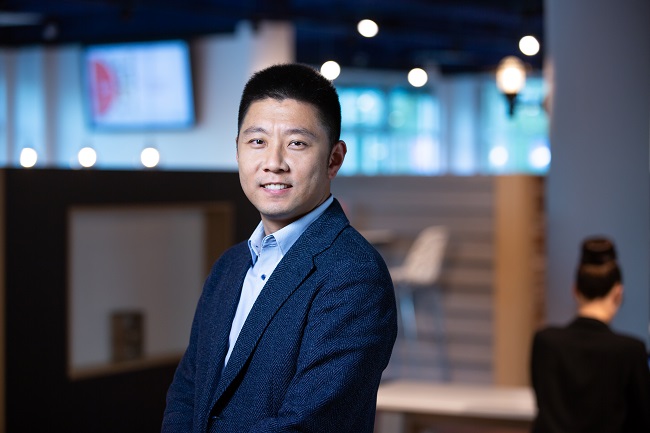 Raymond Cui, General Manager of Ingenico ePayments Greater China.
"Consider Alipay and WeChat Pay. Both products have a common thread; they both come from very successful companies, focused on marketing the right mix of products and services, at the right time - not on the mechanism of how to do it, i.e. not on the payments aspects of the shopping experience. Both are mobile first, and payments second. Their strong ties with the consumers and intimate knowledge of what they want, when, and how, is what helped them become the bible of mobile commerce," shared Rodrigo Sánchez Prandi, VP Product at payments technology specialist dLocal, a company set up in Uruguay and also has an office in China.
China way ahead
Today travel e-commerce players are already well-entrenched in the mobile commerce arena. For instance, in 2018, transactions executed through Ctrip's mobile channel accounted for over 80% of transaction orders, shared Jane Sun, CEO, Ctrip.
In fact, China has become so advanced that it has become a challenge for the country to cater to foreign tourists when they visit China!
As pointed out by James Liang, Co-Founder and Executive Board Chairman, Ctrip on the first day of ITB China Conference, while China has got rid of cash, the issue arises when foreigners cannot link their banks cards to China's mobile payment systems. "There are some regulatory issues and the Chinese financial regulators need to be more relaxed," he said. "...international travellers find it to be a hurdle (when they try to pay via cash or cards, they are being refused at certain places or even if they wish to buy the Chinese currency, they can't find options to exchange and buy Chinese currency easily)."
As for the size of the market, according to the data shared by ChinaInternetWatch.com, China's 3rd party mobile payment grew by 7.78% to US$7 trillion in the last quarter of 2018. Alipay (53.78%) and Tencent Finance (38.87%) combined had a total of 92.65% market share.
Some of the trends to watch out for in the payments arena:
1. Being where a buyer is: Technologies are unlocking more marketing and sales channels to consumers, for example, via chat platforms, voice assistant, wearables, VR/AR, etc. "This means being present on the channel/ platform where the customers is. If this isn't feasible due to technical reasons, making it a seamless smooth experience through tokenization, offer payment methods and preferred currencies and connect to these channels (especially in-store and online) on the back-end so that a merchant can deliver a true omni-channel experience," said Cui. "In travel since the user journeys are often more complex than retail, and are inherently multi-channel (e.g. online booking in hospitality, checking in at the front desk or a digital assistant during your stay), this is even more crucial."
2. Artificial Intelligence: From booking with a simple voice request on a device or simply asking the in-room digital assistant in a hotel room to send a bowl of soup to the room itself, it will become easier and easier to just "talk" to a digital assistant for whatever a guest needs. "New channels for interactions such as facial recognition or voice are or will become a key part of the shopping journey. Chatbots (powered by AI for natural language interaction) today are already getting more and more mainstream, especially in Asia, so voice is a logical next step there," said Cui.
3. Authentication: New ways to authenticate and secure a transaction is another area of progress that is being expected.
The industry expects China to simplify authentication methods.
"Face recognition is one example of how Chinese companies are leveraging existing biometrics and will likely be taking them one step forward, authenticating and facilitating easier, faster, no-device-needed payments. Just smile to the teller and you are done," said Prandi.