Marriott International and Eastern Crown Hotels Group, one of China's fastest growing lodging groups, today, signed an exclusive development agreement to bring the "FairfieldSM by Marriott®" brand to mainland China.
The agreement targets having 140 hotels signed in five years, of which 100 are expected to be opened by 2021. The introduction of the Fairfield brand is a significant milestone in Marriott International's expansion into the midscale hotel segment in China, and is part of the company's strategic plan to expand rapidly across a broad spectrum of price tiers and locations across the country. Each Fairfield hotel will have between 100-150 rooms.
"China is the fastest growing market in Asia for us. The rising disposable incomes of the middle class and development of the consumption-led economy is driving an increased demand for higher quality mid-range accommodation," said Craig S. Smith, President & Managing Director of Marriott International Asia Pacific. "Fairfield will focus on young consumers and business travelers looking for a comfortable and productive stay at a great value."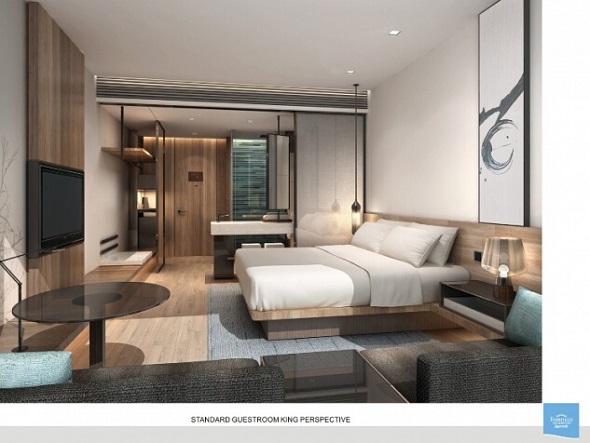 Fairfield is a global leader in the mid-tier hotel segment, and is Marriott International's second largest distributed brand with more than 750 hotels worldwide. It will be the tenth brand in the portfolio to be introduced in mainland China joining six opened hotel brands, The Ritz-Carlton, JW Marriott, Marriott Hotels, Renaissance, Courtyard, Marriott Executive Apartments, and three signed new brands, Autograph Collection Hotels, Edition, and BVLGARI Hotels & Resorts. Marriott International currently has more than 80 hotels operating in China with a presence in 25 cities.
"Fairfield has quickly gained popularity in Asia since its introduction into the region two years ago. Guests enjoy the value of this contemporary brand, its intuitive design and great service culture that resonates so well in this part of the world. These key indicators are true differentiators that will meet and serve the needs of China's next generation travelers." said Shruti Buckley, Fairfield by Marriott Vice President and Global Brand Manager.
"Due to the fast growing global demand for quality mid-tier hotels, Fairfield currently has the largest development pipeline within Marriott International, positioning the brand as the fastest growing in the portfolio. This partnership with Eastern Crown is proof of the brand's strong proposition and benefit to our owners."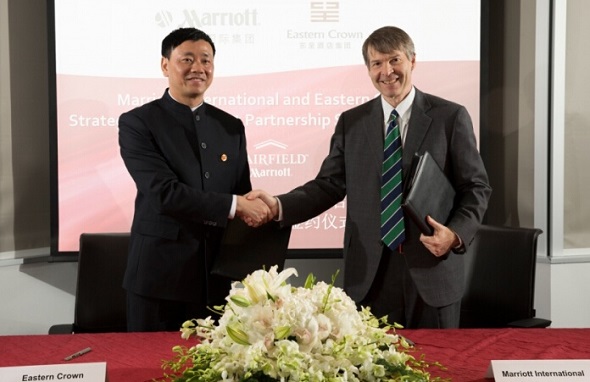 Mr. Cheng Xinhua (left), Founder, President and Chief Executive Officer of Eastern Crown Hotels Group and Paul Foskey, Executive Vice President, Hotel Development, Marriott International Asia Pacific (right).
The Fairfield brand was inspired by the "Fairfield Manor House" at the Marriott Family Ranch in Virginia which was purchased in 1950. The "Fairfield Manor House" was designed to be a comfortable and inviting place offering warm hospitality to guests, allowing them to rest, relax and enjoy home cooked meals from the farm. Its Chinese name 万枫 (wàn fēng) was inspired by the same spirit of practicality, warmth and beauty of the "Fairfield Manor House", living up to its heritage of providing a warm welcome, great service, and a hotel experience that's just right for each and every guest.
Eastern Crown Hotels Group is a privately held, Guangzhou-based hotel group that specializes in franchising and operating select-service hotels. It currently has a portfolio of over 700 hotels either open or under development in 200 cities in China and Malaysia. According to Hotels magazine's ranking, Eastern Crown is currently ranked No.38 among international hotel groups and No.7 among Chinese hotel groups.
Mr. Cheng Xinhua, Founder, President and Chief Executive Officer of Eastern Crown Hotels Group said at the signing ceremony, "Eastern Crown Hotels Group and Marriott share the same goal of creating high-quality, customer-centric products, and continuing to develop and improve the products to meet customer needs. We are delighted to work with Marriott in this segment, combining our knowledge of the Chinese consumer and Marriott's quality and expertise in China market expansion. We see this agreement as the beginning of a fruitful collaboration between the two organizations, all with the aim of building the best experiences for Chinese consumers in mind."
Craig S. Smith added, "By leveraging the market knowledge, skills and expertise of a well-established hotel group like Eastern Crown Hotels Group, Fairfield is poised to develop at an exceptional pace. By working together, we will bring new options for travelers at a great value within China and provide access to and familiarity with an affordable option when traveling outside China as well."
Guests of Fairfield hotels in China will have the same access to Marriott's award-winning loyalty program, Marriott Rewards as all other guests at Marriott International portfolio hotels. Eastern Crown Hotels Group has over eight million members in its own loyalty program, who will also be able to convert their points to stay at 4200+ Marriott properties around the world.
The interior aesthetic of Fairfield hotels in China will feature a warm, earthy tonality, with timeless natural materials and a contemporary western style. They will feature the brand's signature functions including smart and flexible public spaces, spacious guest rooms, comfortable workspaces, and introduce the culture of American heritage to new markets in China.
Read original article