By Ritesh Gupta, ChinaTravelNews – Scheduling and flight status information aren't just about speed and accuracy. Carriers and OTAs need to find ways to shape up a contextual, guided experience.
The way the available flight-related data, be it for filing of fares, scheduling and flight status, is managed is being minutely examined.

In the era of personalisation, where travellers expect everything to be refined just for them at that very particular moment via their chosen channel and device, it is imperative for airlines, traffic generation sites and OTAs to react proactively.

Let's go through one recent personal experience to ascertain the significance of flight and airport-related data.

During one of my recent transatlantic trips, I transited via London's Heathrow Terminal 5. The time taken to reach a particular gate, which today is sort of a norm, was well-defined at the terminal. But imagine this –after I glanced at the flight status screen, and walked for few minutes to board a train to a particular gate, what if the flight gets delayed? Can I receive the latest flight status depending upon my location?

These are the areas that airlines, airports and travel intermediaries need to look at. A push notification at the opportune time can alleviate the stress, and enhance the so called "micro-moments" comprising a journey.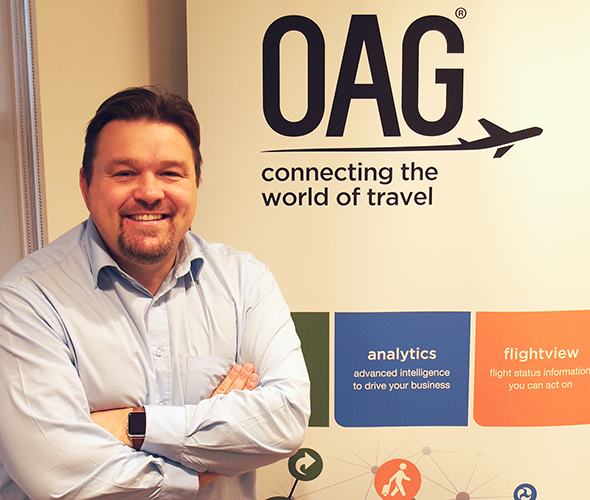 OAG CEO Phil Callow
Phil Callow, CEO, OAG acknowledges the same, and says the need of the hour is proactive management of travellers. In fact, as Callow says, today there are offerings that help travellers to be updated about the flight status at the airport, and this in turn can increase the footfalls at shops and restaurants, and has increased sales by 10% or so.

"Today's consumer is always "switched on" and messages, alerts etc. need to be synchronized (whether on the flight information display screen at the airport or a mobile app," says Callow. There are encouraging signs, and a specialist like OAG is looking at all sides of serving the end user be it via maps, weather information, better visualisation etc."

Stepping up the service level

Travel, quite often, is referred to be an exacting exercise, as one requires pertinent information related to various aspects of a journey, including the day of travel. And that's where lies the opportunity for travel service providers and other entities to step up the service quotient.

"A facet like on-time performance can impact the research and booking process. When one decides on a flight ticket, along with pricing, if one is aware that flight reaches on time then it can have an impact," says Callow. "As one attempts to gain a competitive edge, every piece of information or communication related gate number, baggage reclaim, options for airport lounges etc. is important." In this context, speed and accuracy are of paramount importance, too. "A change in schedule can result in a sales opportunity or up-to-date information can reduce passenger re-bookings and better customer service."

Referring to the matrix of OAG's business, Callow says the company's analytics and schedules offerings, such as dynamic schedules, maps showing possible flights, or offering customised real-time flight schedule and flight status information for mobile apps, are established. "We are diligently looking at refining our "status" offering, say day of travel information." Indeed, aspects such as long security queues, being unsure about flight take-off times etc. can be painful, and if airlines or OTAs can work out a contextual and guided experience, then it would help them in building a better connect with travellers.

As for China, OAG is ready to strengthen direct feeds with airlines, in addition to capitalizing on its local presence of 12 years, and ties with the likes of TravelSky.

"We are striving to improve the quality of data involving direct feeds from airlines, as well as the frequency of data," says Callow. Referring to an example, he said in case there is code-sharing, flights are co-marketed and the focus is here on simplifying the cooperation and avoid duplication of any sorts.

Room for improvement for Chinese carriers

OAG finds that Chinese carriers need to strengthen certain areas considering the uptake rate of mobile devices for the travel sector.

"If we look at Chinese airlines' mobile apps, they could certainly do better with facets like possible disruption – the weather status, what's the next possible connection like etc. Mobile travellers can be better engaged with better utilization of data," says Callow. For its part, the company has witnessed a lot of action from local OTAs. These intermediaries are striving to gain access to data related to flight status, and connecting with OAG for dynamic feed for servicing their end users. "Even if we look at the utility of OTA apps, they sort of tend to cover information that is broader and covers different aspects of journey."

Indeed, as indicated by OTAs, there is a need to keep travellers engaged with all possible yet relevant options. For instance, in one of our recent articles, Ctrip's chief strategy officer Jenny Wu referred to the integrated product offering of air, train and bus tickets. So Chinese carriers can also add a variety of value-added services that are an extension of the journey once the traveller is on the way out from the airport. An example of the same is Uber ground transportation information being available in the United Airlines' app's menu or in the section with a current reservation. The US-based airline's app shows Uber's content including types of available vehicles, estimated wait times and prices.

Functioning of industry
There has been a lot of talk about personalisation, and one of the core aspects of this is the way airlines manage their fares, scheduling as well as merchandising of ancillaries going forward. Callow acknowledges that XML feed or exchange of information via XML APIs is increasingly becoming common. The emerging NDC is based on XML standard, and the effort is to help carriers to be in better control of their offering, especially what is going to be passed on to the agency channel based on their request.

"These are early days of NDC, and OAG is playing its part in improving the efficiency of the whole process," says Callow.

The industry is looking at accurate, contextual, and faster ways showing of information. In the whole set of information that is going to be passed on to indirect partners once they put in a request in the NDC environment, one could say that scheduling is the least dynamic element, say when compared with fares. Callow says, "We continue to collect, normalize, aggregate and distribute data the way airlines or other stakeholders intend to use it." As for the benefit of passengers, OAG is ready to play its part in offering tailored, personalised data that is compliant with the chosen industry standard.