Ctrip projects that the capacity of China's cruise ports will grow more than 80% next year. The OTA states in its "2016 China Cruise Industry Trend Forecast" report that the number of Chinese travelers traveling on cruises will exceed two million in 2016, with departures from Hong Kong included.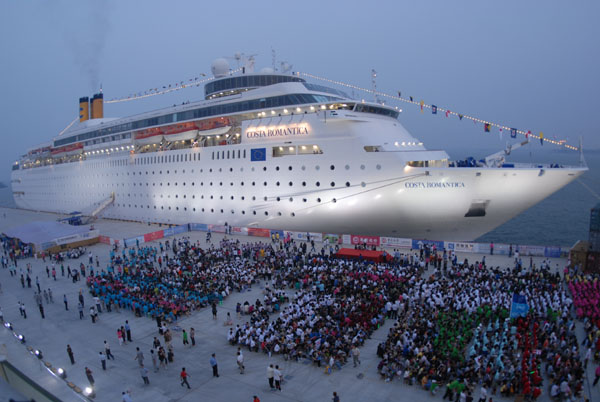 Tianjin International Cruise Port
The number of cruise liners using China as home port has increased from eight liners in 2014 to 12 liners in 2015, and the number of Chinese passengers traveling on cruises has exceeded one million for the first time this year.
China's cruise industry will be more vibrant in 2016 as Royal Caribbean's Ovation of the Seas liner and Carnival Corp's Golden Princess liner will berth at Tianjin port to inaugurate cruises from Tianjin to Japan and Tianjin to Australia next summer.
Carnival Corp will base Costa Fortuna liner in the Costa Cruises fleet in Shanghai and launch cruises from Shanghai to Japan's Fukuoka next April.
Star Cruises will launch cruise from Guangzhou Nansha to Vietnam with its Super Star Virgo liner at Guangzhou Nansha port next January. A spokesperson from Ctrip's cruise operations said the increase in the capacity of cruises from China will give a wider range of choices to passengers. Coupled with further development of cruise marketing platforms in 2016, he foresees a much wider price range for cruise products, with lowering average prices for cruises next year. For example, the off-season price for a five-day four-night cruise to Korea and Japan could fall to as low as RMB2,000.
Ctrip's cruise booking platform is already directly linked to all the major global cruise companies' systems. The platform also lists all prices of ship charters and distributors. Passengers will be able to choose their voyage, departure port and cruises of the best prices on the Ctrip platform.
Cruises to Korea and Japan are still the key cruise products comprising 90% of all cruises departing from China, according to Ctrip's data. Cruises to Japan have become the most convenient and hence the most popular options for Chinese travelers due to Japan's visa-free policy for cruise passengers and favorable exchange rates.
Cruises to Southeast Asia, that are mid range between short-haul cruises to Korea and Japan and long-haul cruises in Europe and America, will draw more interest in 2016 as some cruise companies will launch flight-cruise options to Singapore, Vietnam, Thailand and Malaysia to meet the needs of seasoned cruise passengers.
Other than competing on prices and cruise routes, cruise companies are also vying for attention with unique activities and services–Ovation of the Seas liner will offer on-deck surfing and skydiving wind tunnel as well as a 360-degree rotational North Star observation pod that offer passengers a panoramic view from a height of 300 feet.(Translation by David)