ChinaTravelNews, Ritesh Gupta - An efficient mobile portfolio can contribute on several counts and pave way for a solid financial performance for any travel e-commerce brand. As leading mobility specialists in China, the likes of eHi Car Services and CAR Inc. have shown strong progress with their respective mobile offerings over the past few quarters.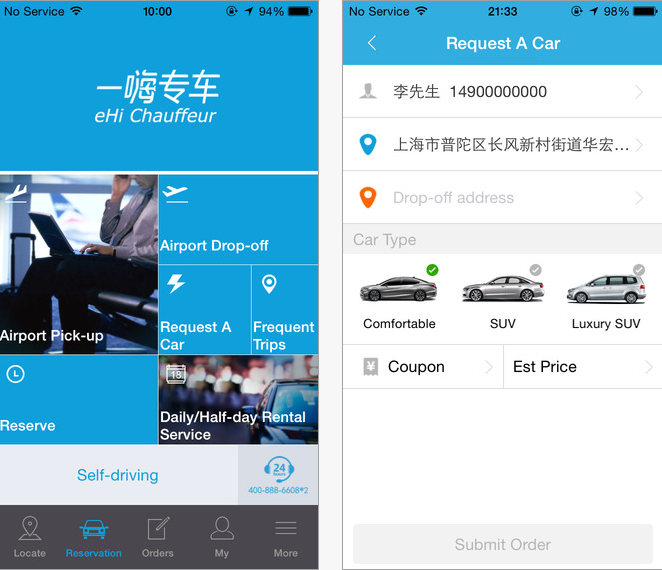 eHi's chauffeur app
As car rentals and car services provider eHi shared its Q3 results, it emerged that the company has come a long way since the launch of its mobile app. In 2014, 46.3% and 34.2% of eHi's car rentals were booked via its website and mobile application, respectively.
Moving forward, in Q3 approximately "68% of the company car rental reservations were made via mobile devices," shared Ray Zhang, eHi's chairman and chief executive officer, eHi. "And in total 92% of our reservations were made via mobile and our website. During the third quarter, we had more than 780,000 mobile application downloads," said Zhang during the company's Q3 earnings call.
In Q2, around 55% of eHi's car rental reservations came from mobile devices. In total, 80% of reservations were accounted by via mobile and the website. During Q2, the company had more than 369,000 mobile application downloads.
Companies like CAR Inc. are already succeeding in bringing down their selling and distribution expenditure, too, as mobile bookings gain a bigger say in the overall reservation mix.
For its part, eHi achieved bottom line profitability in Q3. Net income for Q3 was RMB6 million, compared with a net loss of RMB26.9 million for Q3 2014.
Partnership with Ctrip
It must be noted that eHi is also benefiting from its association with leading OTA Ctrip.com.
Ctrip has been featuring and promoting eHi's services on its official website, mobile client application and its various offline channels.
The partnership started on a strong footing with Ctrip integrating eHi's online reservation system in its application. Earlier this year, the two organizations gave their nod for expanded cooperation agreement, with Ctrip integrating eHi's chauffeured car services, including airport pick-up and drop-off and other business transportation services, into its corporate and individual service offerings.
James Liang, chairman and chief executive officer of Ctrip, also stated that eHi's car rental services have been the preferred choice for Ctrip customers.
Providing an update, Zhang acknowledged that the blend of refined mobile portfolio and partnership with Ctrip has resulted in positive results.
"We have continued to focus on improving mobile users experience by strengthening our mobile infrastructure as we consistently introduce upgrades to our mobile applications, and develop new features," he said. He also mentioned that the team is constantly working on ways to create reliable customer service experience, while integrating eHi's reservation function in Ctrip's app to reach a broader customer base.
Performance-wise, the company managed has managed to increase the volume of car services through all Ctrip's channels. "As China's largest travel platform, Ctrip has given us unique access to their huge user base to introduce not only our car rental business but also car services. All of our above efforts have greatly strengthened eHi's brand awareness," he said.
Car rental driving growth
Net revenues were RMB393.8 million, up 78.9% year-over-year.
Zhang mentioned that the majority of the growth is coming from car rental, which is representing a majority of the vehicle addition, too.
Net revenue from car rental for the third quarter were RMB300.7 million or US$47.3 million, up 93.4% year-over-year driven by increase in company's average available fleet size, improved utilization rate and RevPAC for the car rental.
Commenting on expansion, Zhang mentioned that eHi's average available fleet size increased by 73.6% year-over-year to 28499 vehicles for the third quarter of 2015 from 16,419 vehicles for the third quarter of 2014.
The company stepped up its car rental fleet utilization rate to 73.8% in Q3 from 70.3% in the same quarter of last year.
This, according to Zhang, indicated that eHi isn't only growing the fleet size, but is also "delivering an industry benchmark fleet utilization rate".
There are new initiatives that are further expected to improve the utilization rate.
"Starting last July, we have supplied vehicles and vehicles with drivers to Didi Kuaidi's car hailing platform. This activity is expected to improve our fleet utilization rate and operating efficiency," said Zhang.
The company's network now consists of 1,655 directly operated service locations in 123 cities, including 368 stores and 1,287 pick-up or drop off points, compared with 948 direct operating service locations in 94 cities, 274 stores and 674 pick-up and drop off points one year ago.
Bright future
Importantly, the market is yet to develop fully.
"…leisure travel is still an emerging market in China with increasing demand for renting cars as a preferred choice for the mass consumers looking to enjoy self organized trips," highlighted Zhang, who asserted that the future is bright.
The company also mentioned that its balance sheet remained healthy and there is sufficient capital. In July 2015, the company finalized a five-year framework agreement with China Development Bank, which include financing products for an amount up to RMB1.5 billion.
eHi is yet to make use of any facility under the framework agreement.