ChinaTravelNews, Nicole Sy - TravelDaily conference's first executive roundtable kicked off with a bang, starring heavy-hitters in the global travel industry. Their topic was making sense of "how the world's travel and tourism industry can capitalize on the growth of Chinese outbound travel."
On the panel were Michael Simon, General Manager – Distribution, EMEA & APAC; Marriott International, Mieke De Schepper, Vice President, Asia Pacific, Expedia Inc., Lodging Partner Services; Ian Brown, CEO, rentalcars.com; Brian Chien, General Manager, Amadeus China; Helen Huang, General Manager, China, Costa Crociere S.p.A; and Remco Althuis, General Manager - China, Etihad Airways.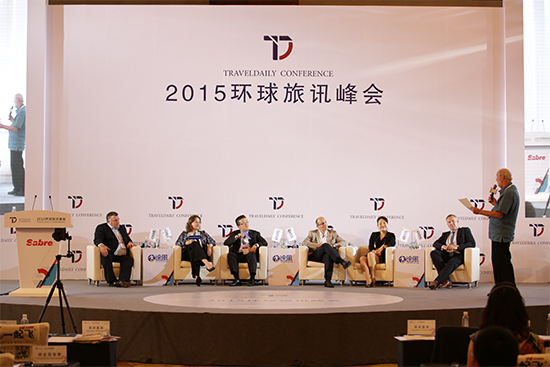 Moderated by Gene Quinn, CEO & Co-founder of travel technology news site, Tnooz, the panel first discussed the current status of the China outbound travel market. Everyone agreed on the great opportunities it has in store. "The Chinese outbound market is one of the biggest opportunities, of course, globally. It's already bigger than the US as a source market," says Expedia's Mieke De Schepper. "And with visa facilitation happening across many markets, it is getting easier for Chinese travelers to go out by themselves. We see significant increase in more free and independent travelers going around."
Travel technology company, Amadeus' Brian Chien confirms that China is embracing the age of travel, and increasingly becoming more individualistic in their choices while traveling. "Outbound travel is increasing in China by leaps and bounds. And increasingly, we see the Chinese traveler exhibiting much more individualistic behaviors," he says.
"Within the next 15 years, everyone in the travel industry will need to address six distinctive travel tribes that are very individualistic. Rather than grouping Chinese by pure demographic factors, you're really looking more at psychographics." That means intrinsically looking into travelers' needs, hobbies and behaviors.
Chien reports that Amadeus' latest white paper concludes it is extremely important for providers to address these needs in order to remain relevant, and that it is only possible through technology and innovation.
Technology changes everything
Technology and innovation has definitely made its mark on the cruise industry, claims Helen Huang, General Manager, China of Costa Crociere S.p.A. Once escapes from the connected world, people now want to be online all the time. "Whatever they eat, they saw, they did, they want to share it immediately," Huang says. "It's important for us to improve our Wi-Fi connection on board. It's a challenge more in Asia than any other part of the world."
It's difficult to discuss trends in the Chinese travel industry without mentioning the impact mobile has had on it. "An entire generation leapfrogged deskptops and laptops and went straight to mobile," says Chien.
Nowhere is this more obvious than in China. Rentalcars.com CEO Ian Brown says it is imperative to have a mobile strategy for the outbound Chinese traveler. It must also be designed differently from a desktop interface since users interact with it differently.
"Mobile is way more advanced in Asia Pacific than the rest of the world," says De Schepper. For Expedia, the world's second-largest online travel company, voice-based mobile use is changing the company's strategy and operations in the country. "Because the Chinese language is different, the way people will interact with apps is different. We have to adapt our tools," she says.
The panelists agree it's also a great source of feedback from consumers. After all, it's the front end of all consumer interaction, and is constantly tweaked for a better user experience.
Etihad Airways' China manager, Remco Althuis says it makes a massive impact on their bookings. With their newly launched mobile site and app in Chinese, UnionPay as a partner and Alipay a payment option, he has realized that people book everywhere on their phones. Even on the subways.
"The world will have to adapt," he says of the payment methods ubiquitous in all virtually all Chinese online transactions.
"China is the most advanced globally when it comes to mobile payments with Wechat and Alipay," says Michael Simon from Marriot International. "Operationally, it will be hard to implement outside China, but with the number of people coming, it will come too," he says.
Still looking for value
However the same technology changed the industry so much, so rapidly, enables one aspect of the market to remain the same: Chinese travelers' price-sensitivities. "It's a very competitive, dynamic market, probably at the extreme end, " says Ian Brown, CEO of rentalcars.com. "They are very price aware and price sensitive, but the hidden risks in this race to the bottom is a challenge."
"Chinese travelers are still looking for a bargain, but they are well aware of certain quality," says Simon, which comes with increasing welfare, education and experience of the traveler. "Their first experience is at a low price-point. They start with inspiration, like gateway cities of the world Paris, London, Bangkok."
"What we see is experimenting with very early bird offers, even for travel to June next year, many people are buying," says Althuis.
As they become more mature travelers, its not just price that comes into play. "If you deliver on both points: price point and value for money, will create loyalty. They will share their opinion, inspire other travelers to share their route," Simon says.
De Schepper agrees and can confirm from Expedia data that Chinese travelers are still looking at bundles, which are known for better deals than individual bookings. Value for money also drives loyalty, value and benefits for the companies and consumers, she says.
Destination trends and infrastructure issues
The trends for travel destinations have largely remained the same. The result of digging through data for insights, De Schepper says cities still top the list as choice destinations for Chinese travelers. "Chinese travelers still prefer city experiences. There's the shopping, the food in cities—it's different from sights and nature. That's still on the needs list but they are a little bit farther away," she says.
Chien says for leisure, Southeast Asia, South Asia and Australia top the list. But for the groups of travelers, there are two groups. "There's the social media traveler seekers in group one, and the luxury travel, group two, where the journey itself is the trip," Chien explains.
However the issues that destinations may run into in trying to lure the outbound Chinese traveler are difficult to overcome. "Chinese travelers are price-sensitive yes, but very much capacity-driven," says Althuis. "They will run into physical limitations, like buses in Florence in July, Sistine Chapel [capacity] in October, that will force the whole industry to book travel on other dates."
One way to mitigate the issue, at least in the cruise industry, is to diversify product offerings, according to Helen Huang of Costa Cruises. "Having diversified products are very important for different passengers. We now have short cruises 3 nights, long cruises 46 nights long, offering more variety for a diversified market," she says.
Althuis says the Chinese holiday system may also change for the better with wider holiday windows, extending a previously inflexible travel season that was strictly only 3 or 7 days long.
With the Chinese government officially supporting the tourism industry, it might only be a matter of time before such issues are addressed.
In the meantime, travel companies will continue to study and evolve for the outbound Chinese traveler. As our executive panel can attest to, they are definitely the wave that everybody wants to catch a ride on.