ChinaTravelNews, Ritesh Gupta - Quarter after quarter the contribution of mobile in the overall revenue pie of OTAs continues to proliferate, setting an unprecedented mark in the travel e-commerce category in China. The situation is tantalisingly poised at this juncture. Even as mobile penetration is on upswing, it becomes imperative to assess how such expansion will help in curbing heavy losses being witnessed in the OTA category.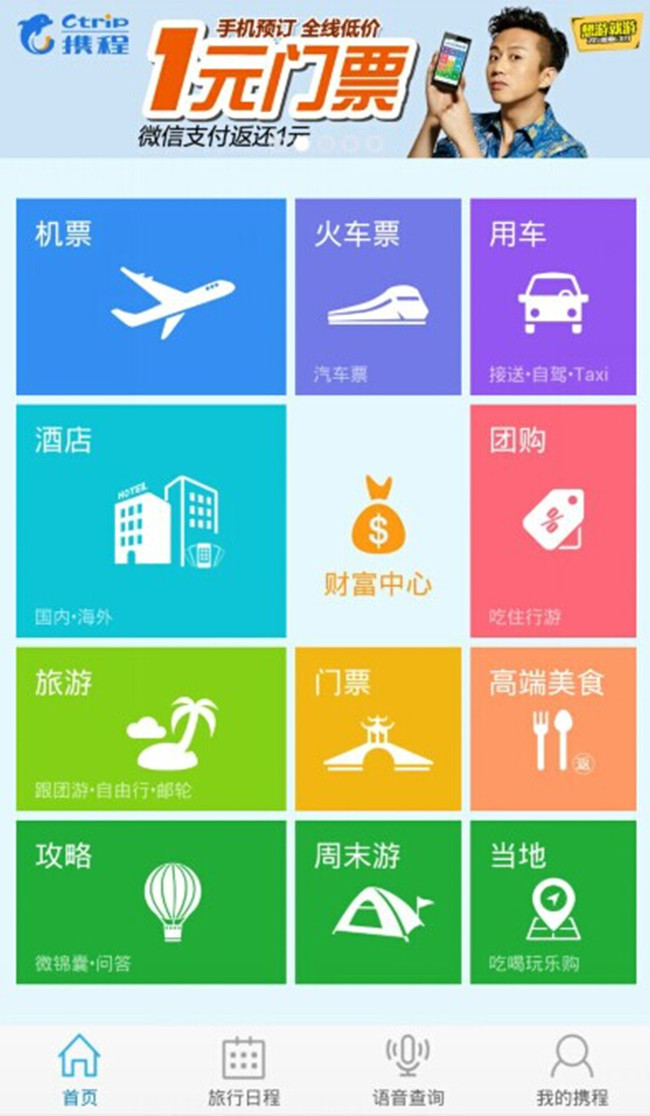 Ctrip's app
As announced by Ctrip, the company's cumulative downloads for its app crossed the one-billion figure at the end of second quarter. In comparison, Ctrip had 200m downloads after the April-June quarter in 2014.
Importantly, total mobile transaction value during the last quarter spiked over a 120% y-o-y.
Speaking during the company's Q2 2015 earnings call, James Liang, chairman of the board and CEO of Ctrip emphasized that the OTA has a superior model, paving for aggressive grabbing of market share and achieving higher earnings. On the other hand, this category on the whole tends to get adversely impacted by growth coming in at the expense of low return on investment.
Importantly, in case of eLong, in which Ctrip emerged as a new investor via one of its subsidiaries in May this year, the OTA's mobile app reached 290 million at the end of second quarter.
Mobile bookings comprised more than 75% of eLong brand room nights during the April-June period. This meant that eLong posted a new record in its annals as far as the contribution of mobile is concerned.
Focused approach
As for the co-existence of Ctrip and eLong, Jane Jie Sun, Ctrip's co-president and chief operating officer, mentioned that the onus is on two brands to craft a "healthy ecosystem".
And this would be largely backed up precise, planned approach in terms of the products that these OTAs are going to offer. As for paths of eLong and Ctrip crossing each other, the two will continue to compete in accommodation reservation category.
Speaking during the company's Q2 2015 earnings call, the recently appointed CEO of eLong, Hao Jiang, mentioned that the ploy to focus only on the mobile accommodation booking industry is expected to pay off in the future. In terms of hotel content, the total number of contracted hotels, hostels and managed apartments was around 290,000 in the domestic market.
Also, accommodation reservation room nights stayed in the last quarter jumped by 36% to 11.4m room nights compared to 8.3m for the same period last year.
In order to build on this, eLong is eyeing both a sustained level of room night volume growth, as well as operational efficiency, for instance, reducing customer acquisition cost (it rose in Q2 primarily owing to mobile customer acquisition) or average order value to improve upon its marketing tactics.
eLong isn't going to leave any opportunity to drive conversion on mobile.
As CFO Philip Yang mentioned: "We still have certain traffic on PC (as a device) for hotel room night booking. So we normally will, of course, give higher coupon in mobile than PC and we also, on our PC website, have reminded our customers, if you want to enjoy the better price, (it's more beneficial to) download eLong app."
As for Tencent's offer to acquire all outstanding ordinary shares of eLong, in addition to existing holding of 15%, Yang shared that the company will set up a special committee to evaluate the same. eLong does advertise on numerous Tencent's channels.
According to industry sources, elong is now talking to Tencent to gain access to hotel booking on WeChat. LY.com is already the exclusive merchant for air and train ticket booking on WeChat platform. Combined monthly active user accounts of WeChat were 549 million at the end of March this year. This tie-up can strengthen elong's offering in a significant way. Also, eLong may opt for listing on the domestic stock market.
Ways to post higher earnings
eLong also clarified that Ctrip is heavily skewed towards being a one-stop platform for users to book everything they want.
If we compare coverage of Ctrip, it emerged that the OTA's domestic hotel coverage reached 330,000, a 200% increment from where it was 12 months ago.
Also, international hotel coverage of Ctrip has risen to 670,000, denoting a 55% increase year-over-year.
Ctrip product mix is deep-rooted, unlike eLong's current model.
A major highlight has been the group's volume growth and cost savings it has managed in its air ticketing segment.
Liang shared that over the last couple of years air ticketing volume has risen by 110% (growth comes from the tickets sold to the end user, not to the B2B channels). And the overall call center's head count has been steady, paving way for higher earnings.
Liang also asserted that Ctrip has a "loyal customer base with strong purchasing power" and the company has managed to set up high-end entry barriers for other competitors to enter the mid-to-high end segment of the market.
"Ctrip's air ticketing business also benefits from a yield premium due to a strong purchasing power of our customers," he said.
The relatively higher margin products are helping Ctrip to combat competition in the cut-throat price-sensitive segment. "For mid-to-high-end customers, our focus is on service and yield management. For budget travellers, our focus is on market share gain," said Liang.
He mentioned that the profit garnered from the mid-to-high-end customers is to be used to compete aggressively to gain budget customers. "In the short-term, we can generate revenue from these budget customers through cross-selling more frequent and low-price products," he said. And at some point of time, this base would be turned into a loyal one.
So clearly Ctrip is ensuring that it doesn't end up losing any segment of market, including the price-conscious one too. The OTA has strengthened both its product, and also eLong is going to contribute as well to negate Qunar's tactics. As Liang mentioned, Ctrip has strengthened its product competitiveness by offering a wide collection of both agent model (products include prepaid, weekend and packaged hotel offerings) and merchant model.
"Customers can easily pick the product that best fits their budget and flexibility," he said.
Ctrip also shared that its accommodation reservation and transportation ticketing businesses reached record-high revenues of over RMB1 billion.
No point in "burning money"
As for the tactics of competitors, Liang came heavily on the ploy, saying such players are "adopting burning money strategy, where they offer the low-cost prices and with almost no RoI and negative RoI".
When asked to comment on aggressive promotions, Liang it's "still too easy to use shareholders' money to buy revenue".
All through the conference call, the Ctrip team categorically spoke about accountability, especially deriving maximum value from its relatively mature products that it offers. The company is clear that with any matured product, each transaction has to make money.
In fact, Jie Sun, referring to the latest offer from Tencent for eLong mentioned that the offer price is at $18. "You see higher than the current price. And clearly, Tencent has seen the great potential of eLong as a company. So as a shareholder, we are very glad to see that."
A strategic alliance featuring Tencent and Ctrip can't be ruled out. Tencent continues to broaden user activities from social and communications to payment, and online travel fits in with plans to monetize the traffic further.