Nobody talks in millions any more in India's ecommerce scene. It's billions, or at least hundreds of millions of dollars, being bandied about every other week. Last week, Flipkart was rumored to have raised US$700 million to take its total investment to US$3.2 billion. Today, we hear Snapdeal has bagged US$500 million more to reach US$1.6 billion – half of what Flipkart has stashed away. Breathing down their necks is Jeff Bezos, who wrote a US$2 billion cheque for Amazon India last year, with billions more reported to be in the pipeline this year.
Skeptics question the valuation of these companies and the cash they're burning to grab market share. But there's no question that ecommerce in India has a lot of headroom for growth.
There were fewer than 40 million people buying things online last year, according to data from the Indian Market Research Bureau. This constitutes a small fraction of the 300 million internet users in India.
The rapid spread of affordable smartphones is expected to take the number of internet users past the half billion mark next year. Data shows 150 million Indians are on smartphones for nearly three hours on average daily. The number of mobile users has been growing at 26 percent year-on-year since 2013, and two-thirds of them are below the age of 25.
Different strategies
Little wonder that the ecommerce players, both homegrown and global, are eyeing this pie hungrily. Each of them wants to slice it a different way.
Flipkart has made a big mobile push, trying to leverage its leadership position. It brought in German adtech firm Glispa to give its mobile app hundreds of thousands of new users. The fashion estore Myntra it acquired last year has gone app-only, and Flipkart itself is expected to follow suit soon.
Its global rival Amazon, meanwhile, has been investing heavily in warehouses across the country, to streamline its ecommerce marketplace. Last month, it opened a 280,000 square foot warehouse near Hyderabad.
Snapdeal, on the other hand, has been using its funding for a slew of strategic acquisitions. The mother of all the deals was the US$400 million it is estimated to have paid in cash and stock for the buyout of FreeCharge, a uniquely Indian site offering discount coupons for topping up phones. At the time of announcing the deal, Snapdeal co-founder Kunal Bahl pointed out that the two startups had 40 million mobile transactors between them. He wants to add a zero to that number in three years.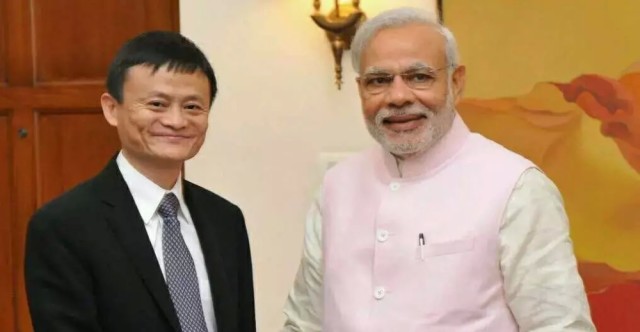 Alibaba's Jack Ma and Indian PM Narendra Modi
What's most significant about Snapdeal's latest round of funding, though, is the participation of Alibaba. Its founder Jack Ma visited India in November last year and said he'd be watching India. The scaling up of rival Amazon in this market would not have escaped his notice.
Alibaba's pincer movement
India has restrictions on foreign direct investment (FDI) in ecommerce, which limits Amazon India to being a marketplace for third-party sellers. Alibaba and Japan's Rakuten, which opened a development center in India last year, seem wary of following the Amazon path. For now, Alibaba seems content to fight the ecommerce war by proxy, with investments in local rivals of Amazon.
Before investing in Snapdeal, Alibaba had its made its first move with a stake in Paytm, a nimble player in the Indian mobile commerce space. Alibaba's affiliate Ant Financial picked up a 25 percent stake in Paytm's parent company One97 earlier this year for US$700 million and is reported to be raising its stake to 40 percent.
Paytm is an early mover in the mobile payments space in India, with nearly 100 million digital wallets in the bag. Between Paytm and Snapdeal – along with its subsidiary FreeCharge – Alibaba now has a finger in the major mobile commerce players in this mobile-first market. It's well-placed to make a pincer movement in India against its global rival Amazon.
What Alibaba brings to the table through its Indian partnerships is access to a vast Chinese market for sellers in India. As Jack Ma pointed out when he was in Delhi, Indian merchants are already the second biggest sellers on the Alibaba.com business-to-business marketplace after the Chinese. Indian tea, spices, and chocolates are hot sellers. The first two he could understand, but "I did not realize Indian chocolates were so popular," said Ma, adding that it showed India has many great products to offer in the Chinese market.
Read original article